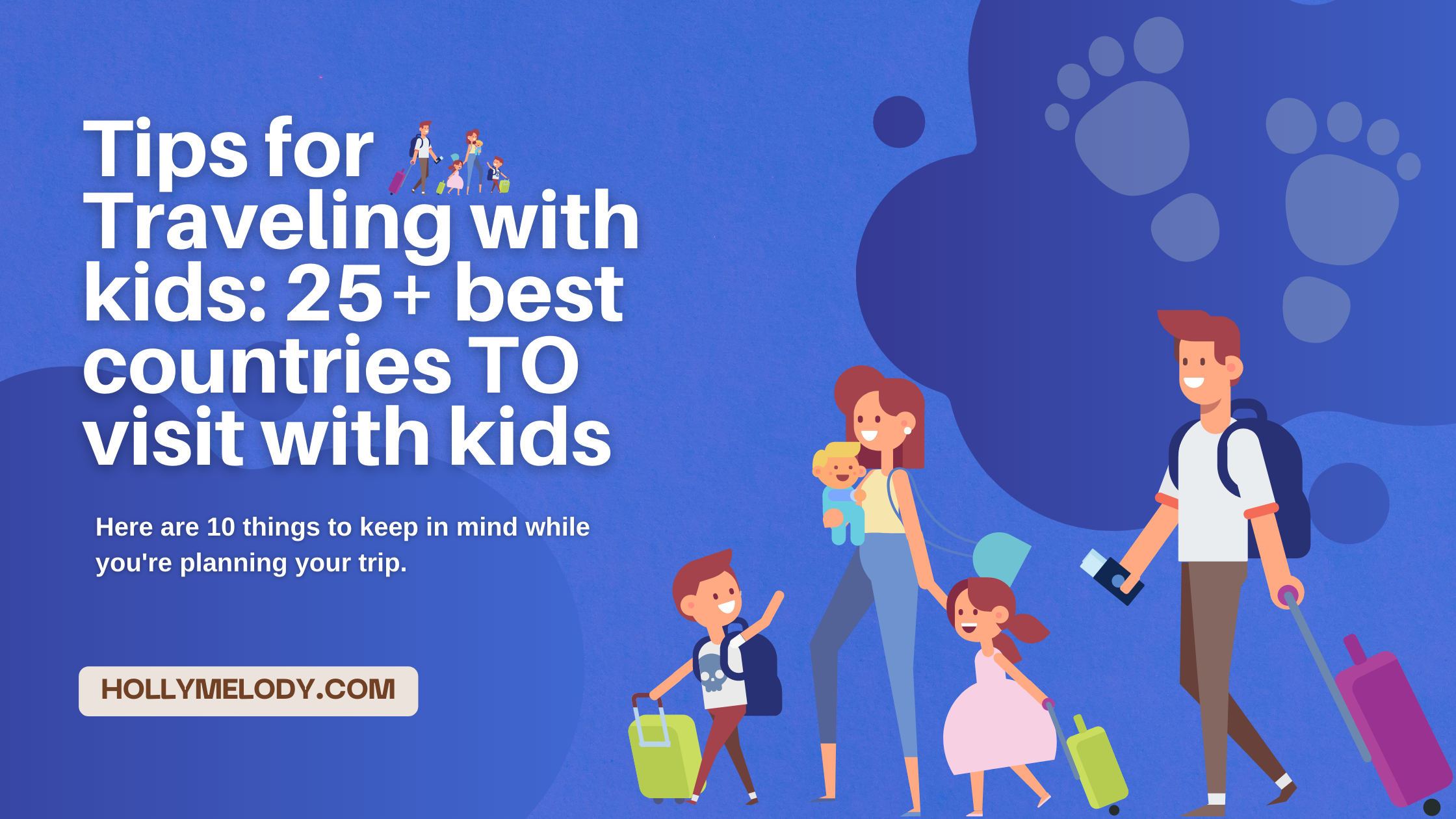 10 tips to keep in mind while traveling with kids: 25+best countries for kids
29th September 2022
Tips for Traveling with kids: 25+ Best Countries TO Visit with Kids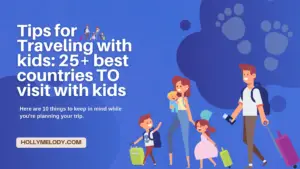 I want to travel but I have a child
Whether traveling with kids for the first time or for the fifth time .. it is very important to take care of some important things. So that you can enjoy the journey comfortably and the child also does not have any kind of problem.
What do you need to travel with a kid?
1. Many times, along with your clothes, keeping children's clothes in the same bag causes a lot of problems. Due to frequent changes, you have to carry the entire packing from here to there. So this time whenever you go to travel with children, keep a separate bag for them. With this, the things they need will be easily available in one place. Also, he himself can remove his things from the bag.
2. If you are traveling with the child, then take the things he needs with you. Try not to be short of food items. Children drink milk, so keep enough milk with you in advance so that the milk does not run out during the journey. Apart from this, keep other food items of the child with you. If the baby's stomach is full, then he will not bother you. So the next time you travel with a child, enjoy this journey to the fullest.
3. Don't forget to keep your child's favorite toys and books. By doing this, not only will the children be busy, but they will also not feel irritable. If you do not want to do this, then download children's games or kids-friendly apps on mobile.
Traveling with Baby? Travel strollers are here to keep you sane!
4. Always use a backpack for head luggage on the plane, so that your hands are free to handle the child.
5. Be careful while choosing the hotel. Do not choose a hotel that is at a very high altitude or where you have to climb a lot of stairs, as it can be difficult to climb up and down again and again with a child.
6. Be careful even while booking the flight. If possible, choose a night flight, because by doing this the child will sleep according to his time as soon as he leaves the flight and will not disturb him too much during the flight.
7. While traveling with the child, do not choose such places where there are a lot of crowds. Children feel suffocated due to overcrowding and feel unsafe because of the noise. That's why they start crying especially in such places. Therefore, instead of overcrowded places, choose a quiet place.
8. It is common to get sick during travel and during fluctuating weather. If the children are weak anyway, then keep the necessary medicines of the children with you. If the child has allergies, then make special preparations for them.
9. Before going on a trip, definitely contact the children's doctor and get the children's routine checkup so that the fun of travel is not gritty and the children do not fall ill.
10. While going on a travel, keep the necessary contact numbers in the children's bag or pocket. So that if there is any problem, the child can use these numbers.
The 25+ best countries for a family vacation?
1. Cambodia – Siem Reap
2. South Africa – Cape Town
3. Vietnam – Hoi An, Halong Bay, Hanoi and Phu Quoc
4. Croatia – Plenty of beach days, Swimming, Hiking, and Exploring Waterfalls, Islands, Snorkeling,
5. Malta – Beach, History and Culture, Island of Gozo,
6. Czech Republic – Prague ( playgrounds and parks)
7. United Kingdom – London (Harry Potter Studio)
8. United Arab of Emirates – Dubai (desert safari), Abu Dhabi – Fun city for kids
9. Jamaica – Ocean
10. Australia – Sunshine Coast (Fraser Island), Sydney (Ocean Road)
11. Hungary – Budapest (Fisherman's Bastion, Buda hill castle funicular), River cruise- Danube River.
12. Thailand – Bangkok and Beach, Phuket Island
13. New Zealand – Hobbiton, Lake Wanaka, and The Waitomo caves.
14. Canada – Mountains (British Columbia to the prairies), or French life in Quebec, or the Maritimes, for snow Winter wonderlands – Banff, Big White, or Whistler.
15. Austria – Vienna
16. Singapore – Universal Studios and Waterparks, and Still, the world of street food, Western and Eastern worlds mix Cultures
17. Malaysia – Langkawi island
18. France – Biarritz
19. Indonesia – Bali (the rice terraces and Ubud Monkey Forrest)
20. Mexico – Mayan Riviera, Nuevo Vallarta, or Puerto Vallarta (Pools, Beaches, Food and Kids Clubs)
21. Spain – Great food, Great Culture, and Warm Weather
22. Bulgaria – Cheaper Rates on Hotels, Food and Activities, Budget-Friendly Option
23. Italy – Rome, Venice, Alfami coast, and Cinque Terra
24. Cuba – Havana, Varadero, and Cayo Santa Maria
25. South Polynesian (Vanuatu & New Caledonia) – South Polynesian Cruise
26. Dominican Republic – White Sands, Clear Blue Water, and Family-Friendly Resorts
FAQ: Frequently Asked Questions
Q: How do I prepare my child for international travel?
A: A child usually adapts to a new culture better than an adult because he or she is still open to new influences and experiences.
The key is to expose your child to different cultures and languages at an early age so that he or she doesn't become a stranger when you travel to a foreign land.
When your child is a toddler and before you travel, start exposing him or her to things that are common to that country; this way your child will be more familiar with what's different and possibly become less fazed by it.
Start by naming different foods, and try to cook some of these exotic dishes for your family.
If you have a mobile, get a phone card for that country and show your child how to use it to make calls.
Watch foreign-language TV programs with your toddler and listen to music from that country.
Encourage your child to read books written in that language.
Q: How do I keep my child safe while traveling?
A: Traveling with kids is fun but also a big responsibility. Children get easily confused and frustrated by the new environment and their parents' seemingly different attitudes.
Tips to make your trip a successful one: After booking flights, hotel, and rental car, compile a list of things you need to bring and things you need to do. Breaking up the trip into small parts will make it easier to deal with.
Conclusion
Tips for Traveling with Kids: 25+ Best Countries TO visit with kids – The most important things to consider when traveling with kids are the safety, comfort, and health of the children. It is very important that you prepare your children for the trip and their stay in the new country so that they are not uncomfortable, have fun and learn something new, if possible. You can make all the preparations and give them a feeling of home by making sure that they have everything they need, including toys, books, and comfort items.