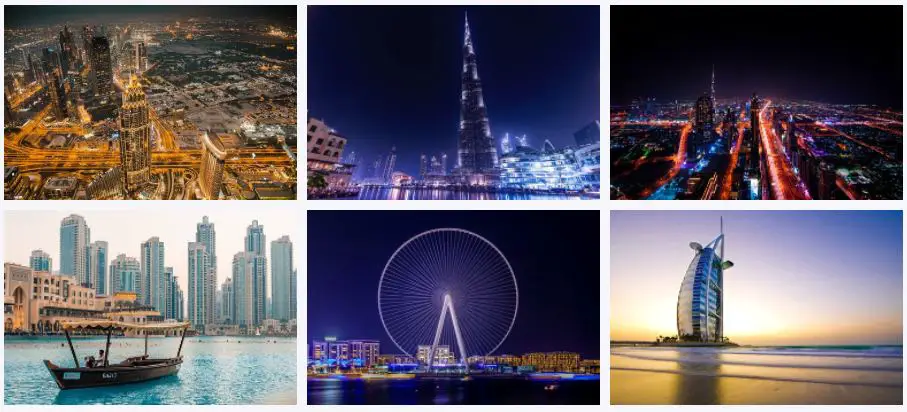 The 8 Best Outdoor Activities in Dubai
13th April 2022
Owing to Dubai's harsh weather conditions, tourists and locals love to be indoors most of the time but the reality is that Dubai also offers a host of outdoor activities that make for a thrilling experience. Here are the 8 best outdoor activities in Dubai that you must do: 
Desert Safari –
Forget jungle safaris, desert safari is the way to go! The safari starts with a pickup from your hotel. You are transferred in huge 4X4 SUVs that later become your ticket to dune bashing. The cars fly over the huge dunes while you are strapped into the cars. To further enhance your adventure experience, you can ride an ATV or sandboard down the huge dunes. You can also add more experiences to your desert safari like BBQ dinner, came riding, sunset photography, and overnight stays to enjoy to the max. 
Water Parks –
Despite Dubai's scorching heat, there are a few places in Dubai where you can feel cool. Those places are Dubai's world-famous water parks. Dubai has amazing water parks that are popular with tourists and locals. These parks have the most thrilling slides, rides, experiences, and aquariums that make them the best in the world. Some water parks worth visiting in Dubai are Aquaventure Water Park, Wild Wadi Water Park, Laguna Water Park, Legoland Water, and AquaFun Water Park. Each offers a variety of fun and adventure and are excellent destinations for family fun.  
Dhow Cruise –
Not every outdoor activity has to be about adventure. The dhow cruise is for relaxation and enjoyment. Dhows were old fishing boats that have been repurposed for cruises along the Dubai Marina, Dubai Creek, and Dubai Canal. On these cruises, you can enjoy a buffet dinner full of continental, Arab, and Indian cuisine and entertainment shows like Tanoura dance and magic show. Post dinner, you can go to the top deck and enjoy night-time views of a fully lit Dubai city. 
Skiing on a Snow –
Covered Mountain – Though this normally is an outdoor activity, Dubai, with its penchant for challenging the norm, has turned it into an indoor activity, but you can still consider it as an outdoor activity. At Ski Dubai, located in the Mall of Emirates, you can enjoy a 279-feet high snow-covered mountain that has 5 ski slopes of varying difficulties. There's also a ski lodge, a 3000-square-metre play area, a ski lodge, and a penguins pen. Ski Dubai is such a revolutionary place that many people get a Dubai visa just to come and see this place. 
Seaplane Flight –
See all of Dubai in a matter of minutes on a seaplane tour. These tours are becoming quite popular as you get to see Dubai's skyline up close and an aerial view of the Palm Islands. The tour commences in a seaplane which is an amphibian aircraft. The take-off and landing of the plane itself is another adventure. The tour usually takes about 45 minutes and you get to see most of the architectural marvels of Dubai city. There's also a longer tour that takes you over Abu Dhabi's Yas Island. 
Yacht Tours –
Dubai is all about the luxury life and what can be more luxurious than a yacht. You can hire a yacht to catch Dubai's coastal views. Once you are into the deep seas, you can enjoy additional fun activities like fishing, snorkelling, and scuba diving. Some of the yachts are fully staffed and you can even have dinners and get-togethers on the massive yachts. Some yachts even offer overnight stays, so it becomes like your own pirate home on the sea. Yacht tours are something everyone must try once. 
Water Sports at Dubai Beaches –
Dubai's coastline is full of pristine beaches that are the perfect spots for relaxation. However, there are also a lot of opportunities for fun and adventure in the form of water sports. From super-fast jet skis to jetovators, you can experience water sports like no other. Grab your friends and take a banana boat ride across the water, or ride the waves on a wakeboard. There's so much fun to be had here. One must-try activity is a jetovator that pumps water through a contraption strapped to your feet giving you the ability to fly over water. 
Hajar Mountain Adventure Tour –
The stunning Hajar Mountain is an underrated beauty of Dubai. You can tour this stunning place and enjoy views and experience adventures like no other. Huge 4X4 SUVs take you into the mountain range through the zigzagging roads. You can also get to see some wildlife on the way. The tour takes a stop at a Wadi where you can cool down and enjoy the water. Post this, sightseeing commences. In the final leg of the tour, you get an opportunity to stop and shop in the only town in the mountain range. This is quite a unique tour and one of the best outdoor activities in Dubai. 
So, if your Dubai tourist visa has arrived and you can start planning your trip, make sure to include some if not all these outdoor activities in your Dubai tour to have a great time.