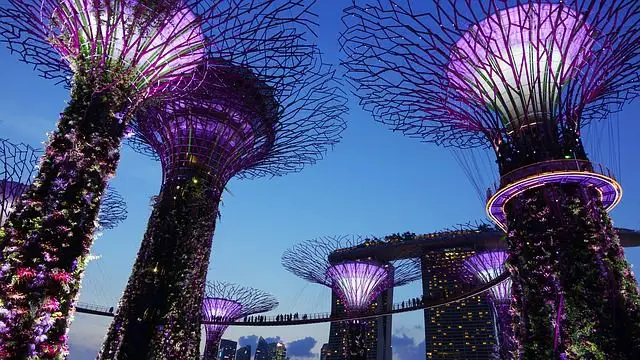 Lesser-Known Facts About Singapore | Historical Facts About Singapore
29th July 2019
Are you looking for lesser-known facts about Singapore? Here is a collection of interesting and fun facts about Singapore which You've Never Heard Before as well as you can also read general information about Singapore such as culture, history, government rule, etc.
Singapore means "the city of lion" which is often called Lion City. Today we are going to tell you the interesting facts about Singapore and the history of Singapore.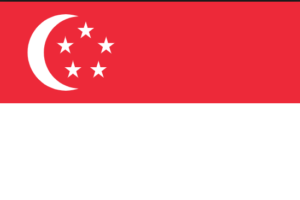 General facts about Singapore
Total Population – 5.61 million (56.1 lakhs)-2017)
Highest Mountain – Bukit Timah Hill 63.63 metres (537 ft.)
Total Area – 721.5 km²
National Day – 9 August
Currency – Singapore dollar
National Song – "Majulah Singapura"
Capital – Singapore
Amazing Facts About Singapore For Tourists and Kids
1.Singapore is the capital of "Singapore".
2.The currency of Singapore is "Singapore Dollar" and the spoken language is "English, Tamil & Standard Mandarin".
3.Singapore is one of the 20 smallest countries in the world, spread over an area of 682.7 square kilometers. If compared to the USA, the USA is 15,000 times bigger than Singapore.
4.Singapore comes in the world's most expensive countries. Here every fifth person is millionaires.
5.Singapore is called the "lion" city but there is no single lion in this country.
6.Singapore made up of 63 small islands. But you may be surprised to know that Singapore is 4000 times smaller than India.
7.Singapore used to be a part of Malaysia, later got independence from Malaysia. Singapore is the only country in the world to get freedom against its wish. It was liberated by Malaysia in 1965.
8.Singapore was established in 1819 as a town in Malaysia.
Watch Singapore  Beauty
10.Khoo teck puat hospital in Singapore 700 native species
A Singapore firm has built such a hospital, where the stress and blood pressure of the patients become normal.
In fact, the CPG Corporation firm was asked to build such a hospital, so that patients do not come under stress by coming here. Also, their blood pressure should become normal after seeing the atmosphere.For this, the firm worked out a solution. That was greenery. The firm built large rooms at Khoo Teck Puat Hospital and planted around 1000 saplings. There are 700 aromatic plants in them.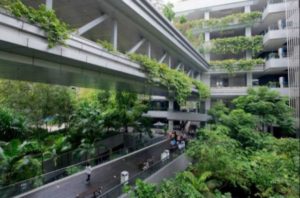 Construction of the hospital began in 2005. Treatment began here in 2010. It is built by CPG Corporation, a Singapore-based construction firm. Recently research on the hospital has claimed that physical and mental patients are improving rapidly due to the natural environment. Due to its greenery and many types of fragrance, it has become a favorite place of people.
Researchers say that the design of the hospital is such that it keeps patients close to nature. Large windows, ventilated and open verandas bring 20 to 30 percent additional fresh air. Due to this, AC and coolers are also used less frequently in hospitals.A garden has also been built on the roof of the hospital. It has more than 200 species of vegetation. Of these, 100 are medium height fruit trees. There is vegetation with 50 vegetable plants and 50 herbs.
11.Fake news law introduced in Singapore
The Singapore government has passed a law to deal with fake news. Accordingly, the government can order to block or remove fake content or news.A provision of 10 years in jail and heavy fines has been made for those who violate this law.
12.Buildings that will not lose energy
This 6-story building belongs to the School of Design and Environment of Singapore.1200 solar panels have been installed on the roof of the building, which will generate 500 MW of electricity in a year. This building was completed in January 2019.
13.The world's largest indoor waterfall is ready at Changi Airport
It cost 1.25 billion dollars (about 8 thousand crores) to build the airport. Changi Airport is spread over 1,30000 sqm area(one lakh 30 thousand sqm area). The airport has 10 floors. Of these, 5 floors are above ground and 5 are below ground. Changi Airport also has a 130 ft high waterfall.
14.People of Singapore
Singapore has 74% Chinese people, 12.4% Malai people and 10% Indian people, of which 33.2 percent are Buddhist, 19% Christian, 14% Muslim and 5% Hindu.
15.Honest country
According to a report, Singapore is the most honest country in the world. The citizens of Singapore are very honest. Singapore is the fifth country in the world with the least corruption and the least corrupt country in the Asia continent.
16.HUG-ME MACHINE-
There is a machine called HUG-ME in Singapore, with this machine we can hug and take a Coca-Cola for free, every time we hug him he will give us a Coca Cola drink for free.
17.The invention of making artificial vagina was invented by the President of Singapore.
18.Open toileting is not allowed in Singapore, so some people started urinating in the lift. if you toilet in the lift, the door of the lift will be automatically closed till the police arrive.
19.Last year 10.2 million people visit Singapore, while its population was 5.7 million.
20.'Chilli Crab', a dish prepared in Singapore, is the world's 7th largest Iconic dish.
21.In Singapore, water from Malaysia, milk, fruits, and vegetables from New Zealand and Australia, pulses, rice, and other daily items are imported from Thailand, Indonesia, etc.
22.Singapore has been banned pornography, posters on walls, spreading the garbage on the roads. Before 2007, oral sex was also a ban.
23.With the areas that Singapore had been liberated, today it has grown 25%.
24.Singapore has bought billions of cubic feet sand from Cambodia because Cambodia wants money and Singapore wants to land.
25.On September 21, 1965, Singapore became the 117th member of the United Nations.
26.Singapore's national flower Vanda Miss Joaquim, which was first invented in 1893 by an Armenian named Agnes Jokom
27.Despite the lack of farming and agriculture in Singapore, you will be surprised to know that Singapore is the world's largest exporter of ornamental fishes.
28.Singapore's highest natural point is Bukit Timah Hill – which is only 164 meters high.
29.The world's largest fountain is also in the heart of Singapore's Suntec City. In 1997, it had cost about $ 6 million.
30.Most people in Singapore were born in October.
31.Old Changi Hospital Singapore(one of the most haunted place in Singapore)
Changi Hospital was built in 1930 in Changi village on the northern road.The matter is of the second world war when this area was occupied by Japan.Soldiers injured in the war began to be admitted to this hospital. Hence it was converted into a military hospital.Being near the highway, it was quite convenient to bring the injured soldiers here. And the number of injured soldiers in the war increased day by day, the number of soldiers was brought to this hospital.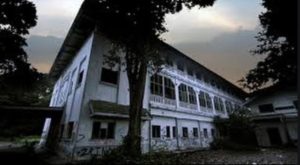 Due to a lack of medical treatment, diseases started to spread in the hospital and many deaths occurred every day. Along with the soldiers, doctors and nurses also died.Changi Hospital became a camp of souls. Local people say that even today, the voices of soldiers, doctors and nurses are heard in that hospital.
33.Singapore's law is that the building above 300 meters cannot be built.
34.If you go to "toilet" in Singapore and do not flash, then you will be fined $ 150.
35.People of Singapore have the right to vote in the British Election.
36.The people of Singapore are the fastest ones on this earth.
37.In 2002, 11967 people danced together in one line.which is a world record.
38.Chewing gum chew in Singapore is completely ban this rule was implemented in 1992.
Chewing gum was causing maintenance problems in public-housing apartments, including disposals of spent gum in mailboxes, inside keyholes, and on lift buttons. Chewing gum left on the ground, ladders, and sidewalks in public areas has increased the cost of cleaning and damaged cleaning equipment.Gum stuck on public bus seats was also considered a problem.so that the government has banned it. You cannot buy Chewing gum in Singapore. Although there were protests by people all over the country, this did not affect the government.
39.The timezone of Singapore has been changed 6 times.
40.The Night Safari is the world's first night zoo which is in Singapore.
41.Singapore is upset because of the low birth rate in the country. As part of efforts to increase population, one day holiday is especially given here so that people can do sex.
42.Singapore zoo is a perfect place to entertain tourists. Many types of wildlife are also seen – eg, chimpanzee, comodo dragon, polar bearers, etc.
43.Among the major sights of Singapore, three museums, Jurong Bird Park, Reptile Park, Zoological Garden, Science Center Sentosa Island, Parliament House, Hindu, Chinese and Buddhist Temples and Chinese and Japanese Gardens are worth visiting.
44.Singapore is the country with the highest death sentence, where most of the death sentences are related to drug dealers.
45.If someone wants to buy a car by going directly to the showroom in Singapore, it is not possible. To buy a car, first, you have to apply to the Transport Authority. After this, every month a draw was held in the Authority. The person whose name comes in the draw is allowed to buy the car.
In the same way, the Singapore government has a concrete plan for how to dismantle and recycle old vehicles. That is, under the scheme, the government decides how many vehicles will come on the road at a time and how many will be removed.
46.According to the rule of the Singapore government, people must paste control in their homes and shop twice every month.
Historical Facts About Singapore
About 1500 km from Nicobar Islands Singapore, a beautiful and developed country, is considered to be a major center of tourism and business for many years.It is also believed that modern Singapore was founded in 1819 by Sir Stamford Raffles.
Who was sent to Singapore as an officer of the East India Company by the Delhi-based ViceRoy to increase trade.
By 1963, Singapore was under British occupation. After 1963, Britain incorporated Singapore into Malaysia, only 2 years later, in 1965, Singapore separated from Malaysia by vote and Singapore emerged as a new country in the world. Today, people of different countries, cultures, history, and languages, who believe in many religions, live together.
When Singapore bombed
This is about the days of the second world war. Singapore was called the 'Gibraltar of the East' because there was a large presence of British forces in Singapore.But in 1942, Japan embarrassingly defeated Britain. British Prime Minister Winston Churchill described the defeat as "the worst loss and greatest surrender of British history".
But in 1944–45, American planes attacked Japan-held Singapore. In this attack, Singapore was heavily bombed which severely damaged the trading ports.
Singapore is a global commerce, financial and traffic hub. In many areas, Singapore has entered its name in the best countries, such as the most "Technology Ready" nation,the top International Meetings City (UIA), the city with the "Best Investment Potential", the second most competitive country, the third-largest foreign exchange market. , The third-largest financial center, the third-largest oil purification and trade center, and the world's busiest port. Also, Singapore is known as Tax Haven (Tax Paradise).
Internationally, Singapore occupies the 11th position and is at the top of the UN Human Development Index category in Asia.Singapore is considered a developed country in terms of education, health, life expectancy, quality of life, personal safety and housing, but if we talk about the democracy index then the country is not much developed in this area.The per capita income in the country is also very high, out of 5.6 million population of Singapore, 38% of people are permanent residents of Singapore and the rest are from foreign nations.
The island has a total of four official languages: Malay, Tamil, Mandarin, and English. The common language of the country is  English, many people from Singapore are bilingual.
Important Dates in Singapore History
1819 – Sir Thomas Stamford Raffles establishes Singapore as the trading post of the British East India Company.
1942 – Singapore comes into possession of Japan during the Second World War. In Japan, the island was named "Light of the South Island".
1945-46 – Japan's army surrenders. Singapore subsequently became a British colony.
1959 – The first general election was held in Singapore.
1963 – Singapore joins the Federation of Malaysia.
1965 – Singapore's independence was declared by the Federation of Malaysia.
1990 – Prime Minister Lee Kuan Yew, founder of Singapore, stepped down from the post after 31 years.
1993 – The first presidential election was held in Singapore.
Tourist in Singapore
1.Singapore Zoo Tourist Places
It is truly amazing to see Endangered animals at the Singapore Zoo.It is one of the most famous places to visit in Singapore. There are more than 300 species of animals, including giraffes, koalas, hippopotamuses, and white tigers. The zoo is divided into different areas based on animal habitats.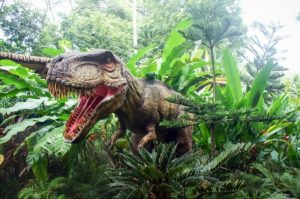 In the Frozen Tundra, you can see Polar Bears and dogs of different races. For your information, let us know that Hrithik Roshan and Priyanka Chopra's film Krish was the first Indian film to be shot in Singapore Zoo.
2.Universal Studios Tourist
Universal Studios is a thrilling destination located in Sentosa Island, Singapore. It is one of the best places to hang out with the family. It is the center of Hollywood films.Of course, here you can meet your favorite Hollywood artist. Also, Universal Studios houses many of the world's best restaurants and cafes. Universal Studios also has a fashionable clothing market from where you can shop.You can see many fun things including Sci-Fi City, Ancient Egypt region, Lost World of Dinosaurs.
3.Chinatown Tourist Place in Singapore
China Town is always full of tourists. If you are going to spend a holiday in Singapore and you have not seen Chinatown then your journey will be incomplete.China Town is a busy market and offers Chinese food, attractive goods-laden shops, and traditional Chinese products.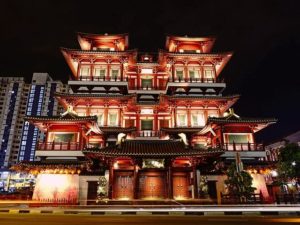 Apart from this, there are also Sri Mariamman Hindu Temple and Buddha tooth relic temple at this place.
Both of these are major attractions of the China market. One of the most colorful Chinese temples in China Market, Thian Hock Keng is a must-visit.
Read More Facts
If you know any new things about Singapore then tell through the comments so that other people can also read, thank you.