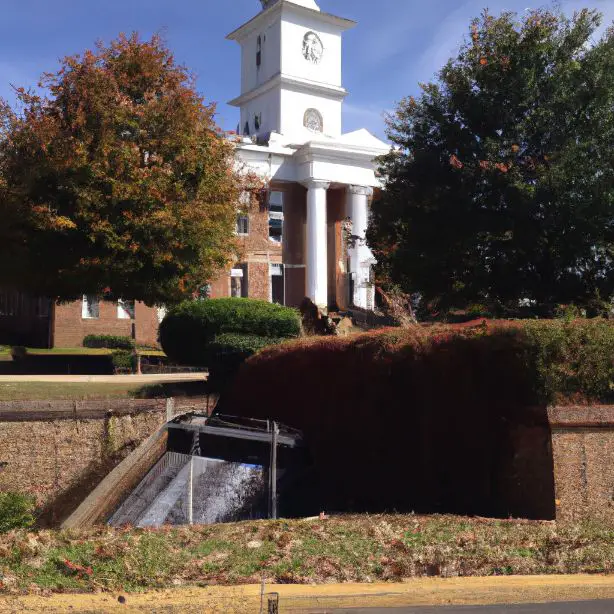 What is Macon-Bibb County, GA known for | What is Macon-Bibb County famous for
22nd May 2023
Macon-Bibb County, Georgia, has a long and storied history as the economic and cultural center of the state's central region.
From its burgeoning music scene, to its vibrant nightlife, to its Southern charm, Macon-Bibb County has something to offer everyone. It's also known for its abundance of historic buildings, lush parks and gardens, beautiful arts and entertainment venues, and its diverse array of museums, shops, and outdoor activities.
Whether you're looking for a place to chill out and relax, or seeking an adrenaline rush, Macon-Bibb County has something for you! In this article, we'll take a look at all the amazing experiences that this Georgia county has to offer.
What is Macon-Bibb County, GA known for
Cherry Blossom Festival: Macon-Bibb County is known for its annual Cherry Blossom Festival, which attracts thousands of visitors each year. The festival celebrates the blooming of over 350,000 Yoshino cherry trees in the area.
Music Heritage: The city has a rich music heritage and is known as the birthplace of several famous musicians such as Otis Redding, Little Richard, and the Allman Brothers Band. The city has several museums and landmarks dedicated to these music legends.
Antebellum architecture: Macon-Bibb County has many well-preserved antebellum homes, including the Hay House, the Cannonball House, and the Sidney Lanier Cottage.
Tubman Museum: The Tubman Museum is a popular attraction that celebrates African American art, history, and culture. It is one of the largest museums of its kind in the Southeast.
Ocmulgee National Monument: The Ocmulgee National Monument is a prehistoric Native American site that contains ancient earthworks, temple mounds, and artifacts. It is a popular destination for tourists and archaeologists.
Georgia Sports Hall of Fame: The Georgia Sports Hall of Fame is located in Macon and showcases the state's sports history, including notable athletes, coaches, and sports figures.
Macon Film Festival: The Macon Film Festival is an annual event that celebrates independent films and filmmakers. The festival attracts filmmakers from all over the world and showcases a variety of films in different genres.
Wesleyan College: Wesleyan College, located in Macon, is the first women's college in the world that granted degrees to women. The college has a rich history and is home to several historic buildings and landmarks.
The Big House Museum: The Big House Museum is a museum dedicated to the Allman Brothers Band. The museum is located in the band's former home and contains artifacts, memorabilia, and exhibits showcasing the band's history and impact on music.
Mercer University: Mercer University is a private university located in Macon. The university is known for its academic programs, research facilities, and athletic programs. Mercer has a long history in Macon and is an integral part of the community.
Read more about Georgia City
Interesting Facts & Unique Things About Macon-Bibb County, GA
1. Macon-Bibb County is a consolidated city-county, meaning it is run as a unified local government with the roles of both a city and a county being filled by the same organization.
2. Macon is known as the "Song and Soul of the South" due to its rich musical heritage that includes the likes of Otis Redding and Little Richard.
3. Macon-Bibb County is the home of Mercer University and Wesleyan College, Georgia's oldest college for women.
4. Macon-Bibb County is home to a variety of historic sites, such as the Ocmulgee National Monument, the Georgia Music Hall of Fame, and the Tubman African-American Museum.
5. The Macon Water Authority serves more than 200,000 customers, making it the largest municipal water supplier in Georgia.
6. Macon-Bibb County is home to the historic Fort Hawkins historic district, which dates back to the early 19th century.
7. There are nine public golf courses in Macon-Bibb County.
8. In 1933 the world's longest skyway bridge was built to connect Macon and Bibb County. It's called the Sidney Lanier Bridge and is over six miles long.
9. The Tree Story Project is a unique initiative that catalogues stories of trees in Macon-Bibb County as well as the tree's species and other information.
10. Macon-Bibb County has an abundance of parks and open spaces, 14 of which are large community parks.
History & Information of Macon-Bibb County, GA
Macon-Bibb County is a combined government located in the U.S. state of Georgia. It encompasses the original city of Macon and the ancient county of Bibb. The two were merged in 2012 to form Macon-Bibb, which is Georgia's first consolidated government. The merger is governed by a unified mayor and a five-member county commission, which meets regularly to govern the county as a whole.
Macon-Bibb's history dates back to the late 1700s, when the area was first settled. The Bibb County and Macon were officially organized in the late 1820s, and the city of Macon and the surrounding county were officially declared a consolidated government in 2012. The primary industries that have developed in Macon-Bibb County have traditionally been agriculture, followed by insurance and finance, and light manufacturing. The population in the area has grown steadily over the decades, with a total population of around 155,000 at the 2010 census.
The city of Macon is well known throughout the region for its numerous cultural attractions, particularly its music. Its underground music scene has helped to cultivate and attract new talent, and Macon is considered one of the major music scenes in the South. Other attractions include antebellum and Victorian homes, museums, and historic districts. Macon also has several popular parks and recreation centers, including Ocmulgee National Monument, the Tubman African American Museum, and Central City Park.
 Similar Post
Macon-Bibb County has experienced a resurgence of economic activity over the last few years and is currently one of the fastest growing cities in Georgia. The area is actively involved in local, state, and national politics, and is home to several major businesses and employers. The county also houses a number of higher education institutions and is home to Mercer University, Central Georgia Technical College, and Wesleyan College.
Hello,My name is Aparna Patel,I'm a Travel Blogger and Photographer who travel the world full-time with my hubby.I like to share my travel experience.