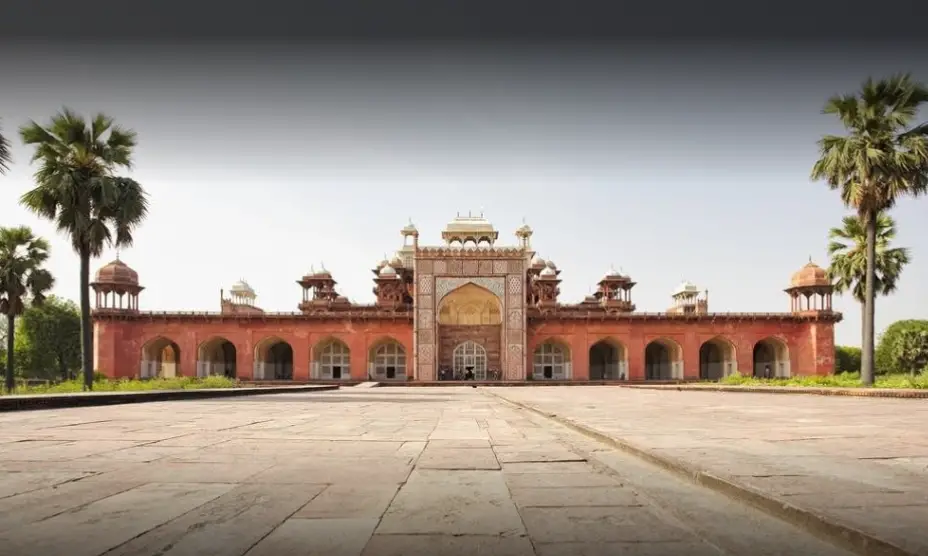 Interesting and fun facts about Akbar tomb | Historical Facts of Akbar tomb
7th August 2019
Akbar's Tomb
Agra is considered one of India's most distinct tourist destinations, where millions of tourists from around the world arrive. Many essential aspects of the history of India are associated with this ancient site, in which the name of the Mughal rulers is most commonly known. During the Mughal Period, there were many beautiful structures constructed, which work as a gemstone in India's historic property. Akbar's mausoleum is located, in Sikandra near Agra, which was built between 1605 and 1618. It is, said that this Tomb is the grave of the great Mughal emperor Akbar. This mausoleum is made, of sandstone and white marble and Emperor Akbar did the work of managing this grave till his death. After Akbar's death, his son Salim completed the construction of the grave.
The most important thing of the tomb mausoleum is that its mouth is opposite the other tombs of all the famous Muslim kings of the world, rather than the mosque's mosque. The Tomb spread over an area of ​​119 acres is surrounded by a beautiful garden. Which Akbar himself had designed. This mausoleum attracts tourists and historians who visit here very much.
The main structure of the tomb is made, of sandstone and one part is made, from marble. If you want more information about Akbar's Tomb, read this article. Here we are going to give complete information about Akbar's Tomb.
The mausoleum of Mughal Emperor Akbar, built in Sikandra, a suburb of Agra, India's state of Uttar Pradesh, is situated in Sikandra of Agra, and it is believed that it was constructed by Akbar himself in the 17th century. The place for Akbar's tomb was selected by Akbar himself and most of his creation itself took place during Akbar's lifetime. He completed the infrastructure of his tomb and built a beautiful garden around it. During his death, during the year 1613-14, his son Jahangir performed the construction work in which he constructed the upper part of the tomb which used white marble. The tomb was constructed during the year 1605-1613. Its area was spread over 48 ha (119 acres) of ground. Akbar's Tomb is a five-story building and the pyramid is of size. The center of all the buildings has been elevated like a tomb, which has beautiful panels, which are decorated with masonry work. Arabic architecture made on Spandrels enhances its splendor, this architecture involves painting the walls and decorating turquoise with puris design. The rest of the tomb has been constructed with red sandstone which uses Mughal architecture. The third Mughal ruler, Akbar, started the construction of this tomb in the year 1600 itself because he had a tradition here that according to his lifetime, his Samadhi should be started in the construction work. In the rest of the chambers located in the premises, Akbar's daughters are located in the grave of Shakr-un-Nissa and Aram Banu, Aurangzeb's daughter Zeb-un-Nissa and son of Shah Alam, son of Solomon. The entrance to the south of the tomb complex is bigger than all the four towers, on which the umbrellas are built and which are similar to the Taj Mahal's towers. This entrance is entered into the tomb. This entire area is 105 sq.m. The wall is surrounded by the wall. This entrance is entered into the tomb. This entire area is 105 sq.m. The wall is surrounded by the wall. There is also a huge entrance gate known as the tomb and the bulldog door in this complex. A huge way of this door goes to the tomb and with four marble towers, it is very impressive and impressive. There is a well-made garden around this tomb, where you can see many kinds of monkeys, dancing peacocks, and even deer! In the southeast of Akbar's Tomb, there is a palace of Sheeshmahal or glass. This palace was built for Jahangir, his wife, Noor Jahan. The tomb built on the top floor of the tomb is not real as the original grave is made under the ground level. A monastery is built around the bottom floors, which is divided into several parts, which contain large arches and columns of columns. There are verandas in the four stories of the tomb, which have a group of archers and carpets on each side have been made. There are pyramidal-shaped roofs in the Kiosks of the second floor, which are constructed by marble whereas the remaining domes are of a size. There is a central courtyard in the tomb that is surrounded by thin arches from all sides. This patio is divided into sections whose roofs have been trabeate pattern work. There is a square platform in the center of the tomb complex on which a fake tomb has been built, which is constructed with white marble. Designs on the panel include inscriptions, floral and geometric architecture which have been built on the tomb of Itimad-ud-Daulah. The tomb house is located on the ground floor. The threshold going to the tomb of Akbar is decorated with Arabic and floral shaped designs. This room is normal and it is constructed with stone. During the reign of Akbar's great-grandfather Aurangzeb, the tomb was greatly damaged. Being an oppressive and strict ruler, Aurangzeb had offended many Hindus and destroyed many of his temples. As a result, there was a revolt in the leadership of Jats, which attacked Agra's fort. To further humiliate Aurangzeb, he looted the tomb of Akbar and took precious jewels, gold ornaments, diamonds and carpets with him and damaged the property. With the destruction of the tomb, he burnt the bones of Akbar and cremated them, which is against Islam. Please tell that all these counterattack actions by the Jats were done under his leadership to take revenge on the death of the father of Raja Ram Jat.
Akbar's mausoleum architecture
In its construction, the nature of many religions is reflected, which is its specialty. This tomb remains square. This Tomb of Five Plains is wonderful in its own right.
The bottom tier is the largest and then as you go up, its width is reduced and the pyramidumama becomes its main thing. The middle of this part of the southern part is the gateway and it is written in the blue letters of Qur'an's rectangle. A corridor descended from it leads to a hard-walled monument. Here is the grave of Akbar, which is surrounded by the building from all sides and it is made from briquette and lime. It has a different display of different colors. It has five floors and the topmost one is made of white marble while the other four are made of red sandstone. This building has remained square and the umbrellas were built around it, which were made in every Mughal construction. The umbrellas built on the second floor are pyramidal and the marble has been used while the rest of the peak is dome shape. If you talk about the third and fourth floors of the arches, then there are arches and all are ordered which are very attractive in their own right and each of them has umbrellas in the Mehboob which enhances its splendor. This is the center of the trance It has been seen and Arab-style samples appear in it. It is said that the construction of this mausoleum is very different from the rest of Mughal construction buildings and there is no dome in it as much as the other place and this same thing makes it different too. This tomb is surrounded by a garden which is very amazing in itself. The garden is divided into four parts, made on the lines of the shape. The four parts are seen from each other in a high section, from which a small groove emerges. This garden is surrounded by a gateway which has been built from the southern part to the imperial gate for entry. In other directions, the pseudo-doors have been made to enhance its beauty, which also keeps the wonderful beauty.
The best time to visit Akbar's tomb
Akbar's Tomb is open from 6 a.m. to 6:30 p.m. This memorial remains in its prime beauty throughout the year. From October to March, it is a good time to go to Agra.
In summer, the temperature of Agra can be up to 45 ° C and the winters are cooler to 1 ° C.
Agra is very hot during summers, so you can make the plan from October to February.
During this time the weather remains quite charming, and you can see the rest of the city's structure with Akbar's tomb. Although Agra is a famous tourist destination, and there is a visit to tourists throughout the year.
Opening time
From morning to evening (open all days)
Entry fee: Rs 5 per person (Indian)
100 rupees (foreign)
Why come to see the tomb?
The journey of this tomb can be special for you in many ways. This is a great place for those interested in history, here many important aspects of Mughal history can be understood.
You can see Mughal architecture closely through this tomb. The journey here will take you towards Indian history. Apart from this, you can also see other Agra-based structures, in which the Taj Mahal is the most special.
How to enter?
You can reach Agra with the help of three means of transport. The nearest airport here is Agra Airport, from where you can reach the tomb by taxi here. You can take the support of Agra Railway Station for the railway route, from where you can get a private taxi for the Tomb. If you want, you can also reach here via road, Agra is well connected to big cities of Delhi and adjoining areas.
 Akbar's tomb entry fee
The entry fee for Indians is 20 rupees.
The citizens of SAARC have to pay Rs. 15 per person.
The foreigners will have to pay Rs. 200.
Children under 15 years old are not charged.
The cost of carrying a video camera is 25 rupees.
How to reach the tomb of Akbar
Akbar's mausoleum is located in Agra's National Highway 2 Mathura Road, which is about 8 kilometers from Agra town. The easiest way to go to Akbar's tomb is to hire a cab or auto-rickshaw from any part of the city.
How to reach Akbar's Tomb by road
Agra is connected to the rest of the country from three major national highways including Nh2, Nh3, and Nh11. Luxury buses like Government buses, private buses and Volvo are available from Agra. UP Tourism delivers direct tours for deluxe buses within the city and also for Sikandra and Fatehpur Sikri.Noida Expressway has expanded connectivity to Agra and has reduced travel time. From Delhi, now you can easily reach Agra within two hours.
How to reach Akbar's mausoleum
Agra is one of India's most popular tourist destinations and it is well connected by rail. The city has its own seven railway stations. Out of these seven, three main railway stations are Agra Fort Railway Station, Agra Cantt Railway Station, and Raja-Ki-Mandi. Most trains pass through two pre-stations, including the luxury train 'Palace on Wheels', which provide you the same experience as the Royals, and the Shatabdi and Rajdhani Express. Tundla station is well connected by road to Agra.
How to reach Akbar's Tomb by flight
Agra has its airport, Kheria Airport, which is about 5 km from the city center. Here the services are provided by major domestic airlines across the country. The easiest airport to go to Akbar's tomb is to hire a cab or auto-rickshaw.
Find Akbar's Tomb On Google Map
Tips for visiting Akbar's Tomb
The foreign tourists who buy toll tickets of Rs 500 for Agra Development Authority to visit Taj Mahal, on the same day, do not need to buy any kind of toll tickets to go to Akbar's tomb.
There are lots of monkeys in this place, so take care of your luggage.
Amazing, History, Famous Fun Facts About Akbar's Tomb For Tourists and Kids
This historic tomb was built by his son Jahangir for the most famous Mughal ruler Akbar.
This mausoleum is located on Mathura Road (NH2) in Sikandra, a suburb of Agra in the Indian state of Uttar Pradesh.
The construction of this tomb was started in 1605 AD and after about 8 years it was prepared by making it till 1613 AD.
This famous Tomb is spread over an area of ​​approximately 119 acres.
During Mughal Emperor Aurangzeb, India ruled for 49 years, during his reign, rebel king Ram Jat opened Akbar's grave for avenging the death of his father Gokula, and from that Akbar's bones removed him and humiliated him. After which Aurangzeb gave a terrible death to that rebel king.
This famous tomb is just 1 km away. At the distance is the tomb of Akbar's beloved wife Mary-Uz-Zamani is located.
This tomb has been built following the ancient Mughal style, due to which different types of Islamic carvings are found in this tomb.
This tomb has been built by the beautiful red sandstone and marble stones, due to which its beauty is still the same as it was earlier.There are many doors in this tomb, but the southern entrance is the largest, on which there is a 4th white marble built minaret.
The situation of this tomb was very bad later, which was later reconstructed with the help of a British officer, Lord Curzon.
Here is a list of Interesting and Unknown and omg facts about Akbar Tomb as well as In this article, you can also read some historical facts and general information about the Akbar's Tomb such as , history,architect of the Akbar's Tomb.
Read for more article
Historical Facts | Interesting and fun facts about Finland, You know these facts
Historical Facts | Interesting and fun facts about Spain, Spain's Shocking Facts
Historical Facts | Interesting and fun facts about Japan,You do not know these facts of Japan
Historical Facts | Interesting and fun facts about Sri Lanka
Historical Facts | Interesting and fun facts about Philippines
HollyMelody provides you Travel news, tips, and photography from destinations all over the world. The best new hotels,vacation spots, reviews, and tips to plan a perfect getaway from HollyMelody.