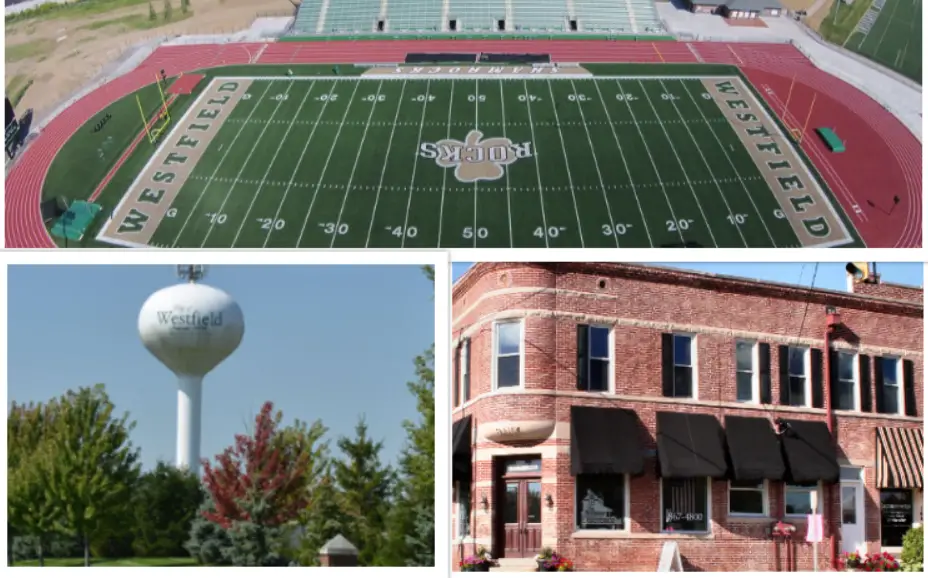 Westfield, IN: Interesting Facts, Culture & Things To Do | What is Westfield known for?
15th March 2023
Westfield, Indiana, is a charming city in Hamilton County, located just a short drive from Indianapolis. With its vibrant downtown, top-rated schools, and family-friendly amenities, Westfield is a sought-after destination for those looking to experience small-town living with big-city convenience.
In this blog post, we'll explore some interesting facts about Westfield, IN, delve into its culture and lifestyle, highlight some of the top things to do in the area, and take a look at its historical significance. So, whether you're a longtime resident or just passing through, let's discover all that Westfield has to offer.
Westfield, IN is known for its vibrant downtown area, excellent schools, and world-class sports facilities. It is also known for being home to the Grand Park Sports Campus, which is one of the largest sports complexes in the country. Additionally, Westfield is known for its high quality of life, low crime rate, and family-friendly community events.
Interesting facts about Westfield, IN
Here are some interesting facts about Westfield, IN:
Westfield is located in Hamilton County, Indiana, and was founded in 1834.
Westfield is home to Grand Park, a 400-acre sports campus that features 31 outdoor soccer and multipurpose fields, as well as indoor basketball and volleyball courts.
In 2020, Westfield was named the 5th Best Place to Live in America by Money Magazine.
Westfield is home to the Monon Trail, a 26-mile long pedestrian and bicycle trail that connects Westfield to Indianapolis.
The downtown area of Westfield has undergone significant redevelopment in recent years, with new restaurants, shops, and residential properties opening up in the area.
Westfield is also home to the Chatham Hills community, a luxury golf course community that features a Pete Dye-designed golf course.
Westfield is located just a few miles north of Indianapolis, making it a popular suburb for commuters who work in the city.
The Westfield Washington School District is highly regarded, with Westfield High School consistently ranking as one of the top high schools in the state of Indiana.
Things To Do in Westfield, IN
There are plenty of things to do in Westfield, IN for visitors and residents alike. Here are a few ideas:
Visit Grand Park – This 400-acre sports complex is one of the largest in the world and hosts a variety of events and tournaments throughout the year.
Explore the Monon Trail – This popular 20-mile trail stretches from Westfield to Indianapolis and is perfect for walking, running, or cycling.
Play a round of golf – Westfield is home to several golf courses, including the 18-hole layout at Wood Wind Golf Club.
Check out the Westfield Farmers Market – This weekly market runs from May through September and features fresh produce, baked goods, and handmade crafts.
Enjoy a show at the Westfield Playhouse – This community theater puts on a variety of productions throughout the year, including plays, musicals, and children's theater.
Go shopping – Westfield is home to several shopping centers, including the upscale outdoor mall, The Shops at Perry Crossing.
Visit the Grand Junction Brewing Co. – This local brewery offers a variety of craft beers and tasty food in a fun and laid-back atmosphere.
About Westfield, IN Culture and Lifestyle
Westfield, Indiana is a small but rapidly growing city located in Hamilton County, just north of Indianapolis. The city is known for its family-friendly neighborhoods, excellent schools, and strong sense of community. The residents of Westfield are diverse, with a mix of young families, professionals, and retirees.
Westfield has a vibrant culture with a strong emphasis on arts and entertainment. The city is home to several annual festivals, including the Grand Junction Derby, a soapbox derby race, and the Westfield Rocks the 4th, a popular Independence Day celebration with live music, food, and fireworks. The city also hosts regular concerts and movie nights in its downtown area.
Westfield is a very active community, with plenty of opportunities for sports and outdoor recreation. The city is home to several parks, including Grand Park Sports Campus, a 400-acre sports complex with dozens of sports fields and indoor facilities for various sports. Additionally, the city has a vast network of trails for hiking, biking, and walking.
The lifestyle in Westfield is characterized by its family-friendly atmosphere, safe neighborhoods, and excellent quality of life. The city has consistently been ranked among the best places to live in the United States, with its high-quality schools, low crime rates, and ample job opportunities.
What is it like to live in Westfield, IN?
Westfield, IN is a suburban city that offers a high quality of life to its residents. The city has a friendly and welcoming community, with a low crime rate and highly rated schools, making it an ideal place to raise a family. The cost of living in Westfield is also reasonable, with affordable housing options and a variety of shopping and dining options.
Westfield is known for its emphasis on outdoor recreation, with many parks, trails, and sports facilities available for residents to enjoy. The Grand Park Sports Campus is one of the largest outdoor sports complexes in the country, hosting a variety of tournaments and events throughout the year. The city also has a strong arts and culture scene, with several museums, galleries, and performing arts venues.
Overall, living in Westfield provides a great balance of small-town charm and modern amenities, making it a desirable place to call home.
Read more 
What is Westfield, IN known for historically?
Westfield, Indiana was first settled in the early 1830s and was incorporated as a town in 1848. The town's location along the Midland Railroad line helped it grow and become a center for agriculture and manufacturing in the area.
One of the most significant historical events in Westfield was the creation of the Underground Railroad. Westfield residents played a vital role in helping escaped slaves reach freedom by providing shelter, food, and transportation on their journey.
In the early 20th century, Westfield became a popular destination for tourists seeking natural mineral water at the town's various resorts and spas. These resorts were known for their luxurious amenities and attracted visitors from around the country.
Today, Westfield is known for its rapidly growing and thriving community, excellent schools, and beautiful parks and trails.