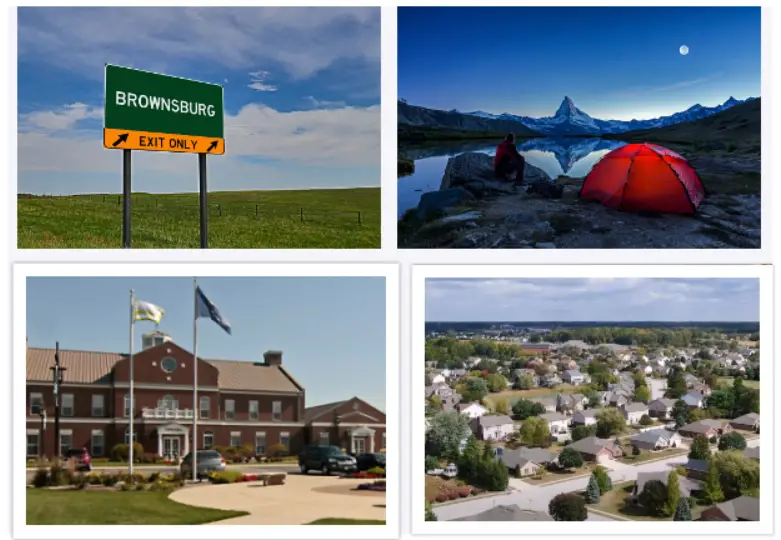 Brownsburg, IN: Interesting Facts, Culture & Things To Do | What is Brownsburg known for?
15th March 2023
Welcome to our blog post about Brownsburg, IN! Located in the heart of Hendricks County, Brownsburg is a growing town with a rich history and plenty of things to see and do.
In this post, we'll take a look at some interesting facts about Brownsburg, the town's culture and lifestyle, as well as some of the top things to do in the area. Whether you're a local looking for new experiences or a visitor exploring Indiana, Brownsburg has something for everyone. So, let's dive in!.
Brownsburg, Indiana is a suburban town located in Hendricks County, which is part of the Indianapolis metropolitan area. Here are some things that Brownsburg is known for:
Racing: Brownsburg is located near the Indianapolis Motor Speedway, which is home to the famous Indianapolis 500 race. Many race teams and drivers have their headquarters in or near Brownsburg, making it a hub for racing enthusiasts.
Parks and Recreation: Brownsburg has an extensive park system with over 300 acres of parkland, including trails, playgrounds, and sports fields. The town also has a community center that offers fitness classes and other activities.
School System: Brownsburg is known for its excellent school system, which consistently ranks among the best in the state. The town has two high schools, Brownsburg High School and The Academy, which offer a range of academic and extracurricular programs.
Growing Community: Brownsburg has experienced significant growth in recent years, with a population increase of over 40% since 2000. The town is home to many young families and has a thriving business community.
Historic Buildings: Brownsburg has several historic buildings, including the Brownsburg Railroad Depot, which was built in 1906 and now serves as a museum. The town also has a historic district with several well-preserved homes and buildings from the late 19th and early 20th centuries.
Overall, Brownsburg offers a mix of small-town charm and big-city amenities, making it a desirable place to live for many people.
Interesting facts about Brownsburg, IN
Here are some interesting facts about Brownsburg, IN:
Brownsburg is known for its award-winning schools. The Brownsburg Community School Corporation is consistently ranked among the top school districts in the state of Indiana.
The town is home to the Lucas Oil Raceway, which hosts several major motorsports events each year.
Brownsburg is located along the historic National Road, which was the first road in the United States to be funded by the federal government.
The town has a strong tradition of farming and agriculture, with many local farms and farmers markets providing fresh produce to the community.
Brownsburg is also home to the Arbuckle Acres Park, which features hiking trails, picnic areas, and playgrounds, making it a popular destination for outdoor recreation.
The town has a rich history dating back to the mid-19th century, when it was founded as a stop on the railroad line between Indianapolis and Chicago.
Brownsburg is known for its friendly and welcoming community, with many local events and festivals throughout the year, including the Brownsburg Farmers Market, the Brownsburg 4th of July Festival, and the Brownsburg Beer Fest.
Brownsburg has seen significant growth and development in recent years, with many new businesses and residential neighborhoods springing up to accommodate the town's growing population.
Things To Do in Brownsburg, IN
Brownsburg, IN offers a range of recreational activities for visitors and residents alike. Here are some of the things you can do in Brownsburg:
Visit Arbuckle Acres Park: This park features a nature trail, a playground, picnic areas, and a pavilion. It's a great place to spend time with family and friends and enjoy the great outdoors.
Explore Williams Park: This park has a community center, sports fields, and playgrounds. You can also go fishing at the stocked pond or hike the trails.
Go karting at Fastimes Indoor Karting: Fastimes offers indoor go-kart racing for adults and children. It's a fun activity for groups or individuals.
Enjoy a round of golf at Eagle Creek Golf Club: This 18-hole course is open to the public and offers scenic views and challenging play.
Check out the B&O Trail: The Brownsburg portion of the B&O Trail is a paved pedestrian and bicycle trail that runs through town. It's a great way to enjoy the outdoors and get some exercise.
Visit the Brownsburg Farmers Market: The Farmers Market is open seasonally and offers a variety of fresh produce, baked goods, and crafts.
Attend a Brownsburg Parks event: The Parks Department hosts a variety of events throughout the year, including movie nights, concerts, and festivals.
Take a tour of the historic Lucas Oil Raceway: Lucas Oil Raceway hosts a variety of racing events throughout the year, including the NHRA U.S. Nationals. You can take a tour of the track and learn about its history.
About Brownsburg, IN Culture and Lifestyle
Brownsburg, IN is a suburb of Indianapolis and has a culture and lifestyle that reflects its location. It is a family-friendly community with a strong emphasis on education and community involvement. Brownsburg is home to several top-rated schools, both public and private, and offers a variety of recreational opportunities for residents of all ages.
The town has a diverse population and a strong sense of community spirit, with numerous events and festivals held throughout the year. There are also several local parks, including Arbuckle Acres Park and Williams Park, which offer opportunities for outdoor recreation and family fun. Additionally, Brownsburg is known for its local shops and restaurants, which showcase the town's unique character and charm.
What is it like to live in Brownsburg?
Brownsburg is a suburb of Indianapolis and is known for its strong sense of community, excellent schools, and family-friendly environment. It has been named one of the "Best Places to Live in Indiana" by Niche.com.
The town has a small-town feel with easy access to big-city amenities. There are several parks and recreational areas, including the Arbuckle Acres Park, Williams Park, and Stephens Park. The town also has a great trail system for hiking and biking.
Residents of Brownsburg enjoy a variety of community events throughout the year, including the Brownsburg Farmers Market, the Brownsburg Festival of the Arts, and the Brownsburg 4th of July Extravaganza.
Brownsburg has a diverse population, and there are plenty of restaurants, shops, and entertainment options to explore. The town is home to several local businesses and national retailers, providing ample job opportunities.
Read more 
Overall, Brownsburg is a welcoming and safe community that offers a high quality of life for its residents.
What is Brownsburg, IN known for historically?
Brownsburg was originally established in the early 19th century as a small farming community, with the first settlers arriving in the area in 1824. The town was named after James B. Brown, a prominent landowner in the area who donated land for the construction of the first school and several churches.
Throughout the 19th and early 20th centuries, Brownsburg remained a small agricultural community, with a population of only a few hundred people.
In the 1950s and 1960s, Brownsburg began to experience significant growth, as people began moving to the area to take advantage of its proximity to Indianapolis.
Today, Brownsburg is a thriving suburban community with a population of over 25,000 people. Despite its growth, the town has managed to preserve much of its historic character, with several historic buildings and landmarks still standing in the downtown area.