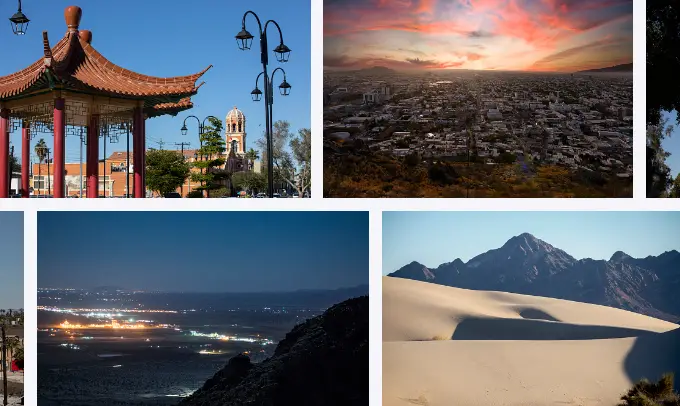 Mexicali : Interesting Facts, Information & Travel Guide | What is Mexicali known for
13th May 2023
Located on the border of Mexico and the United States, Mexicali is a vibrant city known for its unique blend of culture, history and cuisine. With a past steeped in pre-Hispanic, Spanish colonial, and modern Mexican-American culture and populations, Mexicali is an interesting mix of old and new, with a wide variety of activities to experience.
From the architecture, museums and shopping centers to the live music, amusement parks and traditional Mexican dishes, Mexicali has something for every taste and style.
This travel guide post will give you an overview of all that makes Mexicali unique and show you some of the must-see spots during your visit. So keep reading for all the information you need for your travel plans.
Interesting facts about Mexicali, City
1. Mexicali is the capital of Baja California and the largest city in the state.
2. It is located on the Mexico–United States border, just across the border from Calexico, California.
3. Mexicali is known for its hot summer days and mild winters.
4. Mexicali has a subtropical desert climate.
5. It has one of the most modern zoo and botanical garden in Latin America, the Bosque Presel.
6. Mexicali accounts for 68 percent of Mexico's national beer production and is home to some of the world's biggest breweries.
7. It is known for frequent screenings of traditional Mexican films, outdoor summer concerts and a yearly International Juggling Festival.
9. The city has a unique mix of cultural and architectural styles resulting from the influence of migrants, who've moved to the area in search of work.
10. Mexicali is known for its amazing street art, which can be found all around the city.
What is Mexicali known for historically?
Mexicali is known for its prominent role in the Mexican Revolution of 1910–1920. It was initially an agricultural center and an important trading post between Mexico and the United States.
The city has a rich cultural heritage that includes pre-Columbian, colonial, and modern influences. Mexican cultural influences are particularly represented in the city's cuisine and architecture.
Here is some information about Mexicali City:
Mexicali is the capital city of the state of Baja California in Mexico. It is located in the northeastern part of the state, bordering the United States.
The city was founded on March 14, 1903, after a land grant was given to a group of farmers from the United States who wanted to establish an irrigation district in the area.
The name "Mexicali" comes from the words "Mexico" and "California." The city was originally established as a border town, and its name reflected its location at the border between Mexico and the US state of California.
Today, Mexicali has a population of over 1 million people, making it the 12th largest city in Mexico.
Mexicali is known for its agricultural industry, which produces crops such as cotton, wheat, and vegetables. The city is also home to several maquiladoras, or factories that produce goods for export.
The climate in Mexicali is characterized by hot summers and mild winters, with temperatures sometimes exceeding 120 degrees Fahrenheit in the summer months.
The city has several cultural attractions, including the Centro Estatal de las Artes, a cultural center that hosts music, theater, and dance performances, as well as the Museo Sol del Niño, a children's museum with interactive exhibits.
Mexicali is also known for its food, which includes dishes such as street tacos, carne asada, and chilaquiles. The city is famous for its Chinese food, which is a unique blend of Mexican and Chinese flavors that has developed over the years due to the city's large Chinese population.
Mexicali has a border crossing with Calexico, California, which is one of the busiest border crossings in the world. The crossing is an important gateway for trade between the United States and Mexico.
Related articles
Famous historical monuments in Mexicali city
1. Basílica Menor de Nuestra Señora de Guadalupe: This church is Mexicali's most iconic religious landmark and is famous both locally and around the world. It was built in 1932, and its design is a mixture of Baroque and Neo-Gothic styles.
2. Estadio Calimax: Estadio Calimax is a Sports Stadium located in Mexicali and is considered one of the most important sports venues in the city. It is home to baseball and soccer matches, festivals and fairs, concerts, and more.
3. Plaza de la Amistad: Located in the heart of Mexicali, this large public square is considered to be the social and cultural center of the city. It is also a popular spot for locals and visitors alike, as it is surrounded by important historical and cultural buildings.
4. Monumento al Trabajador Rural: Located in the south side of Mexicali, this monumental statue commemorates the hardworking and heroic Mexican farmer. It is an iconic monument of the city and the beginning of a continuous project of the local authorities to recognize and celebrate the hard work and determination of the rural workforce.
What is Best Things Mexicali City known for
1. Charreada (Mexican Rodeo): A traditional Mexican pastime that is a combination of bull-riding and fancy horsemanship.
2. Taco stand: For some of the best tacos on the planet, head to the street food stalls of Mexicali.
3. Mercado Hidalgo: The lively street market in Mexicali sells fruits and vegetables, lively Mexican crafts, and just about anything else you can think of.
4. La Chinesca district:The former red light districtis home to a mix of hedonism and historic charm.
5. Thermal springs:Take a dip in the geothermalmarts in Laguna Salada and soak in the natural hot springs.
6. Carne asada: Mexicali is famous for its BBQspots, especially those serving up carne asada.
7. Bullfighting: Are you ready for the most dramatic sport in Mesoamerica?
8. Rodimiro Roman Theater:The first and only theater of its kind in Mexicali welcomes events and shows throughout the year.
9. The Scene: The city center of Mexicali boasts a thriving cultural scene with boutique shops, top-notch restaurants, and vibrant bars. Whether you're looking for a night out or a lazy day of browsing the shops, you'll find it here.
Read More:
What is it like to visit in Mexicali?
Visiting Mexicali offers a unique experience that blends a charming small-town atmosphere with modern amenities. Traditional Mexican culture, diverse cuisine, and stunning desert landscapes create a memorable visit for tourists, who can explore the city's main square and surrounding markets, indulge in tasty Mexican dishes, and hit the nearby beaches.
Nightlife options are plentiful for those seeking an exciting outing, and the city is filled with all kinds of hotels and resorts to accommodate every budget. While it can get quite hot in Mexicali, the heat is balanced out by endless entertainment, mouthwatering food, and amazing sights.
Things to do in Mexicali City at night
1. Attend a Lucha Libre wrestling match
2. Go dancing at a nightclub
3. Visit the cultural center Museo Alejandro Rangel para la Investigación e Innovación
4. Take a night tour of the city
5. Catch a show at the Teatro Julio Robles
6. Visit La Casa de los Sueños for dinner and music
7. Visit the local brewery for a tasting
8. Go for a walk around the malecón
9. Enjoy a show at the Teatro de La Ciudad
10. Have a romantic dinner for two at an outdoor terrace restaurant
Know more about Mexico
Hello,My name is Aparna Patel,I'm a Travel Blogger and Photographer who travel the world full-time with my hubby.I like to share my travel experience.