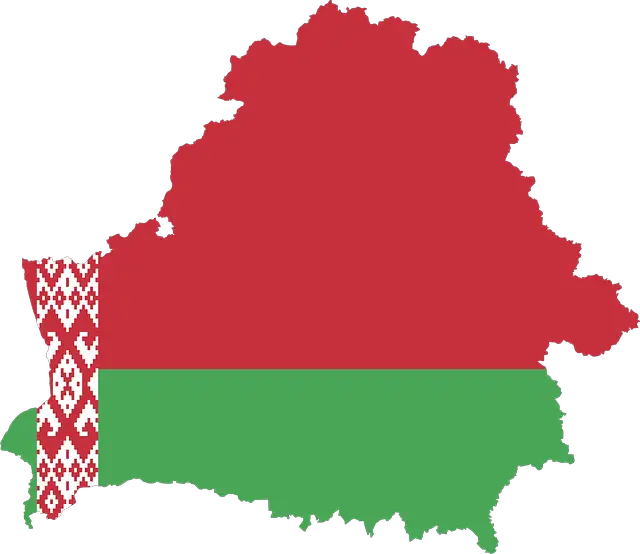 Interesting and fun facts about Belarus| Historical Facts
2nd September 2019
The Republic of Belarus is a country situated in Central Europe. The people of the country are known for being good, friendly and kind.The country has patiently faced endless war, but it values peace, it is a very beautiful country.
Today we are going to tell some amazing unique interesting facts related to Belarus.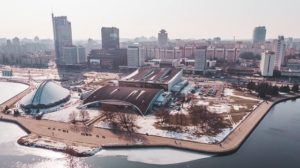 Amazing Awesome Unknown Facts About Belarus For Tourists and Kids
1. Belarus borders Russia to the north-east, Ukraine to the south, Poland to the west and Lithuania and Latvia to the northwest. Its capital and the most populous city is Minsk. More than 40% of its 207,600 sq km is a forest. Belarus means 'White Russia'
2. The first signs of settlements in ancient Belarus date back to around 100,000–35,000 years.
3. You would not have seen a flat country like this. The highest mountain in Belarus is Mount Dzyarzhynskaya, which has a height of 346 meters.
4. Belarus is a land-locked country in the eastern part of Europe, officially called the Republic of Belarus.
5. Belarus has a literacy rate of 99.6%, making it one of the most literate countries in the world.
6. Belarus is the only European country still to be given death punishment.
7. Belarus became independent on December 26, 1991. It celebrates its Independence Day on 3 July. – Belarus Independence Day.
8.Nobel Prize winner Svetlana Alexievich
There is a Nobel laureate in Belarus, her name is Svetlana Alexievich and she received a Nobel in 2015 for her work in literature.
The 67-year-old Belarus writer Svetlana Alexievich is also known as an investigative journalist and ornithologist. His name was recommended by the Ural Federal University last year for the Nobel Prize. Svetlana's creations include Voices from Chernobyl, Zinky Boys, War's Unwomanly Face.
Svetlana gained international recognition by presenting the emotional side of the Chernobyl disaster (Ukraine's nuclear accident) and World War II. Svetlana's works writing about these events were translated into many languages and she was honored with several international awards.
9. Do you know that two Israeli presidents were born in Belarus, Chaim Weizmann, and Shimon Peres? Shimon Peres was President from 2007 to 2014
10. A major third of Belarus was affected by the devastating nuclear accident of 1986 in Chernobyl.70 percent of the radiation fell on its area.
Watch Best places to Visit in Belarus

11. The national library is award-winning
Also known as 'The Diamond of Knowledge', the National Library of Belarus is a grand structure. Standing 74 meters tall with 23 floors, It is famous as one of the most unusual buildings in the world.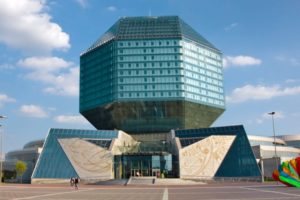 12. The Economy of Belarus is mainly dependent on the agricultural and manufacturing industries.
13. This is the land of potatoes, as there are 300 potato dishes in their national cuisine! They even make pancakes from potatoes.Pancake is a famous dish in many cultures around the world, which is a kind of flatbread or simple cake, which may or may not be sweet.
Pancake recipes can vary according to location and culture, but they all contain the base food items – flour, eggs, and milk. In some countries, such as the USA and Canada, pancakes are served as breakfast, in some other countries, such as in Europe, pancakes are eaten as a sweet dish after dinner, are also eaten at breakfast.As per their liking, people enjoy them in different ways, such as plain, with butter and sweet solution (syrup), by sprinkling on top or with fruit filling or cheese.
14. The bison is their national symbol.
When selecting their national animal, the Belarusians opted for the heaviest living mammal in all of Europe.
Recaptured from the brink of extinction in the early 50s, two European bison were released into the Białowieża Forest. Today there are about 550-600 to be seen here.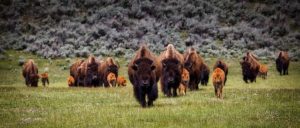 15. Belarus exports mineral products, chemicals, and textiles as well as machinery and metals.
16. Minsk is the capital and largest city of the Republic of Belarus, it is situated on the Svislach and Nyamiha rivers.
Minsk was destroyed during World War II. Being a large area of ruins, the first plan was to recreate it at a different site, which was about 30 kilometers from the initial location.
But then it was rebuilt in the same place and is now a very nice city with lots of unique attractions for its visitors.
Minsk is a very beautiful and clean city. Minsk is also known as the Green City. Apart from many parks, it has the third-largest botanical garden in the world.
17. IT sector in Belarus is becoming very strong and you are using some apps which you are not aware that they originated from Belarus like Viber app, or World of Tanks games.
In Belarus, every other child wants to be a programmer. Here, it is a very prestigious profession, and the salaries of the programmers are higher than all the neighboring countries.So if you are a programmer then you can have a good opportunity in Belarus.Belarus is called the "Silicon Valley" of Eastern Europe. About 170 companies and 27000 IT specialists work in Belarus.
Among IT companies, it is worth mentioning EPAM, which is registered on the New York Stock Exchange with an annual turnover of over $ 1 million. The Wargaming company, which created the popular game World of Tanks, now has 6,000 employees and 120 million users worldwide.
18. Viber App(develop in Belarus) is the third most popular messenger after Facebook Messenger, WhatsApp, and was bought by Japanese e-commerce Rakuten for 900 thousand dollars.
19. The masquerade App (develop in Belarus)that puts animated masks on your face was also developed in Belarus. It was purchased by Facebook in 2016 after having 10 million downloads.
20. Belarus gained independence from the United Arab Emirates in 1752.
21. Belarus has only 4 states operating television channels, some regions have Polish and Russian broadcasts available.
22. About 40% of Belarus is covered by forests.which signifies the green stripe in the Belarusian flag. The largest and oldest forests in Europe with the largest animal in Europe is located in Belarus. We are talking here about the Bialowieza Forest on the border with Poland.
23. In Belarus, in the year 2008, out of about 86 lakh mobiles, about 37 lakh mobiles were used. The largest phone service provider in this is Beltelecom. Nearly two out of three phone services use digital systems and ninety out of every hundred people use mobile phones. In the year 2009, there were about 1,13,000 internet hosts, which cater to the needs of about 3.1 million internet users.
24. President Alexander Lukashenko has led the country since 1994
25. The world's largest dump truck is produced in Belarus, the Belaz-75710 weighs 360 tons, has a wheel height of 4 meters, and if someone wants to buy such a truck, they have to spend 10 million dollars for it!
26. About 5000 Jews were shot in the head
This terrible massacre took place after the German occupation of the city of Brest in 1942.1 thousand skeletons were found during excavations in the city of Brest, Belarus.Many years ago 18,000 people were killed in the city of Brest in western Belarus.Skeletons and clothing rags have been found at this place for centuries. A mass grave was found during an excavation at a construction site in Belarus where excavations were being carried out to build an apartment.(source)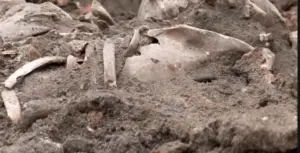 So far excavations have recovered the bones and skeletons of 1000 thousand Jews (Judaism). These Jews were killed during the occupation of Germany. A soldier engaged in cleaning the construction site says, "The bullet hole on the skull is visible."
According to a media report, about 18 thousand Jews are buried in this moat built in the city of Brest. At that time, the total population of the city of Brest was 50 thousand, of which half were Jews.
According to a media report, when the city of Brest was captured by Germany in 1942, they killed 5000 people here.
27.400 m from the ground Below are spas built-in salt mines, 4 thousand tourists come every year
The spa features jogging-walking and volleyball.Medical tourism is very popular in Belarus. Here the salt mines have spas which attract people.These spas are built at a depth of 400 meters from the ground. Every year 4 thousand tourists come here to stay and get treatment.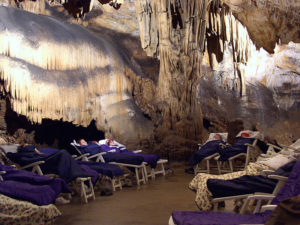 It is said that Belarus mines and tunnels have the world's largest reserves of salt and potassium. Coming here not only brings peace but also cures asthma, allergies, and respiratory diseases.
28. The country's first speleo (cave) therapy clinic opened in 1991
The first spa was established 28 years ago. The National speleotherapy Clinic was opened in 1991 in Soligorsk (130 km from the capital Minsk). Every year 4 thousand tourists come here, of which half are Russian. There are no facilities like TV and the internet but you can jog, walk, workout and play volleyball. However, scientists do not believe that salt therapy can cure physical illnesses.
29. A journalist had to eat the newspaper when his claim was proved false.
The editor of a sports newspaper in Belarus ate his own newspaper, after losing the bet.
He made a claim about the team playing ice hockey.Vyacheslav Fedorenkov is the editor of Pressball, the famous sports newspaper of Belarus. He claimed in his report that the team of Dinamo Minsk would not make it to the play-offs of the Kontinental Hockey League (KHL).He also claimed that if his news proved wrong, he would eat his written words. The KHL is an international league dominated by Russian players.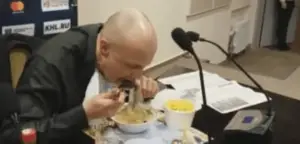 Dinamo Minsk's team proved the journalist wrong because of a good game. After this, the journalist had to eat the pages of the pressball newspaper in front of the camera as promised.
30.Getting naked at work
During the fifth Belarusian People's Assembly, Lukashenko spoke on topics such as Innovation, IT Technology, Privatization.In which he appealed to the people to seek employment opportunities instead of being completely dependent on the government.But some people in the country only noticed special things in his speech. During his speech, he said that "innovations, IT-technologies, privatization – it is all clear. Considerably conquered all of them. But everything is very simple, one should get undressed and work. ".The president wanted to say develop himself but he mistakenly called Get Undressed.(source)
Important historical events related to Belarus country:
30 July 1942 – German army kills 25,000 Jews in Minsk, Belarus.
08 April 2006 – Lukashenko is sworn as President of Belarus for the third time.
11 April 2011 – At least 15 killed and 200 people injured in Belarus's Minsk metro bombings.
Read More Facts
Reference
https://abcnews.go.com/International/1000-bodies-discovered-belarus-mass-grave-dark-reminder/story?id=62163657
https://www.dailymail.co.uk/news/article-6728629/Mass-grave-containing-1-000-executed-Jewish-men-women-children-uncovered-WWII-ghetto.html
https://zeenews.india.com/news/europe/oops-people-in-belarus-are-getting-naked-at-work-see-pics_1901873.html
https://www.bbc.com/news/blogs-news-from-elsewhere-39004434
HollyMelody provides you Travel news, tips, and photography from destinations all over the world. The best new hotels,vacation spots, reviews, and tips to plan a perfect getaway from HollyMelody.