Are you looking for lesser-known facts about Jodhpur? Here is a collection of Lesser-Known Facts and fun facts about Jodhpur which You've Never Heard Before as well as you can also read general information about Jodhpur such as about culture, history, government rule, etc. Jodhpur,  which is the capital of the Kingdom of Marwar, which is now part of Rajasthan. Jodhpur was founded by the Rao Jodha of Mandore in 1459. Jodhpur weather is very unique, it is very cold in winter and it is very hot in the summer. Jodhpur is known as 'Blue City'. Jodhpur has a historical significance in India and is also the best city in terms of tourism. In this post, I am going to tell you some amazing and interesting facts about Jodhpur.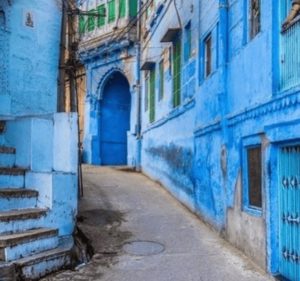 Jodhpur is a beautiful city with astonishing blue houses everywhere. The Blue City also, known as the 'Sun City' is, located in the majestic state of Rajasthan. The majestic Mehrangarh Fort, the tower above, the city is a magnificent architectural masterpiece. Surrounding this fort is the old city, a delightful synergy of wandering streets and a dazzling market.
This city attracts tourists a lot. Against the backdrop is the Thar Desert, which is of its charm. For decades, Jodhpur has expanded, beyond the old city. Its location near the center of Rajasthan makes it convenient for tourists. The forts and palaces of Jodhpur are major tourist attractions. Umaid Bhawan, which has been converted into a hotel and museum, is a magnificent palace made of pink sandstone and marble.
Rajasthan is a popular state for foreign tourists.
Jaswant Thada, built in honor of Maharaja Jaswant Singh II, is made of intricately carved sheets of marble. An old clock tower, also known as a clock tower, will take you back in time. A great way to end your journey is to go shopping in the charming markets of Jodhpur for fabulous shopping, brilliantly handcrafted artifacts, jewelry, carpets, embroidered shoes, marble statues, and more.
Amazing Famous Facts About Jodhpur For Tourists and Kids
1.Yoga Book of World Record

Tanmay Bhati, who was honored by Justice Manoj Garg of the Rajasthan High Court, after standing steadfastly for 45 minutes in the posture of the top Garuda Sasan, registered his name in the Yoga Book of World Records.
2.Mehrangarh Fort
Mehrangarh Fort is situated, at a height, of 150 meters on a high hill. This magnificent fort was, built by Rao Jodha in 1459 AD. This fort can be, reached by road from Jodhpur city. There are seven gates of this fort where visitors can see the marks made by cannonballs during the battle at the second gate. Kirat Singh Soda was a warrior who fell while defending the fort against Amber's forces. There is an umbrella in his honor. The umbrella is a dome-shaped pavilion which is built to express pride and respect in the rich culture of Rajputs.
3. Hollywood shooting in Jodhpur

Two big Hollywood films were, shot in Mehrangarh, Jodhpur, the first was Batman's "The Dark Night Rises and the second was James Bond's "Octopashay.
4.Second largest city
Jodhpur was the largest state of Rajputana in terms of the land area during the British Raj and, it was successful as were the Marwaris who were merchants of that time. When India gained independence in 1947, the state joined the Union of India, and Jodhpur became the largest state of Rajasthan, its second-largest city.
5.Chanda Kochhar

She is the Managing Director of India's most famous bank, ICICI Bank. She was born in Jodhpur and grew up in Jaipur.
6.First railway
In 1902, the Jodhpur Railway was the first railway to have electric lights installed. In 1920, the system of the electric light signal was, started between Dadar and Kare Road in Mumbai.
7.March 30, 1949
On March 30, 1949, the princely states of Jodhpur, Jaipur, Jaisalmer, and Bikaner merged to form a 'Greater Rajasthan Union'. This is considered the day of the establishment of Rajasthan.
8.The only female cricketer

Mithali Dorai Raj was born on 3 December 1982, in Jodhpur, Rajasthan. She is the first Indian and overall 5th female cricketer to have scored more than 1,000 runs in the World Cup. Mithali Raj has scored 6,888 runs in 209 International ODIs at an average of 50.64. Mithali is the only female cricketer to have scored the most 2,000 runs in T20 Internationals. Mithali has retired from T20.
9.Such Maharajas of Jodhpur who did not, return empty-handed to any person
Such a Maharaja of Jodhpur, who did not have any new humans coming back, returned empty. Maharaja's theory was that whoever comes to someone goes for profit, so if he is returned empty, then what is the difference between a king and an ordinary person. Mansingh was a wise, scholar, virtuoso, and politician.
10.Solar Mission

Under the Jawaharlal Nehru Solar Mission of the Government of India, the foundation stone of the world's largest solar park was laid by Union Minister of New and Renewable Energy at Badla village in Jodhpur district. Which is, to be, developed in three phases. A total of 10,000 hectares of land has been, selected of which 3,000 hectares have been, surveyed under the first phase. In the first phase, seven projects of 75 MW were, installed. Their construction is expected to be completed by March 2014. By the year 2018, four gigawatts of electricity can be, produced.
11.The queens and royal family of Jodhpur in the seventeenth century

In the seventeenth century, Maharaja Ajit Singh built the unique Janana Mahal in Mandore Udyan to protect the queens of Jodhpur and the women of the royal family from hot air and heat during summer. A Zanana Mahal is considered to be a unique example of architecture in the cultural-historical heritage of Jodhpur. In the year 1718-19, during the construction of the castle keeping the directions of the hot winds, the palace, and the ventilators were constructed due to the relatively cold in the gorge of the foothills in the middle of the hill and are suitable for security. A natural waterfall still flows in the palace complex built of red Ghatu stones. The belief of Mandore area is also associated with the famous waterfall known as Nag Ganga.
12.Rajkumar Ajit Singh of Jodhpur

It is difficult to count the heroes because many heroes were born in the land of Rajasthan and gave their lives for the sake of this earth. Prithviraj Chauhan, who was called a heroic warrior, was born on this land, who defeated Muhammad Ghori in the first battle of Tarain. Ghori is said to have attacked Prithviraj 19 times, in which he suffered defeat 18 times. Prithvi, the 12-year-old son of Raja Jaswant Singh of Jodhpur, tore the jaw of Aurangzeb's dread-starved wild lion with his hands. Rana Sanga showed courage by fighting more than a hundred wars. The sacrifice of Queen Bagheli of Thakur Mohkam Singh of Bulanda (Pali) is also immortal with the sacrifice of Panna Dhai. To save Jodhpur's prince Ajit Singh from Aurangzeb, she brought him in hiding instead of his newborn princess.
13.India Book of Record's biggest Ghoomar dance

In Deval, Chhatris, and gardens, these tantrums danced together to the tune of O Mari Ghoomar Chhe Nakhrali by Rajput costumes of bright colors and more than 1500 girls and women in 16 adornments. The occasion was the Nakharali Ghoomar program under the Marwar Festival. The event was, ranked by the India Book of Records as the biggest Ghoomar dance.
14.Set a world record by fasting for 148 days

Hemlata Jain, the resident of Phalodi city, located in Jodhpur district, has set a world record by fasting for 148 days. There is a festive atmosphere in the Phalodi region after receiving the news of this record of Hemlata. After reaching Phalodi after making the record, the people of Hemlata were welcomed by the people of the city by showering flowers. During this procession passed through the main routes of the city.
15.There is also a stepwell in Ranasi village which has been built by, the ghost himself

Water has always been a big problem in Marwar. To avoid this, the rulers and residents built many wells, steps, hounds, and stitches to store water. Most of the Bawdis were built by the King-Maharaja, the queens or the Paswans, but do you know that there is also a Bawdi in the Ranasi village of Jodhpur which has been built by, the ghosts themselves.
Ranasi village is a historic village in the Borunda police station area, about 105 km from Jodhpur. The Ghost Bawdi is present here. This stepwell is a unique piece of artistry. There are steps around to go down into the stepwell about 200 feet deep, and many carved pillars are, also made which enhance its beauty. Lock technique stones have been added to the construction of the stepwell which appears, to be swinging.
Festivals & Cultural facts

There are some major festivals in Jodhpur which are celebrated with great pomp and show.
1. He has a distinctive Marwari accent. The lifestyle in Jodhpur, India is, quite attractive. Their people wear beautiful and beautiful costumes.
2.Women's folk wear skirts and a hip-length jacket, with long sleeves of three quarters, covering the front and back.
3.Women also like to wear jewelry on many parts of their body especially they like to wear a specific type of jewelry like feet, head, forehead, ears, nose, neck, arms, wrists, fingers, waist, etc.
4.One of the different features of the culture of Jodhpur, Rajasthan is, the colorful turban worn by men the popular tight, riding trousers, 'Jodhpur, took its name from the city itself.
5.The main languages ​​spoken are Hindi, Rajasthani, and Marwari.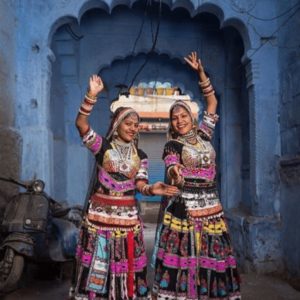 6.The historical grandeur of the city has been brought alive by spreading beautiful palaces, forts, and temples throughout the city.
7.In Jodhpur, it has exquisite handicrafts, folk dances, folk music, and bright-clad people.
8.Desert people are quite controversial. With their sweet smile and warm hospitality, they win the hearts of tourists.
9.The famous Marwar festival represents the festivals of the people of this city.
10.The Jodhpur markets have a range of Rajasthani textiles, clay figurines, miniature camels and elephants, marble inlay and classic silver jewelry in the tie and die textiles, embroidered leather shoes, beneficiaries, antiques, carpets, and puppets.
11. The Jodhpuri suit is famous all over India.
12. In the Jodhpuri market, you will be attracted to you by a cloth of embroidery, embroidered leather, camel skins, velvet shoes, attractive silk rugs, marble made of Makrana marble etc.
13.Unique fair of comes out in Jodhpur, men wear the form of women By taking the form of women, men remove Ghudla. This festival of Jodhpur is celebrated, as a symbol of women's independence.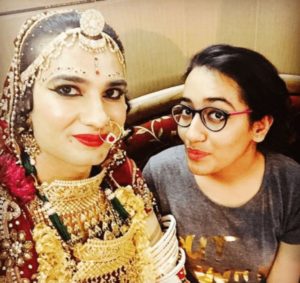 This is how it started
Troubled by the atrocities of Ajmer's commander Ghorel Khan, and to introduce the people to his seat, the women of Marwar have been leaving the city with a horse on their heads for the last 50 years. These women decided to innovate in it. The women put the horse in the hands of the men. Rotated all over the city and then named it Fagda Ghudla. They put a male wearing a woman's dress and put a horse on his head and roamed all over the city and named it Fagada horse. This tradition has been going on since then.
Marwar Utsav, the famous cattle fair of Nagaur, Shitalamata festival in Kaga and Peeper's Ganguar fair.
Agriculture and Minerals
The city of Jodhpur is a marketing center for agricultural produce, salt, cattle, wool, and leather.
High Court

Do you know that the state's High Court is, located in Jodhpur, the second-largest city of Rajasthan.
Food and Drink
Especially milk products are used more in Jodhpur. Such as Mawa ka Laddu, Mawa Kachori, Creamy Lassi, and Milk Firni, etc.
Industry and Trade
Jodhpur has engineering and railway workshops as well as manufacturing of cotton textiles, brass and iron utensils, bicycles, ink, and polo equipment. Jodhpur is famous for its handicraft products, which include ivory items, knives, lacquer items, glass bangles, dyed garments, leather goods, marble stonework and weaving of bridges.
Watch Jodhpur HD video:
General facts about Jodhpur

Country – India
State – Rajasthan
Division – Jodhpur
District – Jodhpur
Founded by – Rao Jodha of Mandore
Elevation – 231 m (758 ft)
Population 2011 – 36.9 lakhs
Established – 1459
Official language – Hindi
Sex Ratio – 915 female(♀) 1000 on male (♂)
Males Population (2011) – 543,120
Female Population (2011) – 490,636
Literacy Rate – (2011) 80.81%
Best season to visit – November to February, October and March & January
Targeted Railway Station – Jodhpur Junction
Airport – Jodhpur Airport
Altitude – 231 m
History of Jodhpur

Jodhpur history spins around the Rathore clan, Rao Jodha, the head of the Rathore clan, is credited with the creation of Jodhpur in India. He founded Jodhpur in 1495. The city was named only after that. Its city was earlier known as Marwar. The Rathores were expelled from their country of origin by the Afghans. Rathore Siyaha, who fled Pali, near present-day Jodhpur, married the sister of a local prince, helping the Rathors establish and strengthen themselves in the region. Over some time, he left the Pratiharas of Mandore only 9 km to Jodhpur. Initially, Mandore served as its capital, but by 1459 the Rathores felt the need for a safe capital. From this, Jodhpur, Sun City, is built by Rao Jodha.
Tourist places near Amba Vilas Palace (Mysore Palace)
The Rathors experienced good relations with all the Mughals except Aurangzeb, in his struggle for succession, Maharaja Jaswant Singh also supported Shah Jahan. After Aurangzeb's death, Maharaja Ajit Singh drove the Mughals out of Ajmer and added it to Marwar (now Jodhpur). Jodhpur became a modern city during the reign of Maharaja Udai Singh. During the British Raj, the state of Jodhpur was the largest in Rajputana, by homeland area. Jodhpur flourished under the British Raj, its merchants, the Marwaris, flourished uninterruptedly. They came to occupy a prominent position in trade across India.
India became independent in, 1947 and the state merged into the Union of India. Jodhpur became the second city of Rajasthan. The early history of Jodhpur is, inextricably linked to, the Rathore clan. The origin can be, traced to the clan leader Rao Jodha who is, credited for the establishment of Jodhpur in 1459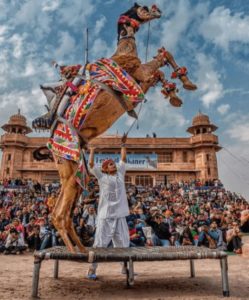 Inspired by the Afghans from their homeland, the marriage of Rathore Sihaji, sister of a local prince to Pali from Rathors Kanaz, which is the site of present-day Jodhpur, helped the clan in the region. Eventually, the dynasty excluded the Pratiharas who were, the rulers of Mandhar. He established his capital at Mandor for a time but needed a more secure place, replacing Jodhpur or 'Sun City' – chosen by Rao Jodha.
Except for Aurangzeb, Rathore maintained good relations with the Mughals. Maharaja Jaswant Singh helped Shah Jahan when he struggled for succession to the throne. After the death of Aurangzeb, Maharaja Ajit Singh forced the Mughals from Ajmer and annexed the land to Marwar (then known as Jodhpur). Jodhpur grew into a modern city during the reign of Maharaja Udai Singh.
Jodhpur was the largest state of Rajputana in terms of the land area during the British Raj, and was successful, as were the Marwaris, who were merchants of the time. When India gained independence in 1947, the state joined the Union of India and became the larger state of Rajasthan, with Jodhpur being its second-largest city.
Best Time To Visit

 Jodhpur

The winter months from October to March are the best time to visit Jodhpur. The temperature is pleasant during this time, with temperatures ranging from 24 ° C to 7 ° C. It is an enjoyable season to experience the best of Jodhpur. Although the days are pleasant, the nights can get a little chilly, so make sure you pack some warm clothes. In complete contrast, the summers of Jodhpur are harsh and burning. Therefore, most of the tourists prefer to visit the city during the winter season.
How to reach

Jodhpur

How to reach Jodhpur

 

by Flight
The Jodhpur Airport is a domestic airport with flights from Delhi, Mumbai, and Bengaluru via Air India and Jet Airways. Tourists from other cities in India as well as abroad can use Jaipur International Airport, which is 342 km away. The airport has regular flights to some major international cities like Pune, Coimbatore, Hyderabad, etc., such as Sharjah, Dubai, Muscat, and Abu Dhabi. Some of the domestic airlines operating here are Air India, Jet Airways, Air Costa, Indigo, SpiceJet, GoAir, etc. International airlines are Etihad Airways, Oman Air, and Air Arabia. Taxis, Buses, and Trains can be effortlessly availed to reach Jodhpur from Jaipur.
Nearest Airport: Jodhpur Airport is located, in Jodhpur city. It has a civil enclave and is a part of the Indian Air Force airport.
Safety Tips: Both Jodhpur and Jaipur airports do not ordinarily experience any weather-related flight safety issues. However, both cities experience thick fog during the few days of winter.
How to reach Jodhpur
by Road

Jodhpur is, well connected by, the road to major cities of Rajasthan and neighboring states of Delhi, Gujarat, Madhya Pradesh, etc. The Rajasthan State Road Transport Corporation (RSRTC) is the main transport provider, and the A / C, Non-A / C, Deluxe, Semi-Deluxe, and Volvo buses regularly have three National Highways and ten State Highways which pass through Jodhpur, Which provide exceptional connectivity. NH 114, NH 62, and NH 112 are National Highways. There are some private transport services in Jodhpur, Swagat Travels, Jain Travels, Laxmi Traveler, Shrinath Travel Agency, etc.
Travel Tips: Highways passing through Jodhpur are well built and provide hassle-free driving. However, Jodhpur is a major tourist destination in Rajasthan, especially be prepared for traffic jams on the Jodhpur-Jaipur route.
How to reach Jodhpur
by Train

The Jodhpur railway station is, well connected to major cities such as India, Delhi, Kolkata, Mumbai, Bangalore, Chennai, Hyderabad. Many trains pass through this junction regularly. Some of these trains include Howrah Jodhpur Express, Jodhpur Delhi Mandore Express, Jodhpur Indore Junction Ranthambore Express, etc. Jodhpur is a popular destination for luxury trains such as Palace on Wheels and Royal Rajasthan on Wheels.
Places to visit in Kullu Manali
Find

Jodhpur

 On Google Map
If you know any new things about Jhodpur, then definitely tell through the comments so that other people can read, thanks.