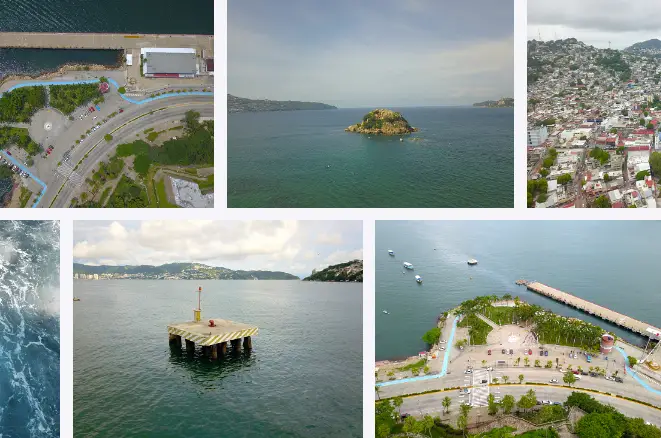 Acapulco : Interesting Facts, History & Information | What is Acapulco known for
16th May 2023
Acapulco is a resort city located in the Mexican state of Guerrero, on the Pacific coast of Mexico. It is a major tourist destination known for its gorgeous beaches and dazzling nightlife. In this article will explore the interesting facts, history and information about Acapulco, as well as what it is known for.
Interesting facts about Acapulco, City
1. Acapulco was known as the "Paris of the Americas" in the 1950s and 1960s.
2. The iconic La Quebrada Cliff divers perform their dramatic dive from the cliffs on Acapulco Bay every day.
3. Acapulco attracts numerous visitors every year, both local and international. In 2015, it was the fourth-most visited destination in Mexico.
4. Acapulco has been featured in numerous films and TV shows, including the James Bond film "Licence to Kill" and the comedy "Crocodile Dundee."
5. The Mexican "Lucha Libre" or professional wrestling, has been a large source of entertainment in Acapulco since the 1930s.
6. Acapulco is located on the Pacific Coast in the Mexican state of Guerrero and is known for its beautiful beaches and nightlife.
7. The city was founded in 1521 and was Mexico's main port of call from 1550 until the 1850s.
8. It is home to one of Mexico's most important ports and was an important trading post from the 1500s to the 1800s.
9. Acapulco is a popular holiday destination for the American, Canadian and European tourists.
10. The city's main attractions include historical sites, exquisite cuisine, beautiful beaches, and exciting nightlife.
What is Acapulco known for historically?
Acapulco has a long, storied history of being a hot spot for travelers and beach-goers. It was originally inhabited by the Nahuas, who called it "Acapolco."
It became a popular port of call for pirates in the 16th century and later became associated with luxury and glamor when it became a favorite destination of European royalty, Hollywood stars, and the global jet-set in the 20th century.
The city is also known for its spectacular cliff diving, which takes place at the iconic La Quebrada Cliffs, a famous nightly show dating back to 1934.
The history of Acapulco can be traced back to pre-Columbian times, when the area was inhabited by the Nahuatl-speaking Tlapanec people. The city was founded by Spanish conquistadors in 1528, and quickly became an important trading port due to its strategic location on the Pacific coast.
During the colonial period, Acapulco was a major center for the trade of silver and other goods between Mexico and Asia. The city also became an important center for shipbuilding and naval defense, due to its strategic location.
In the 20th century, Acapulco became a popular tourist destination, known for its beautiful beaches, vibrant nightlife, and luxury resorts. The city was frequented by Hollywood stars and other celebrities, and became a symbol of glamour and luxury.
However, in recent years, Acapulco has faced a number of challenges related to crime and violence. Despite these challenges, the city remains a popular destination for tourists, and continues to attract visitors from around the world.
Today, Acapulco is known for its rich cultural heritage, which includes a mix of Spanish, indigenous, and African influences. The city is home to a number of historic landmarks, such as the Fort of San Diego, which dates back to the 17th century. Acapulco is also known for its vibrant arts scene, which includes traditional music, dance, and other cultural events.
Overall, Acapulco is a city with a rich history and culture, and remains an important center for tourism and trade in Mexico.

While the city has faced a number of challenges in recent years, it continues to be a popular destination for travelers seeking sun, sand, and culture on Mexico's Pacific coast.
Read more 
10 Best Things Acapulco City is Famous For
1. Attractions – Acapulco has some of the most popular and visited attractions in all of Mexico, with places like La Quebrada Cliffs, La Roqueta Island, and Playa Caleta.
2. Nightlife – From beach bars and high-end nightclubs to outdoor concerts and all-night parties, Acapulco is home to one of the most vibrant night scenes in all of Latin America.
3. Adventurous Activities – From ziplining through Frida Khalo Park to flying on a parasail, Acapulco is the perfect place to adventure and get your adrenaline pumping.
4. Shopping – From traditional markets to modern, upscale stores, Acapulco offers a wide range of shopping experiences.
5. Cuisine – Acapulco is the best place to try traditional Mexican dishes such as tacos, tostadas, and traditional tamales.
6. Beaches – Acapulco is well known for its beautiful beaches such as Caleta, Revolcadero, and Tlacopanocha.
7. Casinos – Visitors can also spend hours trying their luck in the city's numerous casinos.
8. Scuba Diving – With rich waters, beautiful coral, and abundant marine life, Acapulco is a great place to explore and dive.
9. Whale Watching – Every year, humpback and Bryde's whales migrate along the coast of Acapulco and can be seen at a viewing platform in La Roqueta Island.
10. Festivals – Visitors can enjoy festivals such as Dia de San Juan, Dia de la Bandera, and Dia de la Independencia.
Acapulco city places to visit
1. La Quebrada: The iconic high cliffs of La Quebrada, with their characteristic white-streaked looking overlooking the shoreline, are one of Acapulco's landmark tourist attractions. Locals and visitors flock here to watch brave divers perform their daily dive of faith from the 35-meter-high cliffs.
2. Zocalo: Acapulco's Zocalo, or square is located in the old part of the city. Here, you will find a glimpse into the city's pastas a hub of activity for tourists and locals alike. In the square, you'll find swaying palms, lush greenery, lively musicians, delicious food vendors, and unique shops to explore.
3. Playas Caleta y Caletilla: The two Caleta and Caletilla beaches are located in the old part of the city and are considered to be two gems in Acapulco's landscape. These two calm, and serene beaches are perfect for sunbathing, swimming, or adventuring out into the bay.
4. Fort of San Diego: This ancient colonial fort acted as a lookout and defense point against pirates who sought to raid the town and the Gulf of Mexico during colonial times. Today, the fort remains in its original structure and houses a museum, highlighting the city's history and the fort's heroic acts.
5. La Roqueta Island: La Roqueta Island is a popular destination for recreation and eco-tourism located just off the coast of Acapulco. Here, visitors can explore nature trails winding through thick vegetation, snorkel and observe colorful tropical fish and coral, or relax on the remote beaches.
Know more about Mexico
Things to do in Acapulco city
1. Tour the La Quebrada Cliffs – Take an exciting boat tour and witness the daring cliff divers of La Quebrada, a sheer cliff that rises up to 130 feet out of the ocean.
2. Enjoy the Nightlife – Acapulco has long been a hotspot for nightlife, both for locals and travelers. From discotheques to beaches to bars, there is something for everyone.
3. Experience the Huatulco National Park – Located just outside of Acapulco, the Huatulco National Park is a breathtaking nature reserve with a variety of activities and wildlife.
4. Visit a Beach – Acapulco is known and loved for its beaches, and has something to offer for visitors and locals alike. Check out Caleta, Caletilla, and Encantada Beaches for sunning and swimming.
5. Shop at La Isla Shopping Village – This is the premier shopping center in Acapulco and the perfect spot for a day of shopping and dining.
6. Take a Tour to Coyuca Lagoon – Coyuca Lagoon is like a little slice of paradise, featuring mangrove-lined backwaters, fishing boats, and plenty of wildlife. It's also a great spot for bird-watchers.
7. Tour the Fort of San Diego – The Fort of San Diego is a stunning reminder of Acapulco's colonial past. Stroll around the impressive grounds and take in the 16th century architecture.
8. Take a Day Trip to Taxco – Take a day trip to Taxco, then explore its colonial past and rich cultural heritage. There are also plenty of galleries and shops to visit and souvenirs to buy.
9. Stroll Along Revolcadero Beach – Revolcadero Beach is a popular beach for both locals and tourists alike. Relax, sunbathe and enjoy some of the best views of Acapulco Bay.
10. Enjoy an Unforgettable Dinner – Visit La Grande Chaumiere for an unforgettable evening of fine dining. This establishment is one of Acapulco's top restaurants and its beautiful setting make it a perfect spot for a special night out.
Hello,My name is Aparna Patel,I'm a Travel Blogger and Photographer who travel the world full-time with my hubby.I like to share my travel experience.