beautiful city in India – The city of Ayodhya, where Lord Rama was born, where the epic Ramayana began, and where the Ramayana also ended.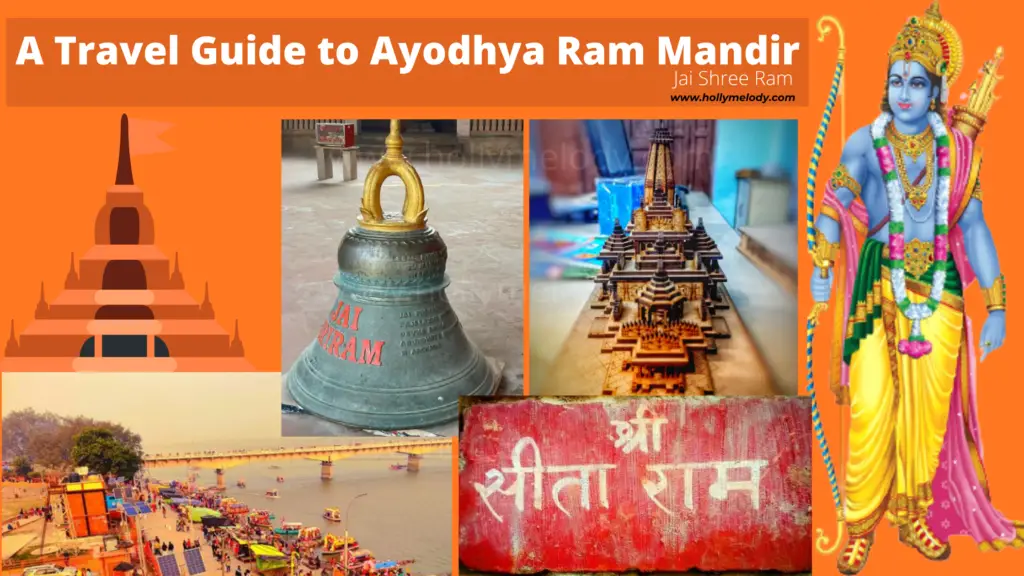 Travel to Ayodhya Ram Mandir
The city of Ayodhya is one of the seven holy cities of the Hindus, Saptapuri. That's why it is a pilgrimage place for Hindus. It is a sightseeing place.
Saptapuri means seven holy cities of India are as follows – Ayodhya, Mathura, Haridwar, Kashi, Kanchipuram, Ujjain, and Dwarka.
Places to visit in Ayodhya city

Ayodhya tour
Some of the main places of interest in Ayodhya are as follows –
Temples of Ayodhya Nagari
Ayodhya is a city of temples. It is impossible to say how many temples there are in Ayodhya, but let us continue to know about some of these main temples.
Ram Janmabhoomi Temple
The place where this temple is situated is believed to be the birthplace of Lord Rama. A mosque was built on top of this temple in the late 16th century. This mosque was demolished in the last phase of the 20th century to build a temple here again. The Ram Janmabhoomi temple is still the most disputed site in India due to these incidents that happened in the past.
The security arrangements made here are as stringent as never seen before. Before entering this temple, we have to deposit all the things with us. One has to go through several layers of security checks. To reach the temple, one has to cross a narrow lane from which there is only one exit. The guerilla soldiers keep a sharp eye on you all the time.
I laughed seeing the monkeys dancing on the roof of the barricade. The monkeys roamed freely as if they were jumping and enjoying seeing us locked in a cage.
Hanuman Garhi Temple

Ayodhya Tourist Places | Ayodhya Yatra
Hanuman Garhi Temple is the most famous temple of Ayodhya. It is said that when Lord Rama decided to give up his life and take samadhi in the river Sarayu, then he called Hanuman Ji and entrusted him with the responsibility of protecting his Ayodhya. Hanuman Ji sat on a mountain to keep an eye on Ayodhya. It is believed that the Hanuman Garhi Ayodhya temple has been built on the same mountain.
This is a small beautiful temple. One has to climb a lot of high stairs to reach here. Let me tell you secret information here that there is also a path from the back of the temple, on which the climb is a little less. The most striking memory of the Hanuman Garhi Temple is its bright complexion and its lavishly carved silver gate. An irregular-shaped stone is kept in the place of the Hanuman idol in the temple.
Whenever you go to visit the Hanuman temple, you must visit its terrace. The entire city of Ayodhya can be seen from here. If you have a paridarsak (visitor) then he can show you all the main places of Ayodhya from there. I wish the committee had put up signboards which would help the tourists to identify these places.
read also: Interesting facts about Mahabalipuram Temple | Historical Facts
Kanak Bhavan
It is called a building rather than a temple because it is a dwelling planet. In my estimation, this is the most beautiful temple of Ayodhya. The arch with colorfully carved kotrika located at its main entrance is very attractive.
In the center of the temple is a courtyard surrounded by carved walls and vents.
It is said that Kaikeyi, the youngest queen of King Dasharatha and step-mother of Rama, gave this palace to Sita after her marriage. Kanak Bhavan is the present form of the same palace. It is also said that different temples were built at this place at different times. The plaque on the main wall of the temple gives a detailed account of the Treta Yuga, Dwapara Yuga and to date, the renovations done from time to time and the names of their responsibilities.
The temple of Kanak Bhavan has unique idols of Rama and Sita. The idols of Rama and Sita are given here in the form of prasad. In the evening aarti of the deity is performed in this temple. The devotees sitting in front of the idol sing bhajans full of devotion.
Ghats of Ayodhya
The city of Ayodhya is situated on the banks of river Saryu. Saryu or Sarju is an integral part of Ramayana. Like other holy cities situated on the banks of the Ghats, many stories are prevalent behind the ghats of the river Saryu.
Guptar Ghat

Ayodhya Ram Mandir Tour | Ayodhya yatra
Guptar Ghat is situated on the other bank of Saryu in Faizabad. It is a unique serene ghat with a majestic light yellow-colored temple on it. From here some colorful boats are also seen next to the chaat pakoras shops. The legend associated with the Guptar Ghat says that Lord Rama entered the Saryu river from this ghat to take samadhi. The river Saryu is very wide. A long ferry ride can be enjoyed on it.
Jhunki Ghat
The Guptar Ghat is much cleaner and grander than the Ghats of Varanasi. It was freshly whitewashed. It is such a clean and serene ghat that it is a different pleasure to roam on it.
Laxman Ghat
Lakshman Ghat comes after going a little further from Jhunki Ghat. It is a belief associated with this ghat that Rama's brother Lakshman took water at this ghat.
Saryu Aarti
In the evening, there is a Saryu Aarti at the Ghats where you can also join in. Sandhya Aarti on the Ghats of the rivers also seems to be a new ritual of the 21st century. Whatever you say, thousands of earthen lamps floating in the river, it is a very beautiful sight. During the aarti, when all the pundits turn around a group of big brass lamps, we are imbued with a unique spiritual feeling. The music and hymns playing there add to this aura.
Rama's search in Ayodhya
For most devotees, Ayodhya is the symbol of Rama, also known as Maryada Purushottam. That is, a great man of all virtues who spent his whole life in the realm of principles and ideals. To know what is the meaning of Ram Ji in Ayodhya today, discussed with some people and know that Ram is recognized in different forms in Ayodhya. Some people worship his infant form i.e. Ramlalla.
Ram is like a son to mothers and a friend to the youth. Similarly, in Sita's city of Mithila, he is recognized as a bridegroom ie Jamai. There is no one way to see Shri Ram Ji, everyone respects and worships him in their own way. He understood from Haridham's Swami Dineshacharya Ji what is the meaning of Ram and why devotees should come to Ayodhya.
According to him, the life of Rama inspires us to lead a dignified and virtuous life. Ram and his city of Ayodhya teach us to be good human beings.
Ayodhya Research Center
Located in the heart of the city of Ayodhya, the relatively new Ayodhya Research Center aims to compile and document the Ramayana represented by various fine arts. The story of Ramayana is narrated in every corner of India. Apart from this, the stories of Ramayana are also known in Southeast Asia – such as Thailand, Indonesia.
Sri Lanka is an integral part of Ramayana. One can experience the Ramayana depicted by various fine arts at the Ayodhya Research Center. The Ramayana is depicted by Madhubani painting on an entire wall. The well-known tales of Ramayana are beautifully depicted by colorful geometric figures.
Even in the Patachitra style of Orissa, the Ramayana looked very captivating. There is also a collection of masks used in Ramlila of different styles. On the first floor of this research center, various scenes from Ramayana are depicted by a series of pictures. Here a map draws attention to itself.
All those places are marked on that map where various episodes of Ramayana took place. Experts say that Ramayana is played every day in this research center.
Ayodhya city
The city of Ayodhya is a city painted in different colours, as if it has been showered with colours. Every house, every ashram painted in bright colors gives Ayodhya a living and shining look. The narrow streets here resonate with the activities of cycles, motors, and humans. It is truly a unique and wonderful, miraculous city.
Ayodhya Temple Yatra – Important Information
When you go to visit the Ramjanmabhoomi temple, then you must keep your identity card with you. A passport is required for foreign nationals. Security personnel may ask you for your identity and some questions. Give them all the information requested correctly. You will not face any problem with this.
Ayodhya is a small town with narrow streets. It can be best viewed on foot. However, rickshaws are also present here for your convenience.
Ram Navami in the month of April and Diwali in the month of November, are the two major festivals associated with Lord Rama. It is celebrated with great pomp in Ayodhya. If you wish to participate in these, try to plan in advance by knowing the dates of the festivals in advance.
The accommodation in Ayodhya is not abundant. Most of the arrangements are available in the form of Dharamshala in various temples and societies. If you want a hotel with amenities, then you will get this arrangement in Lucknow. I hope that soon better and more abundant living arrangements will be available in Ayodhya as well.
The food here is mostly simple and vegetarian. The ashram where we had our meal served a Satvik thali which was not only vegetarian but also onion and garlic free.
Please keep in mind that Ayodhya is a holy city. Respect his culture and ethos.
As it is said in Ayodhya – "Jai Siya Ram", "Jai Shree Ram"
Celebrated during the July-August season, the Shravan Jhula Mela makes the city look beautifully decorated, making it a major tourist attraction during this time.
Ans: Maryada Purushottam is a Sanskrit word, Maryada means to honor and justice, while Purushottam means supreme person. When these two words are combined, the highest in respect is formed. Shri Ram never violated his dignity. He always followed the orders of his parents and guru.