If you are planning to visit Albania and you want to know about the List of famous best cities in Albania to visit then you have come to the right place. we have listed top 10 major cities in Albania to visit.
Before going to any city, it becomes difficult to think about where to start and where to roam? That is why we have made this problem easy for you. We have prepared a list of 10 amazing places to travel to Albania. With the help of which you will be able to enjoy visiting Albania without wasting your time. Hope this post will help you with your visit.
Albania is one of my favorite countries located in northern Europe. The beautiful beaches with breathtaking mountain ranges and spectacular lakes are something for everyone visiting Albania.
From year to year, Albania is becoming an increasingly popular tourist destination for its interesting historical sites, stunning scenery, and welcoming people. There are many great cities, villages, and towns in Albania that you will not be able to stop you from adding to your travel list to visit. Albania emerged from the world in 1991 under Communist rule. Some of the best places to visit in Albania are named, which you should visit during your time.
Don't miss: 10 best places to visit in Austria!
Albania's mix of modernism and tradition with its stunning scenery makes it one of Europe's must-see destinations. We have a lot to explore and experience from the historic Gjirokastra to Theth.
The holiday is much cheaper and less crowded than in other countries. Those who love wild nature, attractions, and Mediterranean air must take a chance on Albania. A round trip to the most well-known places is a numerous opportunity to get to know the country. If you are unsure of where to go, be sure to check out these 10 places to visit in Albania and enjoy a relaxing trip away from all the hustle and bustle.
Best Time to Visit Albania: April – June, September – October
High Tourist Season: July – August
Low Season: November – March
Famous cities in Albania to Visit
1. Gjirokaster
With more than 500 houses and buildings preserved and protected as cultural monuments, Gjirokaster is full of unusual architecture. Make sure you save a few hours for the palace because if you have a few days, I highly recommend you. I suggest staying at Gojirocaster at night and enjoying the historical atmosphere.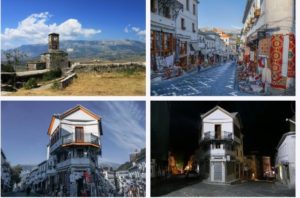 Gjirokaster is an enjoyable place to visit. In 2005 it was marked as a UNESCO World Heritage Site. Often also called the 'City of Stone, the palace situated on closed streets and at the top, Gizarokastra is worth visiting, a folklore ceremony also taking place every five years at the Palace of Gojirocastra – the last was in 2015. Located atop the beautiful Old Bazaar, Gazircoaster Castle, which is the second largest in the entire Balkans, consists of small stone palace-like houses.
Gjirokastra is known for its scenic location in the snow-clad peaks of the Dino Valley of southern Albania, and for its unique Ottoman-era architecture, make sure to visit the old Ottoman market in Gojirocatra. Ghazirocaster is, located just a 1-hour drive from Saranda, which makes your trip spectacular. Visitors to Gijrokastra were, also considered to be the best examples of the construction of the Zeket House and a tower house in the early 19th century.
Nestled on the edge of the hill and its winding streets abound with quaint buildings and historical sites, spend the afternoon wandering the streets and watching from a café. Ismail Kadre, a world-renowned author and the birthplace of former dictator Envar Hoxha of Albania, is famous and today houses his old home museum.
Read also: Top 10 beautiful cities in Afghanistan
This city located in the south was, chosen by UNESCO as the World Cultural Heritage mainly because of its unique architectural style, most of the buildings show, so if you are a history buff, this historical city would be your ideal place.
The palace of the city of UNESCO in Albania has an underground Cold War-era bunker and a magnificent museum for visitors (you can take up) To enjoy with its impressive castles and ruins. In Gjirokastra many theaters and religious places can be found in large numbers Besides every five years, they celebrate the national folk festival in the palace of the city.
Famous for: National Folklore Festival |  Biggest Castle | Ottoman town
Places To Visit: Zekate House, Scandouli House, Gazircoaster Castle
Best time to visit: June | September | spring (April – May)
Know more about City : Gjirokastër : Interesting facts, Information & Tourist Attractions
2. Lin
Lin is a village. It became part of the Municipal Pograd, in the 2015 local government reform, it is unusual to visit, be sure to visit for picturesque scenery and a relaxing holiday. The picturesque village of Lin is a must-see when exploring the southeastern areas of the country.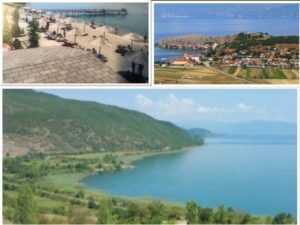 Lin's beautiful lakeside spot is the main bridge for picnics and paddling. It is a wonderful village with sandy and pebble beaches. Nestled on a small peninsula on the western shore of Lake Ohrid, the beautiful lake that separates Albania from neighboring Macedonia.
Famous for: Beautiful lakeside spot
Places To Visit: Lake Ohrid | Best Guesthouses in the Village – "Vila43"
Best time to visit: 12 Month
Watch Albania HD video:
3. Kruja
Must see Kruja when you come to Albania, Kruja is famous in the Middle Ages as the first capital of the Albanian kingdom and later the capital of the Kingdom of Albania.
Kruja, located a short distance from the capital Tirana, is a small town at the top of a mountain famous for being the home town of Gajerg Scanderbeg, the national hero of Albania. In the 15th century, George Kastrioti Skanderbeg in Gjergj Kruje saved the country from the Ottoman invasion for more than three decades.
He betrays the Ottomans and tells them that he wants to go back to Albania to help them capture the country. But in fact, he went back to Albania and challenged the troops against the Ottomans.
It is one of the most amazing places in Albania. Kruja has a large museum as well as a magnificent 15th-century church located within its walls and a palace that is amazing to learn more about Albanian history. If you have time, then it is advisable to stay here, stand in this palace and take a spectacular view of the whole city.
Locally called the 'Adriatic Balcony, you will find awe-inspiring views of Kruja, known as the home of Albania's national hero Garjerg Scanderbeg. The tomb of Sari Saltik and National Park Qafe Shtama is, located close to Kruja.
Kruja city center also has incredible markets that are hundreds of years old, which is attractive to visit. Away between its atmospheric streets, you will find some delightful restaurants and small cafes, along with a plethora of shops selling anything from artisan goods and souvenirs to antiques and leather products.
A beautiful and peaceful place, Kruje is worth knowing for its historical sites and, scenic naturals. The surrounding area is one of the popular tourist attractions to visit with its lakes, mountains, and valleys alike. Best things to do here – You can read my full Kruja guide.
Famous for: Kruja Bazaar |  Unique Medieval History | Traditions | Religions Tolerance,
Places To Visit: Castle of Krujë | National Museum Gjergj Kastrioti Skënderbeu | Lake Bovilla | Shtamë Pass National Park
Best time to visit:  April – June | September – October
Know more about City :
4. Sarandë
Sarandë is, located on an open sea bay of the Ionian Sea in the middle Mediterranean Sea, about 14 km (8.7 mi), east of the northern end of Corfu Island. In summer it is, one of the unforgettable beach cities in Albania and, it is one of the top places to visit in Albania during summer.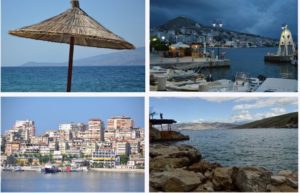 In summer there is a sufficient number of Albanians for the tourist season, and the main area for tourists, in Albania for great restaurants and nightlife. Nightlife is famous. Apart from the ancient ruins found in the city, Sarande's surroundings are full of natural beauty and historical sites, which is a great place to use as a base to explore the region.
The UNESCO World Heritage Site in Butrint is located outside Saranda and is well worth a visit. Lëkurësi – People come to enjoy the beautiful sunset. With its hilly location, neighboring Corfu is a great spot to take in the sunset. Saranda is, situated on a short journey across the Ionian Sea from the famous Greek island of Corfu.
A little over-developed along its line of identity-less apartment blocks, there are plenty of great places to visit Sarande and offers loads of bars, cafes, and souvenir shops. When winter starts it, turns into a sleepy beach town, but besides gives enjoyable weather. In Saranda itself, more than 300 days of sunlight come out of the year, so if you have to spend winter anywhere in Europe, then it is right to come. From here, you can easily reach Kasmil, Butrint, Gijrocaster, and other beach destinations along the Riviera.
Famous for: Majestic Sal Trees | Nightlife | Natural Beauty | Historical Sites
Places To Visit: Lekuresi Castle | Port of Sarande | Monastery of 40 saints
Best time to visit: April | May | June | July | August | September | October | November
Know more about City 
5. Berat
Berat is considered one of the oldest cities in the country and is a UNESCO World Heritage located in the middle of Albania which is, celebrated for its beautifully maintained Ottoman architecture. Barat is known as the 'Town of the Thousand Windows' due to Ottoman style homes.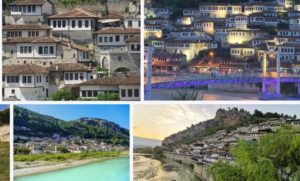 Berat has dwelled since the 6th century BCE. Formerly among the most famous Albanian cities of the Ottoman Empire, Berat was added to the UNESCO World Heritage Sites list in 2008 and is the most famous tourist destination. The foremost tourist destination of Barat is the 140th-century palace, Kalja, which is yet home to hundreds of people, in addition to this, you can see many Ottoman-era mosques and Byzantine churches scattered about the city on a hill.
One of the best views of Barat is the Osumi River combined, with its pleasant location, making it one of the sights of Albania. For the history buff, visitors are thrilled not only by its Barat Castle but also by the surprising number of its Byzantine churches.
The city has a splendid 13th-century hill palace, which is worth seeing for the beautiful scenery. There are also two unusual museums with some attractive local costumes and artifacts on display to roam in the Berat and some spectacular 16th-century icons. The Church of St. Mary of Blakherene, in the town of Berat, Albania, is a scene for anyone visiting Berat, as is the Mangalam Quarter.
Famous for: UNESCO World Heritage | Traditional Dishes | Woodcarving | Albanian painter | Town of the Thousand Windows
Places To Visit: Berat Castle | National Ethnographic Museum | National Iconographic Museum "Onufri" | Gorica Bridge
Best time to visit: June to September
Main Attractions: Berat Castle, National Ethnographic Museum, Gorica Bridge
Know more about City 
6. Theth
One of the largest cities in Albania in the north of the country, Theth is, a picturesque village hidden in the mountains. High in the Albanian Alps, Theth is a designated city of ​​outstanding natural charm. The region is a shelter for lovers of beautiful nature and wild animals.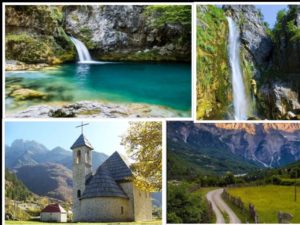 All of Albania's lock-in towers and Grunas waterfalls are notably famous for both visitors. Hikers, Theth – One of the best places to visit during your trip to Albania. Apart from the stunning nature, there are beautiful villages with their own culture, food, and unique traditions.
Within the village, visitors await to discover the beautiful waterfalls and dramatic Grun Canyon at Nikoll Koçeku Tower, and 'Theth National Park' The park is, covered with 2 / 3rds of trees. The mountain peaks of Thethi, Boga, Razma, and Vermoshi provide memorable experiences of Albania in its most natural state.
Famous for: Nature | Alps | Waterfall | Beauty
Places To Visit: Theth National Park | Maja Jezercë | Valbona Pass | Maja Harapit
Best time to visit: May – October
7. Ksamil
One of the top places in Albania that will leave you speechless is Kasmil, a beautiful paradise only a 20-minute ride from Saranda. To come here, travel in any other month except July and August because during those two months to enjoy Kasamil, the place is packed. Sand white, sea crystal, part of the big Butrint National Park, Qasmil Island is the most intact and unknown example of Albania.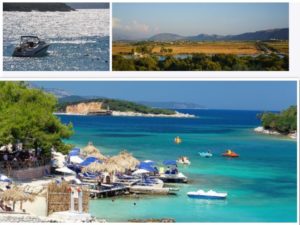 Ksamil, a beautiful coastal village, boasts beaches and restaurants by itself. Four small islands off its coast are, surrounded by crystal clear water which is, perfect for snorkeling and swimming.
The village close to the border with Greece, south of Saranda, which endures within the border of Butrint National Park, whose beautiful seaside location has made it one of the most attractive destinations in Albania.
Ksamil, the most beautiful place in Albania, has a few islands that you can swim in as well as rent a paddleboat or jet ski and spend a relaxing day in the Albanian sun. Visiting Blue Eye Spring is also important for those who want to make their visit to Ksamil memorable.
Famous for: Beautiful Beaches | Four small islands | Crystal Clear Sea
Places To Visit: Ksamil Islands | Lori Beach | Plazhi Ksamilit | Ali Pasha Castle
Best time to visit:  April-June | September-November
8. Dhërmi
To make your trip memorable Dhërmi is, accurate to travel. Dhërmi, which has six seas, has some spectacular beaches. Dhërmi city is, made for tourists. There are many accommodation and restaurant options here you can choose to stay on the beach or in the village above.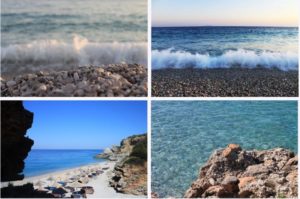 Dhërmi is a great place to base yourself in Albania, make sure you stop to, visit Gijip Beach in Dharami, it is, one of the best beaches in Albania hidden amidst a valley has happened. Nestled in the foothills of the Acrokarian Mountains, the picturesque village of Dharami boasts one of the most pleasant reaches of coast on the Albanian Riviera, it is also home to some pulsing nightlife.
Situated, on a mountain slope above the sea, the city has some marvelous sunsets, watching the sun go down and grabbing a drink at the restaurant is a great way to spend an evening.
With its welcoming turquoise waters and beautiful beaches, there is a fun and festive atmosphere, with lively beach bars with music, more than enough beach to get around; You can always find a peaceful place.
Being one of the most popular places to travel along the righteous Albanian Riviera, you have classic Southern European architecture in the village and 35 churches within its borders. Not only this, there is a pirate cave south of the main beach. ; A natural cave is cut into a vertical rock face.
Famous for: Crystal-Clear Waters | Small, Intimate Pebble Beaches Such as – Jaliksari, Shkambo & Gjipea.
Places To Visit: Gjipe Beach | Dhërmi Beach | Llogara Pass | Jala Beach
Best time to visit:  March to June | September to December
9. Korça

Korça is the 6th largest city in Albania, Korça is established in a valley so the city, is surrounded by mountains. It is an oasis of its museum, grand architecture, preserved buildings, and natural beauty.
The city was founded in 1280 under the designation Episkopi, Korça from the 17th century, onwards and, it was also an essential center of trade. Visit the churches of Korça to head to several museums for a taste of the Albanian culture of the city of Korça.
Korça is not only well known for its architecture but it is also one of the local beer Korça. The best thing about it is that you will get beer for a wholesale price, from Korça you can also take some unusual trips to the surrounding area.
Famous for: Architecture | Cultural | villas | Romantic Serenades | Traditional Cobbled Alleys | Old Bazaar
Places To Visit: National Museum of Medieval Art | Pazari i Korçës | Mirahori Mosque | Muzeu Arkeologjik
Best time to visit: April to October
Read more about city
10. Shkodër
Located in the north of Albania, Shakodara, the fifth largest city, is very quaint and a great gateway for some spectacular walking tours in the area.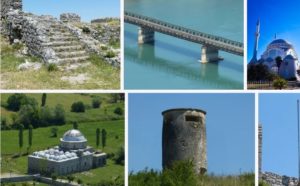 Shkodra is, often considered the cultural capital of the country because it hosts events such as Lake Day, Children's Festival, Carnival, and Shkodara Jazz Fest. Shkodra is also home to a famous historical palace for its significant role during the First Balkan War.
Southern Albanians speak a different dialect for Albanians in Kosovo and Shkodir in northern locations. Undoubtedly the main attraction, the ruins of Messi Bridge and Rozafa Castle, compliment the backdrop of lush green surroundings.
Throughout its history, it has been ruled by Illyrians, Venetians, and Ottomans, to name a few. One can explore the magnificent ramparts and ruins of the palace. Located on a rocky hill above the city is a former Illyrian stronghold that offers stunning views over Lake Shakodra.
Read more: Austria omg facts
The Buena River passes through the city, and the Albanian Alps can be seen, from afar. Not only this, with so many beautiful countrysides around Shkodara for visitors to explore, there is something for everyone to enjoy.
The Historical Museum displays parts of the region's rich history and heritage, besides the Ebu Beaker Mosque, the Orthodox Cathedral and, a historical museum that is a paradise for the history buff. Shakodara is, situated on the banks of the lake where three rivers meet.
There is a beautiful lake in Shakodara, while the medieval citadel of Drisht is a few miles apart, there is a lot to see like the Migjeni Theater in Shakora, as well as an ace market which is well worth seeing. Shakodera's Malaze cuisine is probably the best in Albania.
Know more about city
This Shkodra, located on Skutari Lake in Montenegro in Bordeaux, is influenced by many battles and victories, from the Romans as well as various aristocratic families, also known as Shakodar. You should stay here for a few nights to enjoy it fully. It is an incredibly inexpensive place It is also easy to understand day trips to the beautiful places around.
Famous for: First Balkan War | Many festivals take place on an annual basis – Carnival | Children Festival | Lake Day | Shkodra Jazz Fest
Places To Visit: Rozafa castle | Lead Mosque | Marubi National Museum
Best time to visit: May – October
Find

Albania

 on Google Map
Which one is the best city in Albania and why?
Please leave a comment down.
Happy Traveling!