Rajasthan is a state located in the northwestern part of India. It is the largest state in India in terms of land area and is known for its rich cultural heritage, colorful traditions, and magnificent architecture.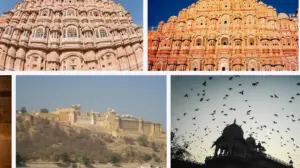 History:
Rajasthan has a rich and diverse history that dates back to ancient times. The region was once inhabited by a number of different tribes and clans, including the Rajputs, Jats, Gujjars, and Meenas. Over time, these groups formed a number of powerful kingdoms, such as the Mewar, Marwar, and Amber kingdoms.
During the medieval period, Rajasthan was a center of conflict between various kingdoms and empires. The region was invaded by the Mughals, who ruled over Rajasthan for several centuries. However, the Mughal Empire declined in the 18th century, and many of the Rajput kingdoms regained their independence.
During the British Raj, Rajasthan was a part of several different administrative units, including Rajputana, Ajmer-Merwara, and Marwar. After India gained independence in 1947, Rajasthan was formed by merging several princely states together.
Culture:
Rajasthan is known for its vibrant and colorful culture. The people of Rajasthan are proud of their heritage and traditions and have maintained a strong connection to their past. The state is known for its folk music, dance, and art, which reflect the rich history and culture of the region.
The architecture of Rajasthan is also world-famous, and the state is home to several magnificent forts and palaces, including the Amer Fort, Jaipur Palace, and Mehrangarh Fort.
Tourism:
Tourism is an important industry in Rajasthan, and the state attracts millions of visitors each year. Some of the popular tourist destinations in Rajasthan include Jaipur, Jodhpur, Udaipur, and Jaisalmer, each with its unique attractions and charm.
The state is also home to several national parks and wildlife sanctuaries, which offer visitors the chance to see a variety of exotic wildlife, including tigers, leopards, and Indian rhinoceroses.
Overall, Rajasthan is a fascinating state with a rich history, vibrant culture, and stunning architecture. It is a must-visit destination for anyone interested in exploring the unique and diverse cultures of India.