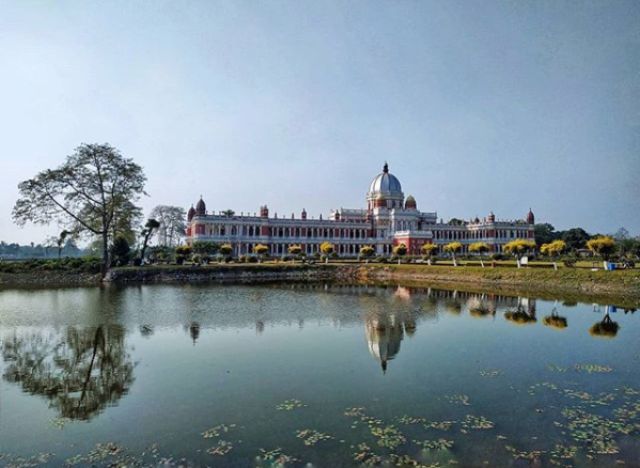 Interesting Facts,History & Unique Things About Cooch Behar Palace
6th January 2020
Are you looking for lesser-known facts about Cooch Behar Palace? Here is a collection of interesting and fun
facts about Cooch Behar Palace which You've Never Heard Before.Cooch Behar is a city in the Cooch Behar district in the northern part of the West Bengal region of India, which is also the headquarters of that district. From 1586 to 1949, it was a small state. It is a city located on the border of West Bengal and Bihar in the south of Bhutan.

Interesting Facts About Cooch Behar Palace ,West Bengal
Cooch Behar is famous for its beautiful tourist spots. Apart from tourist places, it is also known all over the world for its attractive temples.Apart from its excellent tourist spots and temples, it is also famous for its natural beauty.Cooch Behar is a quiet area away from the city. Tourists like to spend holidays here because its natural beauty gives them energy.
It is said that in ancient times the city was ruled by the Koch kings and they used to visit Bihar regularly. For this reason, it was named Cooch Behar.The city is also known for its historical sites, in which the Cooch Behar Palace(Cooch Behar Rajbari) is prominent.
Coochbehar Palace, also known as Victor Jubilee Palace, this palace is located in the city of Coochbehar, West Bengal build in 1887 during the reign of Maharaja Nripendra Narayan.(source)
Coochbehar Palace is known for its grandeur. Cooch Behar Palace is a brick-built double-storied palace with an area of 51,309 square feet.
The entire structure is 395 feet long and 296 feet wide.it is 4 feet 9 inches (1.45 m) above the ground.
The palace has various halls and rooms including a dressing room, bedroom, dining hall, billiard hall, library, and Toshakhana.
Cooch Behar Palace was originally designed by coach Raja Maharaj Nripendra Narayan. This majestic building is a masterpiece of magnificent architecture showcasing the royal era.

The museum

A part of the palace has now been converted into a museum where you can see art objects of great times.The museum includes oil paintings, chandeliers, terracotta figurines, cow clay models such as calves, arrows, sepia-tinted photographs, and spade and sandstone and Latella sculptures. There is also a tribal gallery which mainly depicts the life of the local people.
Cooch Behar Rajbari History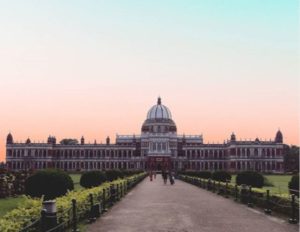 Cooch Behar Rajbari is one of the major tourist destinations of Cooch Behar. It is constructed in European style. This palace was built by the Koch Emperor Maharaja Nripendra Narayan in 1887 AD. It is a two-storied palace.
Both floors have been constructed with bricks. The total area of the palace is 4768 sq.m. And its length and width are 120 and 90 m respectively.Tourists love this palace and they capture beautiful pictures of it in their cameras.
Tourist Places in Cooch Behar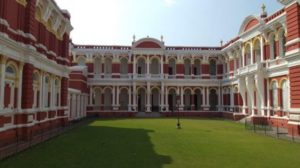 1.Madan Mohan Bari
Madan Mohan Bari situated in the heart of Cooch Behar is very beautiful. It was built by Maharaja Nripendra Narayan in 1885-1889 AD.In Madan Mohan Bari, tourists can see the idols of Madan Mohan, Maa Kali, Maa Tara, and Bhavani.Rasa Puja(Worship of God) is conducted here every year. The main attractions of this puja are Ras Yatra and Ras Mela.Tourists like this rasa yatra and fair and they come every year to participate in them.
2.Ardhanarishwar Temple
Ardhanarishwar temple is located 10 km north of Cooch Behar. In this temple, tourists can see the 10 feet long Shivling, which is situated on a square stone.
Gauripat is in the second part of the temple, which is very attractive and is very much liked by tourists.There is also a pond in the courtyard of the Ardhanarishwar temple, in which tourists can see turtles of many species. Many of these turtles are larger than normal. A week-long grand fair is also organized on the day of Shiva Chaturdashi. Local residents and tourists participate enthusiastically in this fair.
3.Kamteswari Temple
Kamteswari temple is located near the Dinhata railway station. This temple was built by Maharaja Pran Narayan in 1665 AD.
Although most of the original building of this temple has collapsed, this temple is still very beautiful.There are also 2 small temples in its courtyard, which are very beautiful and are very much liked by tourists. Tourists can also visit the Tarakeswar Shivaling at the entrance of Kamteswari Temple. A grand fair dedicated to the Goddess is also organized in Magh(January/February).
4.Siddhanath Shiva Temple
The Siddhanath Shiva Temple at Dhulabari is very beautiful. This temple was jointly built by Maharaja Harendra Narayan and Maharaja Shivendra Narayan in 1799-1843 AD. This temple is built in a terracotta style. Its main attraction is 5 beautiful domes which attract a lot of tourists. The local residents have great reverence for this temple and they come daily to worship. Tourists can easily reach here from Cooch Behar.
Cooch Behar rajbari opening time
Cooch Behar Rajbari timings are from 10:00 AM to 05:00 PM. It is open on all days of the week except on Friday. It is also open on national holidays. The entry fee is only Rs 10.
If you know any new things about Cooch Behar Rajbari, then definitely tell through the comments so that other people can read,thanks.
HollyMelody provides you Travel news, tips, and photography from destinations all over the world. The best new hotels,vacation spots, reviews, and tips to plan a perfect getaway from HollyMelody.