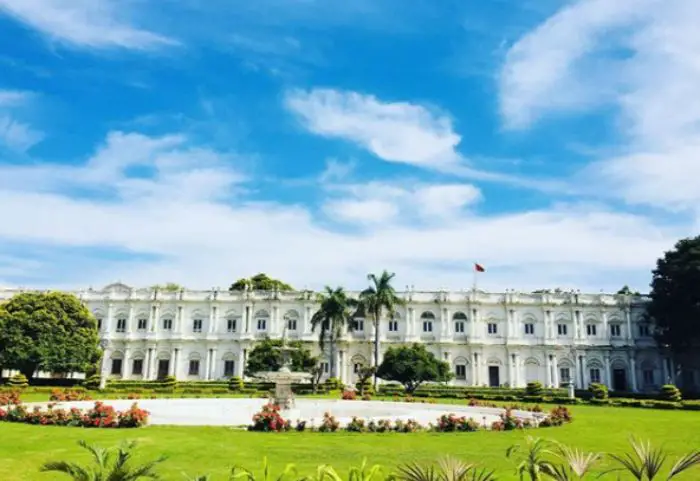 Interesting Facts, History & Unique Things About Jai Vilas Palace
1st January 2020
Are you looking for lesser-known facts about Jai Vilas Palace? Here is a collection of interesting and fun
facts about Jai Vilas Palace which You've Never Heard Before.
Gwalior is a historic city famous for its temples, ancient palaces and enchanting monuments that take any traveler back to the ancient times. It is the fourth major city in the state of Madhya Pradesh. Gwalior holds a unique place in the history of modern India. India's heritage is so vast, that it will take you a lifetime to know it. Historical buildings are very important not only in terms of tourism but also in knowing India. One such palace is Jai Vilas Palace of Gwalior. Tourists from India and abroad come to see that. Why is the palace of Maharaja Srimanta Madhavrao Scindia special? Let's know.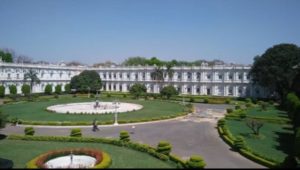 Interesting Facts About Jai Vilas Palace
Jai Vilas Palace is located in the beautiful city of Gwalior in the Indian state of Madhya Pradesh. Jai Vilas Mahal is most famous for its huge court hall. More than 5000 books are kept in the photo gallery and art gallery in the Jai Vilas Palace Gwalior. If you want to know about the history, architecture and other interesting things of Jai Vilas Mahal then read this article carefully.
Jai Vilas Mahal is the abode of the Scindia dynasty and their ancestors. A part of it is used nowadays as a museum. It was built in 1809 by Jivaji Rao Scindia. Its architect was Lieutenant Colonel Sir Michael Filose. Its architectural style is an amazing blend of Italian, Tuscan and Corinthian style. There are many documents and artifacts of the Scindia reign.

400 room palace

The 400-room palace is white and is built in 1.2 million square feet. At that time its price was 1 crore rupees. The palace has 400 rooms, out of which 40 rooms now have a museum.

The palace was built in 1874 This beautiful palace, spread over 1240771 sq ft, was built in 1874 by Srimanta Madhavrao Scindia. At the time when this palace was built, it was worth about 1 crore rupees but now the value of this palace is in billions.

Jai Vilas built to welcome Prince Edward Jayajirao

The ruler of the Scindia dynasty, became the Maharaj of Gwalior at the age of 8. When the ruler of England Edward VII came to India, Jayaji Maharaj invited him to Gwalior. For his reception, he planned to construct the Jai Vilas Palace. He hired a French architect Michel Philos and in 1874 built the Giant Javilas Palace.

Foreign artisans have decorated the entire palace

Madhavrao Scindia enlisted the help of foreign artisans to decorate this palace. The palace was built by the French architect Michel Philos.

3500 kg chandelier

The special thing about the palace is that there is a 3500 kg chandelier in the palace which is unique in itself.Before hanging these chandeliers on the roof, engineers mounted 10 elephants on the roof to see if the roof could bear weight.These elephants used to test the roof for 7 days, after which this chandelier was installed.

Silver train is attractive

When you go to the dining hall, there will be a silver train on the dining-table. This train serves food to the guests.

Gold on the roof

When you look at the roof of this palace, you will find workmanship done with gold and gems on the roof.

The museum is a part of the palace

The palace has a total of 400 rooms, with 40 rooms housed as museums. The trustee of this palace is Priyadarshini Raje Scindia, wife of Jyotiraditya.

The carpet at Jai Vilas Palace was constructed by the prisoners. Which took 12 years.

Area Of Jai Vilas Mahal

Jai Vilas Palace has an area of 12,40,771 square feet and is particularly famous for its large Durbar Hall.
Jai Vilas Palace History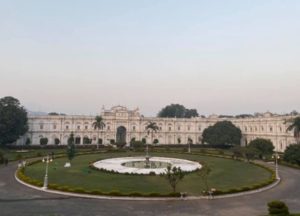 Jai Vilas Mahal is of 19th century which was built during the arrival of King Edward in 1874 by Srimanta Jayajirao Scindia Alijah Bahadur, Maharaja of Gwalior. For your information, let us know that the main part of Jai Vilas Palace was opened for tourists in 1964.
An important part of the Jeevajirao Scindia Museum is still known as the abode of descendants of the erstwhile royal Maratha Scindia dynasty. Later an important part of Jai Vilas Palace was converted into a grand museum as per the orders of Rajmata Vijayaraje Scindia.
This museum was built by Rajmata to honor the memory of her husband Jeevajirao Scindia. The construction of the Jai Vilas Mahal took 12 years.
Jai Vilas Palace Architecture
Jai Vilas Palace represents a beautiful specimen of European architecture. The Jai Vilas Palace is designed and built by Sir Michael Filose.
If you look at the architecture of the palace, then there is a beautiful combination in its architectural styles. The first floor of Vilas Palace is Tuscan, the second Italian-Doric and the third in the Corinthian style.
The interiors of the palace's Durbar Hall are decorated with gilt and gold items, where a huge carpet is seen. Whose length is 100 feet, width 50 feet, height 41 feet.
Also, the architecture of the Jai Vilas Palace consists of 400 rooms built of Italian marble floors in the palace, including lavish Persian carpets, ornate furnishings and rare antiques collected from far away worlds.
Apart from the Durbar Hall, a huge banquet hall is also located in the palace with a long dining table is a major attraction. A silver train running on the dining table is its major attraction. The rooms of the museum are decorated with beautiful objects and artifacts. There is a swimming pool in the indoor of Jai Palace which was built for the ladies of the royal family.
H.H. Jiwajirao Scindia Museum
The HH Jivaji Rao Scindia Museum at Jai Vilas Fort was built in memory of Maharaja Jivajirao Scindia. For your information, please tell that a part of the Jai Vilas Palace has been converted into a museum by Rajmata Shrimant Vijaya Raje Scindia.The HH Jivaji Rao Scindia Museum was inaugurated on 12 December 1964 by the then President of India, Dr. Sarvepalli Radhakrishnan.
Jai Vilas Palace Gwalior Ticket Price
150 per person for Indian citizens.
800 rupees per person for foreign nationals.
Children under 5 years free (free).
There is a charge of Rs 100 for carrying a camera-mobile.
There is a fee of Rs 300 for carrying a video camera.
 Best Places To Visit Near Jai Vilas Palace
1.Gwalior Fort
Gwalior Fort is an impregnable fort of entire South India. This fort was constructed in two parts. Which happened during two different periods. The beauty and grandeur of the Gwalior Fort are difficult to describe in words. This fort has Man Mandir, Gujari Mahal, water tanks, Karna, Jahangir, etc.
2.Teli Ka Mandir
This temple was built in the 9th century and is the largest building in Gwalior. Temple height is 100 feet. This magnificent grand temple is famous all over India for its unique architecture.
3.Tomb Of Tansen
This mausoleum belongs to the famous musician of India and the lead singer of Emperor Akbar's court, Tansen. Which is one of the 9 gems of Akbar's court.
4.Gujari Mahal
Gujari Mahal was built by Man Singh during the 15th century for his dearest wife Mriganayani. This palace is now turning into ruins. There is also an archaeological museum in the palace.
5. Rani Lakshmi Bai Ki Samadhi
Rani Laxmi Bai's tomb is built in Gwalior, which is a great tourist destination for tourists visiting Gwalior. There is an 8-meter high statue of Rani Lakshmi Bai. It is a great place for history lovers.
6.Man Mandir Palace
The Maan temple was constructed during the years 1486 and 1516 under the leadership of Tomar ruler Man Singh Tomar.In this palace, Aurangzeb took his brother Murad captive. The palace has two open courts with apartments on two levels.
7. Sun Temple
The Sun Temple is one of the most magnificent temples in Gwalior as well as the temple has splendid architecture. The Sun Temple was built during the year 1988 by a famous industrialist GD Birla.
8. Padavali And Bateshwar Gwalior
Approximately 40 kilometers from Gwalior, Padavali is a magnificent fort with many ancient temples that remain a center of attraction among tourists.
Intricate carvings are seen in the temples and also, erotic carvings can be seen in the temple. Therefore, this place of Gwalior is also known as Mini Khajuraho.
9.Gwalior Ka Zoo
Gandhi Zoo is a beautiful zoo established in 1922 by Madhav Rao Scindia of the royal family. This place is also known as Phool Bagh. Many species of sambar, deer, blackbuck, bison, wood buggy and white tiger are seen in this garden.
If you know any new things about Jai Vilas Palace, then definitely tell through the comments so that other people can read,thanks.