Jantar Mantar, located near the City Palace in the royal city of Jaipur, is the largest stone-built astronomical observatory in the world. Jantar Mantar was built, by King Sawai Jai Singh in 1727-33. It is, also included in the UNESCO World Heritage Sites list due to it's rich cultural, heritage and scientific value. UNESCO announces that this observatory is the best example of the exposition of astronomical skills and cosmological concepts of the Mughal period. A Ram Yantra is also, placed at this place which was used to measure the height at that time. Jantar Mantar stands proudly as a witness to the wisdom and mathematical prowess of a bygone era that attracts tourists visiting here. If you want to go to see Jantar Mantar of Jaipur or want to know more unique things about it, then definitely read this article. In this, we have given complete information about the history of Jantar Mantar, about visiting Jantar Mantar and how to reach Jantar Mantar.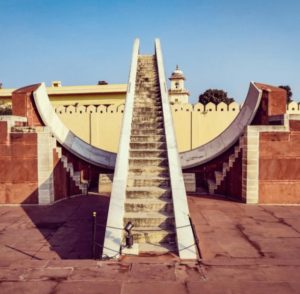 Amazing, History, Famous Facts About Jantar Mantar For Tourists and Kids
UNESCO Certified Place Jantar Mantar of Jaipur is included, in UNESCO's list of global heritage.
One of the observatories Jantar Mantar of Jaipur is one of the 5 main observatories. It was built by Maharaja Sawai Jai Singh, who was also the founder of Jaipur and an astronomer. In the early 18th century, they developed 5 Jantar Mantars across India, in Delhi, Mathura, Jaipur, Varanasi, and Ujjain.
Largest Observatory As 5 observatories were built in different places, in India, Jaipur observatory is the largest among them all.
The objective of Jantar Mantar Jantar Mantar was constructed to study time and space. This composition of Jaipur is a complex of nineteen architectural astronomical instruments that are still in operation and are still, used for calculating and teaching. It is used to observe and study orbits around the Sun. Some of the compositions here are made of stone, marble, and copper. Some among the nineteen instruments are as follows; Chakra Yantra, Dakshin Mural Yantra, Digamsha Yantra, Disha Yantra, Kanali Yantra, and Palbha Yantra.
The world's largest stone sun clock 
Jantar Mantar of Jaipur has the world's largest stone sun clock called Vrihat Samrat Yantra. This device gives the local time at an accuracy of two seconds. This composition is about 27 meters high. The reason behind this huge emperor instrument is its accuracy. A small device failed to tell the exact time, so the only option left was to increase the size of the device.
Jantar Mantar of Jaipur has a collective ticket, with which you can also visit Hawa Mahal, Nahargarh Fort, Amber Fort, and Albert Hall Museum.
Jantar Mantar of Jaipur is considered to be the largest.
Jantar means instrument and Mantar means formula, that's why Jantar Mantar means to count.
Jantar Mantar is one of the five observations made by Maharaja Sawai Jai Singh, one of which is also in Delhi.
The afternoon is the best time to see the entire natural beauty of Jantar Mantar of Jaipur.
Jantar Mantar in Jaipur has 14 Architectural Asontomical Instruments.
Jantar Mantar of Jaipur lies between the City Palace and Hawa Mahal in the old city.
You can also take the knowledge and help in many languages at Jantar Mantar in Jaipur by paying a high fee.
Like Jantar Mantar of Jaipur, Jantar Mantar of Delhi remains.
Watch HD video on Jantar Mantar:
History of Jantar Mantar
The world-renowned observatory to make accurate predictions was, started by King Sawai Jai Singh (II) of Amer, the founder of Jaipur city, under his supervision in 1728, which was completed in 1734. Sawai Jai Singh was also an astronomer. Whose contribution and personality have been, praised by Jawaharlal Nehru in his famous book Discovery of India. Before the construction of this observatory, Sawai Jai Singh had sent, his cultural envoys to many countries of the world and asked for manuscripts of ancient and important texts of astronomy from there and they were also preserved in their library and got them translated for their study. Haraja Sawai Jai Singh II built five observatories across the country based on Hindu astronomy. These observatories were built, at Jaipur, Delhi, Ujjain, Varansi, and Mathura. He took the help of eminent astronomers of the time in building these observatories.
First Maharaja Sawai Jai Singh (II) built the emperor Yantra in Ujjain, then the Observatory (Jantar Mantar) in Delhi and Jantar Mantar in Jaipur ten years later. Jaipur observatory is the largest among all the five observatories in the country. Work was started, in 1724 for the construction of this observatory and in 1734 this construction was completed. It is, huge with the rest of the Jantar Mantras, it does not have much competition, from crafts and instruments. Brass instruments are worth seeing in the memorial as well as works of Hindu Sanskrit words in it. You can observe those words with open eyes.
Read also: Interesting facts & History about Jallianwala Bagh
This historical monument depicts the ancient architectural arts and gives information about the new cultures of the time and also the ideology of the people of the 18th century. The memorial has three main astronomical instruments – boundary-vertex spatial instrumentation, Mediterranean instrumentation, and Suryapath Yantra, Kapali Yantra type work in two types of instruments and is helpful indirectly matching one instrument to the other. This historic monument suffered significant damage in the 19th century. It was later repaired, by Major Arthur Garrett. While doing the post of assistant state engineer of Jaipur district, he did all this. Of the five observatories built, by Sawai Jai Singh, only Jantar Mantar of Delhi and Jaipur are left.
The Yantra located in Jantar-Mantra is still in perfect condition, through which the forecast of rainfall and weather-related information, is collected every year. UNESCO gave it world heritage status, mainly due to the proper safety of the instruments. Jantar Mantar of Jaipur has a collective ticket, with which one can also visit Hawa Mahal, Amber Fort, Nahargarh Fort, and Albert Hall Museum. Jantar Mantar of Jaipur lies between the City Palace and Hawa Mahal in the old city. You can also take the knowledge and help in many languages ​​at Jantar Mantar in Jaipur by paying a high fee. Raja Jai ​​Singh wanted to refine the ancient Islamic Zij tables to determine the right time of day.
Jai Singh wanted to create an accurate calendar that could help make accurate astrological predictions for both personal and social benefits. To achieve this goal, he decided to build Jantar Mantar in the year 1718 for which he did extensive studies on astronomical principles of Hindu, European, Islamic and Persian civilizations and built five different observatories all over North India. Jai Singh built the Jantar Mantar of Jaipur between 1727 and 1733 and also renovated it again and again. The equipment here was constructed, in such a way that covered a lot of cosmic applications.
Structure of Jantar Mantar

Let us tell you that Jantar Mantar located in Jaipur is a collection of various architectural and astronomical instruments were instruments for measuring time, detecting planetary deflections, predicting eclipses, detecting celestial altitude and tracking stars in orbits Including 19 major geometric devices. This attraction of Jaipur is spread over an area of ​​about 18,700 meters and also has many so large appliances. Sawai Jai Singh II constructed Jantar Mantar with elevated quality stone and marble Because stones can withstand more weather conditions than metals. Some of these devices were designed, by Raja Jai ​​Singh as per his concept. On the other hand, there is also much copper-made equipment which still works accurately today. Jantar Mantar of Jaipur is the largest in North India as compared to its other law school.
Read Also: Interesting facts about Cellular Jail(kala pani) | Historical Facts
Equipment at Jantar Mantar
The largest instrument at the Jantar Mantar is the Samrat Yantra, which can measure local time with an accuracy of up to 2 seconds. Let us tell you that the structure of this device, is made from local stone and marble, each of these instruments takes on an astronomical scale. However, the Samrat Yantra is not open to the public as observers still use it for their calculations today. A small sundial is present here which works on the same principle as the Samrat Yantra and is open for public use and exploration. Apart from that, there is also the Rama Yantra which is used to measure the local coordinates of height and azimuth of a celestial object. Jai Prakash Yantra is used to find the status of heavenly monuments.
Some tips to visit Jaipur Jantar Mantar

• Jantar Mantar of Jaipur is a UNESCO declared World Heritage Site. It is open from sunrise to sunset. The instruments of the observatory are also functional during this period.
• The entrance fee to this observatory is fixed at Rs 50 for Indians and Rs 200 for foreign tourists.
• This observatory is located at Madhomadh, Jaipur. Hence, it can be easily reached by any means.
• Generally, tourists visit Jantar Mantar's instruments in a period of 45 minutes to 1 hour.
• Strong sunlight is necessary for the best view of Jantar Mantar. Therefore, the brightness of the Sun in the open sky is strong only then the experience of its visions will be unforgettable.
• To know and explain these instruments, the viewer is necessary.
• This place is very suitable for enlightenment and entertainment of children.
Read Also: Interesting facts & History about Hawa Mahal
Where to stay near Jantar Mantar
If you are thinking of staying somewhere near Jantar Mantar, then Jaipur has a lot of options for you. Prominent hotels here include Alsisar Haveli, Hotel Mahadev Villa, Hotel Blue Haven, and Fort Chandragupt.
Best time to visit Jantar Mantar

Rajasthan is a desert state, and it is so hot here. The summer falls from April to June, and the weather is hot during this time. The best time to visit Jantar Mantar will be during the spring or winter months September to March as this time is suitable for enjoying a holiday in Jaipur city and visiting several places here. The days are so favorable in these months but the nights are less than 4 ° C cold. If you are going to Jaipur at this time, do not forget to bring woolen clothes with you. The monsoon season is from, July to September but there is lighter rainfall in Jaipur.
Why go to see Jantar Mantar?
It is one of the few observatories in India.
Information about astronomy can be obtained directly by its inspection.
It makes you see the whole earth from a scientific point of view. It would not be an exaggeration to say that Jantar Mantar is capable of making poets as scientists and scientists as poets.
You can assess your position from the perspective of the whole universe.
Jantar Mantar presents the basic principles of science and astronomy to you so easily that you are inspired to build it yourself in your home.
Local astrologers of Jaipur must-visit Jantar Mantar at sunset on the full moon day of Ashadha month. They come here and assess the arrival of Bela, the coming rain season.
Find Jantar Mantar On Google Map
How to reach Jantar Mantar
Jantar Mantar has located 5 km from Jaipur. With the help of buses plying from Jaipur towards Ajmer, you can easily reach Jantar Mantar. Apart from this, you can also reach your destination with the help of a cab or taxi. The city of Jaipur is well connected to many major cities, of India by railways, airways, and roadways.
How to reach Jantar Mantar by flight
If going to Jaipur to see Jantar Mantar then it is a great option to travel to Jaipur by airplane. Sanganer Airport is connected to several major airlines in India regularly. The distance from Sanganer to Jantar Mantar is about 17 kilometers, for which you can take the help of any taxi or cab.
How to reach Jantar Mantar by Road
The Rajasthan State Road Transport Corporation (Rsrtc) operates several luxury and deluxe buses between Jaipur and major cities within the state of Rajasthan. You can catch a bus to Jaipur from cities like New Delhi Ahmedabad, Udaipur, Vadodara, Kota, and Mumbai.
How to reach Jantar Mantar by Train
If you want to go by Jantar Mantar train Jaipur railway station is connected to other parts of India with the help of express trains. You can easily reach your destination with the help of a cab or taxi from Jaipur railway station.