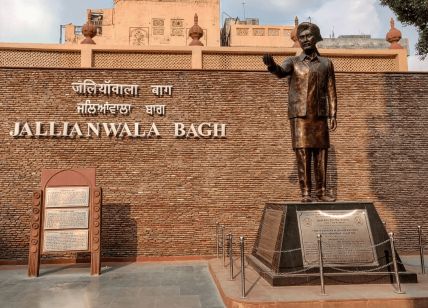 Interesting facts about Jallianwala Bagh | Historical Facts of Jallianwala Bagh
13th September 2019
On April 13, 1919, 99 years before today, British officer General Dyer had indiscriminately fired bullets at the unarmed crowd present at Jallianwala Bagh in Amritsar. More than 1,000 people were killed in this murder, while more than 1,500 were injured. On the day this cruel incident occurred, it was Baisakhi. After this assassination, the end of British rule began. It is a place in Indian history whose people are disheartened by hearing the historical story. That massacre was condemned worldwide. But after this massacre, the revolutionaries of India had become stronger instead of being reduced. After all, what happened in 1919, due to which innocent people present in Jallianwala Bagh, were killed, who was the main accused in the murder and what punishment did he get? The answers to all these questions have been, given to you in this article.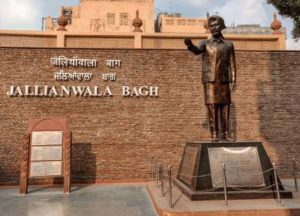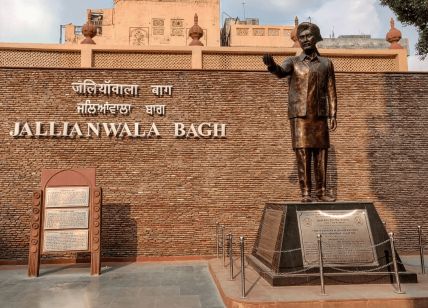 Amazing, History, Famous Facts About Jallianwala Bagh For Tourists and Kids
A memorial built at this place-
It was decided to build a memorial here in memory of those killed in Jallianwala Bagh. A trust was established, in the year 1920, and the place was purchased.
Jallianwala Bagh was, once owned by a lawyer of Raja Jaswant Singh. At the same time in the year 1919, this place had the right of about thirty people. This place was bought by these people in the year 1923, for about Rs 5,65,000.
The responsibility of building a memorial at this place was, given to the architect of America, Benjamin Polk, and Polk designed the monument. The memorial was inaugurated, on 13 April 1961, by the President of India, Rajendra Prasad in the presence of several leaders.
It cost about 9 lakh rupees to build, this memorial and this memorial is known as "Flame of Fire".
Read More: Interesting facts about Hawa Mahal | Historical Facts of Hawa Mahal
There are still bullet marks-
Jallianwala Bagh has, become a tourist place in today's time and thousands of people come to this place every day. There are still many memories related to the 1919 incident at this site.
On a wall built at this site, there are still marks of bullets which were fired by his soldiers on the orders of Dyer. Apart from this, that well is also present at that place in which women and children jumped and gave their lives.
On the orders of General Dyer, the British Army opened fire for about 10 minutes without stopping. About 1,650 rounds of firing took place in this incident. It is, said that the soldiers stopped their hands when the bullets were, fired.
Many people jumped into the well in the garden to save lives, which is now called "Shaheedi Kuan". It is still present in Jallianwala Bagh and reminds of the innocent people who had become victims of the evil plans of the British.
According to the British government, about 379 people were, killed and 1,200 people were, injured in this firing, but according to the Indian National Congress, more than 1,000 people were killed that day, out of which 120 were, found in the well and More than 1,500 people were injured.
General Dyer was a great supporter of the Rowlett Act and did not approve of it. He intended that the Indians would be scared after this assassination, but on the contrary, the whole country became agitated against the British government.
Jallianwala Bagh massacre affected Bhagat Singh, from within. It is, said that when Bhagat Singh got the information about this murder, he reached Jallianwala Bagh after walking 19 km from his school.
Watch HD video on Jallianwala Bagh:
Information related to Jallianwala Bagh-
Where did this incident happen:-      Amritsar, Punjab, India
On what day this incident took place:-   13 April 1919
Who were the culprits:-     British Indian soldiers and Dyer
How many people died:-    more than 370
How many people got injured:-   more than 1000
Information about events in the year 1919
On 6 February 1919, the British government introduced a bill called 'Rowlett act' in the Imperial Legislative Council and the bill was passed by the Imperial Legislative Council in March. After which this bill became an act.
According to this Act, the British Government of India could arrest any person based on suspicion of treason and put that person in jail without presenting them before a jury. Apart from that, the police could also keep any person in custody for two years without any investigation. This act gave the British government a strength to suppress the political activities happening in India.
With the help of this act, the British Government of India, wanted to control the Indian revolutionaries and India wanted to eliminate the movements going on for the independence of the country. This act was opposed, by many leaders, including Mahatma Gandhi. Gandhiji started the Satyagraha movement against this act in the whole country.
Read More: Interesting facts about Cellular Jail(kala pani) | Historical Facts
Start of 'Satyagraha' movement

The Satyagraha movement started in the year 1919 was going on with great success against the British rule all over, the country and every Indian participated in this movement. On 6 April 1919, a strike was organized under this movement in the city of Amritsar, India, and the Rowlatt Act was opposed. But gradually that non-violent movement took the form of a violent movement. On 9 April, the government arrested two leaders belonging to Punjab. The names of these leaders were Dr. Saifuddin Kachchu and Dr. Satyapal. After arresting these two leaders, they were transferred from Amritsar to Dharamshala by the British police. Where he was placed, under house arrest. These two leaders of Amritsar were so popular among the people here and being upset over the arrest of their leader the people here wanted to meet Deputy Commissioner Miles Irving on ​​April 10 to get his release. But the Deputy Commissioner refused to meet these people. After which these angry people set the railway station, wire department and several government offices on fire. Due to the fire, in the wire department, the government work was severely damaged, because through this, communication between officers was possible at that time. Three British were, also killed due to this violence. The government was upset with these killings.
The responsibility of Amritsar entrusted to Dyer
To overcome the deteriorating conditions of Amritsar, the British government of India handed over the responsibility, of that state from Deputy Commissioner Mills Irving to Reginald Edward Harry Dyer and Dyer started the task of correcting the conditions in Amritsar on 11 April. Because of the circumstances of the state of Punjab, the British government imposed Martial Law in many cities of this state. Under this law, the freedom of citizens and the holding of public ceremonies were, banned. Under martial law, where more than three people, were being gathered, they were being captured and put inside the jail. Actually, through this law, the British government wanted to stop the meetings organized by the revolutionaries. So, the revolutionaries can do nothing against them. On April 12, the government also arrested two other leaders of Amritsar and the names of these leaders were Chaudhary Buga Mal and Mahasha Ratan Chand. After the arrest of these leaders, there was more anger among the people of Amritsar. Due to which the situation of this city was likely to worsen. To handle the situation, the British police in this city had further Strictness.
Story of Jallianwala Bagh Incident

On April 13, a large number of people gathered at Jallianwala Bagh in Amritsar. On that day curfew was imposed in this city, but on that day, there was also the festival of Baisakhi. Due to which a large number of people came to Hari Mandir Sahib means Golden Temple of Amritsar. Jallianwala Bagh was close to the Golden Temple. Therefore, many people went for a walk in this garden. Because of this, on April 13, around 20,000 people were present in this garden. Some of whom gathered to hold a peaceful meeting on the issue of the arrest of their leaders. At the same time, some people also came to roam with their family. On that day, at around 12:40 pm, Dyer was informed of the meeting to be held at Jallianwala Bagh. After receiving this information, Dyer left his office at around 4 am with about 150 soldiers for this garden. Dyer felt that this meeting was being done to spread riots. Therefore, after reaching this garden, he ordered his soldiers to open fire without giving any warning to the people. It is, said that these soldiers opened fire for about 10 minutes. People started running to avoid bullets. But the main door of that garden was also closed, by the soldiers and that garden was closed with walls up to 10 feet from all sides. In such a situation, many people jumped into a well in that garden to save their lives. But the bullets were not taking the name of stopping and within a short time the color of the land of that garden had turned red.
How many people were, murdered-
More than 370 people died in this massacre, including young children and women. A seven-week-old baby was, also murdered in this massacre. Apart from that, more than 100, dead bodies were extracted from the well in this garden. These bodies were mostly children and women only. It is, said that people jumped into the well to avoid bullets, but still they could not save their lives. About 1000, people were killed, in this accident and more than 1500 people were injured. But the British government only confirmed the death of around 370 people. So the image of his country is not spoiled around the world.
Questions raised on Dyer's decision

This massacre was condemned by every leader, of India, and after this incident, the freedom to liberate India became more intense. But some officials of the British Government had justified the massacre done by Dyer. When Dyer informed his officer after killing innocent people, Lieutenant Governor Michael O'Dwyer said in a letter that the action Dyer had taken was correct and we accept it.
Rabindranath Tagore returned his title
When Ravindranath Tagore came to know about the Jallianwala Bagh massacre, he had decided to return his 'knighthood' title, expressing sorrow over the incident. Tagore had written a letter to Lord Chelmsford, the then Viceroy of India, and asked him to return the title. Tagore has conferred this title on him in the year 1915 by UAC.
Hunter Committee for the Jallianwala Bagh massacre

A committee was, formed in the year 1919 regarding Jallianwala Bagh and Lord William Hunter was made the chairman of this committee. This committee, named Hunter Committee, was set up to investigate several other incidents in the country including Jallianwala Bagh. Apart from William Hunter, there were seven other people in this committee in which some Indians were also present. This committee investigated every aspect of the Jallianwala Bagh massacre and tried to find out that what Dyer had done at that time in Jallianwala section was right or wrong.
On 19 November 1919, this committee asked Dyer to appear before him and asked him questions about this massacre. According to the statement made by Dyer in front of this committee, Dyer came to know about a meeting in Jallianwala Bagh at 12:40 am, But at that time, he did not take any step to stop this meeting. According to Dyer, around 4 o'clock he left, to go to the garden with his soldiers and it was clear, in his mind that if there, was any kind of meeting there, he would start firing there. Dyer had also agreed in front of the committee that if he wanted to, he could scatter people without firing on them. But he did not do that because he felt that if he had done that after some time people would gather back there and laugh at Dyer. Dyer said that he knew that those people were rebels, so he fired bullets while performing his duty. Dyer further stated in his explanation that it was not his duty to help the injured. The hospitals were open, there and the injured could go there and get their treatment.
Read More: Interesting facts about Hawa Mahal | Historical Facts of Hawa Mahal
On 8 March 1920, the committee made its report public, and the Dyer's move in the Hunter Committee's report was completely wrong. It was said, in the report that, firing on people for a long time was wrong. Dyer had taken this decision while crossing his boundaries. It was also said, in this report that no conspiracy was being done to eliminate British rule in Punjab. After the arrival of this report, Dyer was found guilty on 23 March 1920 and retired.
Winston Churchill, who was then Secretary of State for War, had criticized the massacre and said in the House of Commons in 1920 that the people who were shot dead had no weapons, just sticks. When the bullets were, fired these people, started running around to save their lives. When these people started hiding on the corners to save their lives, bullets were also, fired there. Apart from that, those who lay on the ground were, not spared, and they were also killed. Apart from Churchill, former British Prime Minister HHH Asquith had also termed the massacre as wrong.
Udham Singh

Udham Singh was very poor. The parents had died, and their elder brother had also died due to some illness. Orphan grew up in the ashram.  He used to be 11 or 12 years old. Udham Singh was, an Indian independence activist and it is, said that on April 13, he was also present in the garden where Dyer fired bullets and Singh was also injured by a bullet. Seeing all this, he had taken a pledge that the Dyer who has brutally murdered the citizenship of my country, I will not leave this, Dyer and this is the last resolution of my life.
Udham Singh had no financial resources. He planned, to kill Dyer but for this, he had to go to London because Dyer had started living in London after his retirement. Because of this, he thought that I will not ask for money from anyone, I will earn money, by working hard. He then learned carpentry. With this work, he collected so much money, then went to America and reached London again. On reaching London, he worked in a hotel to feed water. So that some money is collected and he can buy guns with this money. It took 21 years of doing all this. In 1919–1940 he fulfilled his pledge. He spent his life somewhere with his 21 years of hard work for money.
Udham Singh was alive to fulfill his resolve. After 21 years a big show was happening at the Kingston Palace in London. Where Dyer was being, honored. In that program, Udham Singh arrived and at the same time, a revolver came out of his, pocket and three bullets were fired, on Dyer. The day of, 13 March 1940 proved to be the last day of Dyer's life. After killing, he said the same sentence that my 21-year resolution has been, fulfilled today, and after that, I do not want to live even a minute.
After this, when Udham Singh handed over the revolver to the British officer, his hands, began to tremble. They thought that it should, not kill me either. Seeing this, Udham Singh said to the British officer, do not panic, I do not have enmity with you, I was hostile to Dyer. Which killed 3000 people of my country. Udham Singh's move was, praised by many foreign newspapers and the Indian newspaper Amrita Bazar Patrika said that the common people and revolutionaries of our country are proud of the action of Udham Singh.
Read also: Interesting and fun facts about Ajanta and Ellora caves
5 Special Places To Visit Near Jallianwala Bagh
Golden Temple Amritsar
Wagah Border Amritsar
Guru Ke Mahal Amritsar
Maharaja Ranjit Singh Museum
Hall bazaar Amritsar
What is the best time to visit Jallianwala Bagh Amritsar?

If you have a question in your mind that which is the best time to visit Jallianwala Bagh Amritsar, then we tell you that the temperature is high in both winter and summer. But in January the temperature drops. The temperature here reaches 40 ° C in the summer months of May and June, so September to December and February to March are the best time to visit Amritsar. July and August are the peak monsoon months, so traveling to Amritsar in these months may cause you some inconvenience.
Entrance fee for Jallianwala Bagh-
Entrance to Jallianwala Bagh is free.
Find Jallianwala Bagh On Google Map
How to reach Jallianwala Bagh-
Jallianwala Bagh is located 1.3 km near the Golden Temple in Amritsar. You can also take a walking tour from the temple to Jallianwala Bagh here. Auto rickshaws, taxis or cabs available from many parts of Amritsar city can easily reach the park.
How to reach Jallianwala Bagh by plane-
If you want to travel by air to Jallianwala Bagh Amritsar, then Guru Ram Das Ji International Airport, located about 11 km from Amritsar city center, is well connected to many major cities of India. From Delhi, Chandigarh, Srinagar, Jammu, you will get many flights to Amritsar.
How to reach Jallianwala Bagh by Road-
Jallianwala Bagh Amritsar is well connected to major cities of the country by road, government and private buses operate to Amritsar from major cities of Delhi, Dehradun, Shimla, Jammu, and North India.
How to reach Jallianwala Bagh by train-
The nearest railway station of Jallianwala Bagh is in Amritsar. For Amritsar, you will easily get trains from almost all major cities of the country, Ahmedabad, Kolkata, Delhi, Mumbai, Chennai, and Hyderabad. It takes 6 hours to travel from Delhi to Amritsar by train.