Norway is located in the north of the continent of Europe. Being located near the North Pole of the Earth, the country is very cold and full of snowy hills and glaciers.This is how the beauty of Norway is made. It is counted among the rich countries of the world. The Interesting thing is that people are very comfortable with health. They like to eat healthily. Among all these things, Norway's greatest quality is its natural beauty.
Today we are going to tell you about some interesting and fun facts about Norway and general information related to this country and its historical facts.
History of Norway is 10,000 BC old. Earlier it used to be just a snow covered country. From about 4000 BC on wards, settlements of farming began to appear here and while the predator of the fish lived in its northern region. On 17 May, the "National Day of Norway" is also celebrated, on this day the constitution of Norway was enacted in 1814, and the members of this country's parliament were elected after 4 years.
General facts about Norway
Total Population – 5,295,619
Highest Mountain – Galdhøpiggen at 2,469 m (8,100 ft)from sea level
Total Area – 385,203 km²
Largest lake – Lake Mjøsa
National Day – May 17
Currency – Norwegian krone
Official Languages: Norwegian, Bokmål, Nynorsk, Saami, North
National Song – "Ja, vi elsker dette landet"
Capital – Oslo
Amazing Interesting Facts About Norway For Tourists and Kids
1.Holiday Spot For Criminals
Prisoners in Norway's prisons have access to the Internet. On an island, about 75 km off the coast of the capital Oslo is the Bastoy Prison. The criminals living in Bastoy Prison are charged with murder, rape, and smuggling.
The surprising thing is that the island is a holiday spot for criminals. In this prison, the inmates are allowed to do almost everything they want to do. This is because the Government of Norway says that an attempt to rectify the mistake should be made from day one.
2. The citizens of this country read more books than any other country in the world, and they spend an average of 500 kronor (five thousand rupees) on books every year.
3. If you write a good book in Norway, the government buys 1000 Copies so that it can be kept in libraries across the country. More than two thousand books are published every year.
4. It is illegal in this country to create an advertisement for children under 12 years.
6. There is a Town in Norway named – Hell
5.Salmon Sushi is very much liked in Japan, which is a dish made from salmon fish. This dish is known all over the world as the Japanese Salmon Susie. But it originated in Norway, which was introduced to the Japanese in the 80s.
7.The Parliament of the country is called 'Storting'
In Norway, May 17 is celebrated as National Day. The constitution of Norway was formed on this day in 1814 AD.
The Parliament of the country is called 'Storting' whose members are elected after every four years.
8. Dynasty tradition has been going on in Norway since 872 AD. The current king here is the 'Herald Fifth' who has held this position since the death of his father 'Olav the Fifth' in 1991.
9.King Harald Love Story
There is one very interesting thing about King Harald. He had decided that he would never marry if he was not married to whom he loves.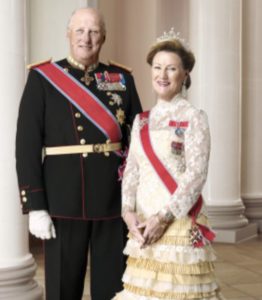 He was in love with the daughter of a cloth merchant. He was married to the girl with the help of the Government of Norway. The girl is Sonja Haraldsen, now the queen of Norway.
10. The late King of Norway, Olav V (1903–1991) used public transportation and also paid for the ticket money himself. Olav V was the active sailor and also won a gold medal at the 1928 Olympics.
11. Norway is called Nordweg which means – Northern Way.
12. Sweden and Norway were the same countries from 1814 to 1905. Sweden was separated from Norway in 1905.
13.Where the sun has not come out for 100 years
There is also a city(Rjukan City) in this unique country where the sun has not been seen for 100 years. The reason for this is that the city is surrounded by mountains all around.However, engineers have created a 'new sun' with the help of glass to solve this problem.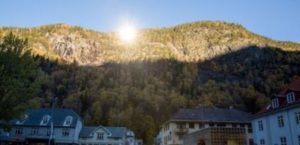 This artificial sun has been planted on the hill in such a way that it brings sunlight to the city and itself looks like a sun. Its light falls directly on the town square. This is the reason why this place attracts people. Rjukan is a city and administrative center of Tin Municipality in Telenmark, Norway. It is Situated in Vestfjorddalen, between Møsvatn and Lake Tin, and gets its name after Rjukan Falls.
Watch Norway Video In Hd
14. Norway was one of the most peaceful countries in the world in the 2013 Global Peace Index, ranking 11 out of 162 countries.
15. In 2017, Norway became the first country to completely stop FM radio.
16.Europe's first underwater cafe
Let me tell you shocking news about Norway, Europe's first underwater cafe has opened in Norway. It is shaped like a tube immersed in water. The name of the restaurant is 'Under' which means 'Wonder' in Norwegian.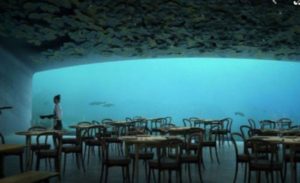 The restaurant is built 5 meters deep into the sea. It has been designed by Norwegian architectural firm Snohetta.
The owners of the restaurant are Stig and Gothe brothers. He says that due to its beauty and merits, 12 thousand people are expected to come here every year.It is built in 495 square meter area and is shaped like a periscope. The restaurant has panoramic windows so that people can be seen in the beauty of the sea. Stig says the Norwegian sea life is much better than elsewhere and I want to introduce people to its real beauty.
17. Norway also played a major role in the countries that established the United Nations after the Second World War. Let me tell you that The first Secretary-General of the United Nations was 'Trygve Lie' who belongs from Norway.
18. In Norway, you cannot bind your dog, it is illegal here. Only in urgent circumstances, You can tie dog.
19. In 2011, there was a shortage of butter in Norway. The price of 250 grams of butter had reached $ 50.
20. In 1999, the Supreme Court of Norway decided to give asylum to a US drug smuggler because they believe that US prisons are not human-friendly.
21. Norway is the country least affected by climate change.
22. Norway's coastline is approximately 1,01,388 kilometers long, which is equivalent to two and a half rounds of the Earth. Norway has more than 50 thousand islands.
23. No person in this country can hide his earnings. The tax department puts the earnings of every citizen on its website so that it can be seen by everyone.
24. If you kill someone in Norway, you probably won't be hanged because the biggest punishment here is just 21 years imprisonment. The imprisonment for life was abolished in 1971.
25. If you have a TV in your home in Norway, you have to pay its annual licensing fees, which are approximately
2680,56 kr (€ 317.946,Rs-24 thousand) per annum.
26. Country of Midnight Sun
In the northern part of Norway, the sun never sets for about 76 days from May to July. The sun sets at 12:43 pm and rises at an interval of just 40 minutes. The incident takes place in the town of Hammerfest at the northern end of Norway.Therefore it is called 'Country of Midnight Sun'.
27. In 2008, a penguin was given the title of 'Knight' in Norway. The penguin was named 'Nils Olav' and was given this title to work in the army.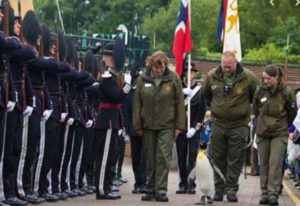 28. Only 10 policemen have been killed in Norway during the Second World War.
29. Beerenberg volcano of Norway which is 7,306 ft. It is 2,227 meters large and is the only active volcano of Norway,on Jan Mayen Island in the Norwegian sea.
30.The Hardangervidda plateau of Norway is the largest mountain plateau in the whole of Europe and is also home to wild deer herds.
31.Future library in Norway after 100 years forest will change into library
A special kind of future library is being built in Norway. It is being called the library of the future because the preparations for the books to be kept in it have already started. For this, thousands of pine plants have been planted in the Nordmark forest of Oslo. After 100 years, 100 books will be published from the papers made from these wood.
Till then manuscripts of these books have been kept in the library. No one is currently allowed to read them. The library is part of the 'Forest to Future Library' scheme of Scotland artist Katie Patterson created four years ago.
That is, 100 authors will submit their works in 100 years. These creations will be preserved in a special room made of wood in Oslo's New Public Dechamanske Library. These works can be seen on the shelf of the library but no one can read them. These works will be published one by one in the year 2114
32.Norway is the largest exporter of salmon fishes in the world
33.Dying is forbidden
The cemetery we are talking about exists in a place called Longyearbyen, Norway. Let us know that the population here is around 2000 and there is only one cemetery in this city. It is a crime to die in this place because dead bodies cannot be buried here.In the year 1950, as soon as this thing became known, it was prohibited to bury the corpse in this tomb and now people bury the corpses of their dead relatives in another place.Longyearbyen city is so cold that the body cannot rot, so no one has been buried here for the last 80 years.
34. Norway is the sixth-largest country in Europe with a population of around 5.4 million(54 lakhs).
35. Norway's national insignia features a lion holding the ax. But in reality, the lion does not exist in this country.
36. According to Norwegian law, no one can keep a dog tied, it is considered illegal. The law of tying a dog applies only in certain circumstances.
37.Oslo, the capital of Norway, has been donating a 'Christmas tree' to the people of Britain every year since 1947. This is done to thank the people of Britain,who helped Norway in the second world war. This 'Christmas tree' is kept for viewing at Trafalgar Square in London.
38. Norwegian public universities provide free education for its citizens, even students from any corner of the world can go and study for free.
39. About half of the trains are electric or hybrid.
40.Lake Mjøsa Lake
Lake Mjøsa, lake, southeastern Norway. It is Norway's largest lake, at the southern end of the famous Guddrands Valley, 56 km north of Oslo. Lake Mjøsa is a popular tourist center, especially for boating and fishing), and Lillehammer, at its northern end,and Hamar, at its eastern edge, are the largest lakeshore cities.
41. In 2008, the Norwegian rain came to save the Amazon rainforest, they had donated 1 billion dollars to save the AMAZON Rainforest.
42.Modern skiing was invented by a Norwegian
The design made by Sondre Norheim made skiing easy and to a great extent safe. The current skis are inspired by
his design.
43.In Norway, driving faster than the speed limit can be quite expensive. Speed exceeds 150 km per hour on the motor road and you are in jail for 18 days.
44.The Laerdal tunnel is the longest tunnel road in the world, with a length of 24.5 km.
In June 1992, Norway decided to build the world's longest road tunnel. The 24.5 km long tunnel extends between Aurand and Lerald on the new main highway connecting Oslo and Bergen.Construction was approved to cross a part of the country with relatively poor levels of reliability in road transport due to narrow roads with the hilly area and several fjord crossings.An important part of the expansion of an independent, reliable road link between the two largest cities in Norway is the Laerdal Tunnel. It was decided to build a tunnel instead of the renovation of existing roads to avoid difficult areas with a high risk of rockfall.
45.Norway's supermarkets sell only beer and cider. There is a special place to buy another liquor which is called
'Vinmonopolet'.
46.The Norwegian Postal Service was established in 1647. The first Norwegian stamp was issued in 1855. There are a total of 2,640 post offices in Norway.
47.In 1990 Norway established a permanent research center in Antarctica called Troll,
48.In January 1993, Erling Kagge of Norway became the first person to travel alone to the South Pole.
49.Norway has won more medals than any country in the Winter Olympics, From 1924 to date, Norway has ranked first with 332 medals.
50.Built the hotel design on a 2000 feet high hill, there will also be a swimming pool hanging in the air
Hotel design has been built on the preikestolen, a famous 2000-foot hill in Norway. This hill located in southern Norway is a major tourist destination. The most special thing about the design is the swimming pool built in it. Amazing things is that It will be made of glass and hang in the air. It has been designed by an architectural studio in Turkey.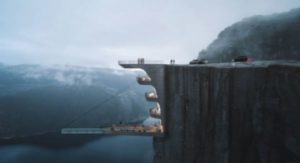 The hotel will have four floors. A terrace will be built on the fifth floor to see the views. The deck and swimming pool will be built on the lower floor to be a guest relax.Whether the hotel will be built or not is not decided.
Hayari Atak Studio in Istanbul (Turkey) designed this design. Do not think about booking a room for now. Because the Norwegian government has not taken any decision on whether it will be able to become a hotel or not.On the other hand, the studio claims that such hotel and swimming pool design has never been designed anywhere in the world before.
51.The island of Norway has taken the initiative to become the world's first-time free zone
The Sommarøy Islands of Norway do not have a sunset for 69 days between 18 May and 26 July. Apart from this, the sun does not appear in the winter for about three months.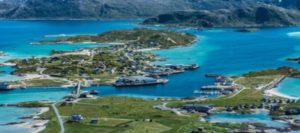 The island of Norway has taken the initiative to become the world's first-time free zone.For this, an expedition has been carried out by 300 residents of Sommarøy Island.He has run a Time Free Zone campaign to keep the island free from time limits. A petition has also been filed in support of this.The campaign also got support from Finnmark and Nordland
52.In Norway, 98 to 99% of electricity is produced from hydroelectric plants.
53.Ship sank in 1918 brought back to norway
A Norwegian ship that sank in the North Pole 100 years ago has now returned to its home country. The ship was found in Canada about 2 years ago and since then preparations were on to bring it to Norway.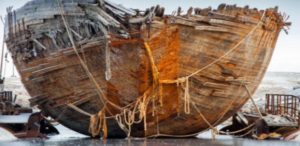 The name of this ship is 'The Mod'. According to the information, this ship will now be used as a museum.The weight of this ship is 400 tons. In 1918 the ship sank in the North Pole after hitting an icy rock. The famous Norwegian stroller Roald Amundsen was also aboard the ship. Roald Amundsen, who was the first person in the world to reach the South Pole.
54.Roald Amundsen first to reach the south pole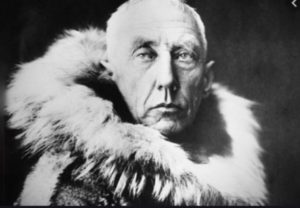 On 14 December in 1911, 105 years ago, Norway's explorer Roald reached the South Pole. Roald became the first person to do so.He did his studies in Oslo. After graduating in 1890, he started studying Ayurveda but then got a job on a ship. After registering their presence at the North and South Poles, Roald set out on 17 June 1928 to locate a lost ship returning from the North Pole at sea. After this, no news of him was received.
Read more:
facts about USA
facts about India
facts about England
facts about France
If you know any new things about Norway , then definitely tell through the comments so that other people can read, thanks.
Reference
https://en.wikipedia.org/wiki/Roald_Amundsen
https://www.bhaskar.com/international/news/turkish-architectural-studio-proposed-hotel-built-into-norway-famous-cliff-01603659.html
https://www.bhaskar.com/interesting/news/norway-somaroye-island-the-sun-does-not-drown-for-69-days-in-summer-90-days-in-the-wint-01573221.html
http://www.nbcnews.com/id/26219632/ns/world_news-weird_news/t/king-penguin-receives-norwegian-knighthood/