Lucknow, the capital of Uttar Pradesh, is considered the most important city of North India. Lucknow is counted as one of the best places, in the country for both veg and non-veg dishes. The most significant thing in these facts is that Lucknow ranks second in the list of India's happiest cities, Chandigarh is in the first place. This city is also known as 'Nawabo Ki Nagri' and 'Laxmanpuri. Lucknow is known all over the world for its historical buildings, tourism, culture, and food. Lucknow is unusually known for its taste. Lucknow has many historical buildings among which the most famous are – Bada Imambada, Rumi Darwaza, Labyrinth, Chota Imambada, Jama Masjid, La Martiniere, Tiled Mosque, etc. Lucknow is also known as the city of parks and gardens.  These include the most famous Buddha Park, Elephant Park and the recently, built Asia's biggest park, Janeshwar Mishra Park. India's Best BackwaterTourist Destination Lucknow was also known as the 'City of Gold' and 'Shiraz e Hind. Today we will tell you about such facts about Lucknow which you will, hardly know.

General facts about Lucknow
Total population – 28.2 lakhs-2011
Total Area – 2,345 km²
Density – 4,700/per sq mi
State established- 1863
Language: Hindi, Urdu, and English.
Sex Ratio – 915 Female(♀) on male 1000(♂)
Males Population (2011) – 2,394,476
Female Population (2011) – 2,195,362
State – Uttar Pradesh
Country – India
Population – (2011) 45.90 Lakhs
Rivers – Gomti
Literacy Rate (2011) – 79.33%
Amazing Famous Facts About Lucknow For Tourists and Kids

1.Charbagh
Lucknow railway station is the place where Mahatma Gandhi first met Pandit Jawaharlal Nehru in December 1916.
2.Two stations
 Lucknow railway station has two stations – Lucknow Charbagh Station and Lucknow Junction. While Lucknow Charbagh station comes under 'Northern Railway, Lucknow Junction comes under 'North Eastern Railway'.
3.Happiest city
Lucknow has been ranked as 'India's second happiest city' in a survey conducted by IMRB International and LG Corporation. Also, it is the first city in India with more than 9000 security cameras.
4.Room door
 The Rumi Darwaza, located in the old Lucknow Chowk, is known as the Turkish Gate, it got its name because its architecture was, built by the artisan of Rome.
5.Bada Mangal
The celebration of Lord Hanuman, the great mangal, is celebrated only in Lucknow. The festival was, started for the sole purpose of providing food to the poor.
6.Gomti Chakra
The Gomti Chakra is a rare natural wealth found in the Gomti River. Used to make jewelry in ancient times it is, believed that it brings happiness in the house.
7.Asia's largest park
Janeshwar Park in Lucknow is the largest park in Asia. The 40-acre lake Gandola boat ride in this park attracts tourists.
8.Hazratganj
Hazratganj, the heart of Lucknow does not have electrical wires. All electrical wires are underground.
9.Name changed over time
Over time, the name of the city changed from Laxmanpuri to Laxmanaut, followed by the name Lankanut, then from Lanknau to Luknau and finally to Lucknow.
10.Lucknow Race Course
The Lucknow Race Course is the longest racecourse in India, with a track length of 3.5 km.
11.City Montessori School
City Montessori School Lucknow has the highest number of students in the world.
12.Food hard
Lucknow is nothing short of heaven for the core non-vegetarian. You will find different types of biryanis, kebabs, korma, Nahari kulche, sheermal, zarda, rumali roti and thousands of such varieties.
13.India's oldest zoo
Lucknow Zoo is the oldest zoo in India. It was, established in 1921.
14.Lucknow ranks 74th in the list of fastest-growing cities in the world.
Watch Lucknow video in HD:
15.Earlier the capital of Uttar Pradesh was, Allahabad later it was changed to Lucknow.
16.The High Court of Justice was set up in Lucknow.
17.The city of Lucknow is located near, the "Gomti River".
18.The city of Lucknow was earlier famous as the capital of the Nawabs of Awadh.
19.Lucknow has more Shia Muslims than India.
20.Many arts in Lucknow such as Vaghyanal sitar, Nritya, Kathak originate from this city.
21.The chikankari work of Lucknow is well-known all over the world. Chicken clothes are worn in India and not abroad.
22.There are many tourist places in Lucknow such as Labyrinth Bada Imambara, Chota Imambara, Rumi Darwaza, Shaheed Memorial, many worths visiting monuments.
23.Lucknow's 'Kaiserbagh Palace, 'Talukdar Hall, 'Shah Najaf Imambara, 'Begum Hazrat Mahal Park' and 'Rumi Darwaza' are, considered among the most famous architectural structures in India.
24.Lucknow has much higher education and research institutions.
25.Law Martinier School is one of the oldest schools in Lucknow in this city. The school was, established in memory of Claude Martin.
26.There are six universities in Lucknow – 'Lucknow University', 'Uttar Pradesh Technical University' (UPTU), 'Ram Manohar Lohia National Law University' (Lohia Law University), 'Babasaheb Bhimrao Ambedkar University', 'Amity University' and Integral universities are where students from far and wide come to study.
27.La Martiniere College, one of the oldest modern schools in the world in memory of British ruler Claude Martin, is also present in the city which was, established in, Lucknow itself.
28.Many poets, Mushashis have been born in Lucknow city.
29.Lucknow Zoo also is known as Banarsi Bagh is the oldest zoo in the country and was built in 1921.
30.Lucknow is the best city in Uttar Pradesh for cycling. You will also get to see a cycle track in Lucknow, where no other means can go other than a bicycle.
31.According to a survey conducted by IAAB and LG Corporation in 2015, Lucknow has been, described as the happiest city in the country.
32.The climate of Lucknow city is hot semi-arid.
33.You know Lucknow University is inspired by European Orchitex.
34.Both Urdu and Hindi languages ​​are, spoken in Lucknow.
35.October to March is the best time to visit Lucknow in terms of weather.
36.The city of Lucknow contributed hugely to Indian poetry and literature.
37.Lucknow was known as Lakshmanpur and Lakhanpur in ancient times. It is, said that Sri Rama of Ayodhya presented Lakshmana to Lucknow.
38.The present form of Lucknow was founded by Nawab Asaf-ud-Daula in 1775 AD, presenting it as the capital of the Nawabs of Awadh.
39.The city of Lucknow is well-known throughout the world for superb cuisine in addition to a humble culture.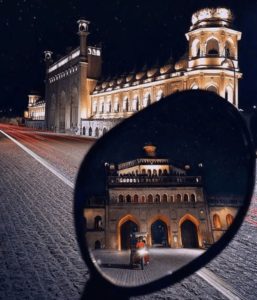 40.Keeping in mind the increasing population the cells here have been, converted into apartments, but the people  still have love and affinity.
50.Lucknow is the city where many musical instruments such as sitar, table, and dance like Kathak, etc. have been born.
51.In the modern architecture of Lucknow, the name of the Lucknow assembly and the Lucknow railway station at Charbagh can be, taken.
52.The Bhatkhande Music University of Lucknow is, named after its great musician Pandit Vishnu Narayan Bhatkhande. It is a sacred temple of music. Seekers from Sri Lanka, Nepal, etc., from many Asian countries and from all over the world come to practice dance and music.
52.Lucknow is the birthplace of Urdu and Hindi language and, the city has also contributed hugely to Indian poetry and literature.
53.Lucknow has a warm semi-tropical climate. The cold dry winters last till December-February and dry hot summers last till April-June. The rainy season lasts from mid-June to mid-September.
54.Lucknow is becoming not only a significant market and trading city of northern India but also an emerging center of products and services.
55.Charbagh railway station of Lucknow is one of the busiest stations in India. The construction of this station is so beautiful and looks like chess pieces.
56.Lucknow is the home town of famous Ghazal singer Begum Akhtar.
57.The main festival of Lucknow – Holi, Diwali, Eid, Dussehra, Moharram and Jyeshtha is a big nuptial day.
58.Major institutions like NBRI, IITR, CDRI, CIMAP, SGPGI, IIM are located in Lucknow.
59.India's tallest Ghar Ghar Hussainabad is located, in Lucknow. It was, established in the British period.
60.Lucknow is the first city in the state of Uttar Pradesh to start metro rail service.
61.The zoo of Lucknow, established in 1921, is one of the oldest zoos in India.
Find Lucknow On Google Map
If you are planning to roam Lucknow, you must visit Charbagh, Gomti Chakra, India's oldest zoo, Hazratganj. If you know any new things about Lucknow, then definitely tell through the comments so that other people can read, thanks.