10 Best Tourist Attractions In Aarhus City | Places To Visit In Aarhus City
17th May 2023
Welcome to our blog post on the "10 Best Tourist Attractions in Aarhus City"! Aarhus, located in Denmark, is a vibrant city brimming with history, culture, and natural beauty. Whether you're a history buff, an art enthusiast, or simply seeking to explore a new destination, Aarhus has something for everyone.
In this post, we'll take you on a virtual tour of the city, highlighting its top attractions and must-visit places. From iconic landmarks and architectural marvels to picturesque neighborhoods and cultural hotspots, get ready to uncover the gems that make Aarhus a remarkable destination. So, grab your virtual passport and let's embark on a memorable journey through the 10 best tourist attractions in Aarhus City!
Top Tourist Attractions In Aarhus City To See
Aarhus, Denmark's second-largest city, offers a range of attractions and places to visit. Here are some of the top tourist attractions in Aarhus City:
1.The Old Town (Den Gamle By):
The Old Town, also known as Den Gamle By in Aarhus, is an open-air museum that offers a unique opportunity to experience Danish life and culture from the 19th century. Here's some information about visiting The Old Town: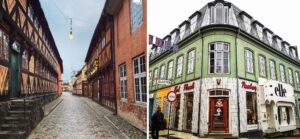 Historical Setting: The Old Town is set in a charming, preserved area of the city, featuring cobblestone streets, traditional buildings, and beautiful gardens. As you explore the museum, you'll feel transported back in time to a bygone era.
Authentic Buildings: The museum boasts more than 75 original buildings collected from various parts of Denmark. These buildings have been carefully restored and reconstructed to reflect different architectural styles and societal conditions of the 19th century.
Interiors and Exhibits: Inside the buildings, you'll find meticulously recreated interiors that showcase the daily life, traditions, and craftsmanship of the period. The attention to detail extends to furniture, decorations, and even the clothing of the museum staff, who dress in period costumes.
Craftsmanship and Workshops: The Old Town features working workshops where skilled artisans demonstrate traditional crafts and trades. You can observe blacksmiths, bakers, printers, and other craftsmen practicing their skills and learn about the techniques and tools used in the past.
Events and Activities: The museum hosts a variety of events and activities throughout the year, including historical reenactments, festivals, concerts, and themed exhibitions. These events offer an interactive and immersive experience, allowing visitors to engage with the history and culture in a fun and educational way.
Dining and Shopping: The Old Town also has several cafes and restaurants where you can enjoy traditional Danish cuisine and treats. Additionally, there are shops offering a range of products, including handmade crafts, souvenirs, and traditional goods.
Children's Town: The museum has a dedicated area called "Children's Town" where young visitors can participate in hands-on activities, dress up in costumes, and learn through play. It's a great way to engage kids and make the experience enjoyable for the whole family.
Guided Tours: The Old Town offers guided tours that provide in-depth information about the historical context, architecture, and stories behind the buildings. These tours can enhance your understanding and appreciation of the museum's exhibits.
When visiting The Old Town, be sure to allocate sufficient time to explore the museum thoroughly. It's a fascinating place to immerse yourself in Danish history, architecture, and culture while enjoying a charming and picturesque setting.
2.Aarhus Cathedral (Aarhus Domkirke):
Visiting Aarhus Cathedral, also known as Aarhus Domkirke, is a must for anyone interested in history, architecture, and religious landmarks. Here's some information to help you plan your visit: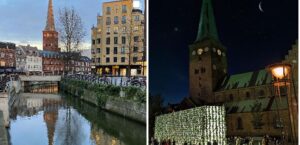 Historical Significance: Aarhus Cathedral is one of the oldest and most significant landmarks in the city. It dates back to the 12th century and holds great historical and cultural importance for the local community.
Architecture and Design: The cathedral showcases a mix of architectural styles, primarily Gothic and Romanesque. Its towering spires and intricate details make it an impressive sight. Take the time to admire the exterior, including the beautiful stained glass windows and decorative elements.
Interior Features: Step inside the cathedral to experience its serene atmosphere and explore the interior. Admire the vaulted ceilings, ornate altars, sculptures, and ancient frescoes. Pay attention to the intricate woodwork and the historic organ, which is often played during services and concerts.
Guided Tours: To gain a deeper understanding of the cathedral's history and significance, consider joining a guided tour. Knowledgeable guides can provide insights into the architecture, religious symbolism, and notable events associated with the cathedral.
Religious Services and Events: Aarhus Cathedral is an active place of worship. If you're interested, you can attend a religious service to observe the local traditions and experience the spiritual ambiance. The cathedral also hosts various events, such as concerts and choir performances, which offer an opportunity to appreciate its acoustics and musical heritage.
Nearby Attractions: Aarhus Cathedral is centrally located, making it convenient to explore other attractions nearby. Take a walk through the charming streets of the Latin Quarter, visit the Aarhus Art Museum (ARoS) or the Old Town (Den Gamle By), or enjoy a relaxing stroll along the Aarhus River.
Practical Information: The cathedral is typically open to the public, but it's recommended to check the visiting hours before your visit. Keep in mind that it may occasionally be closed for special events or religious ceremonies. Entry is usually free, but donations are appreciated to support the maintenance of the cathedral.
Remember to be respectful during your visit, as Aarhus Cathedral is a place of worship for many. Whether you're interested in architecture, history, or spiritual experiences, a visit to Aarhus Cathedral provides a glimpse into the city's rich cultural heritage and offers a serene and contemplative atmosphere.
3.ARoS Aarhus Art Museum:
Known for its iconic "Your Rainbow Panorama," this contemporary art museum showcases both Danish and international artworks. Explore its diverse exhibitions, enjoy panoramic views of the city, and immerse yourself in artistic experiences.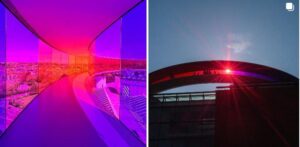 ARoS Aarhus Art Museum is a prominent art museum located in Aarhus, Denmark. It is known for its impressive contemporary art collections and iconic architectural design. If you are planning to visit ARoS, here's some useful information:
Location: ARoS is situated at Aros Allé 2, 8000 Aarhus C, Denmark. It is conveniently located near the city center, making it easily accessible by public transportation or on foot.
Opening Hours: The museum's opening hours vary throughout the year, so it's recommended to check the official website or contact the museum directly for the most up-to-date information. Typically, the museum opens in the morning and closes in the evening, with extended hours on certain days.
Admission Fee: ARoS charges an admission fee for entry to the museum. The price depends on factors such as age, student status, and whether you are visiting as an individual or part of a group. Reduced prices or free admission may be available for children, students, and certain special exhibitions. It's best to check the museum's website for accurate pricing details.
Exhibitions and Collections: ARoS houses a diverse range of contemporary art, including paintings, sculptures, installations, and multimedia works. The museum often features temporary exhibitions alongside its permanent collection. Notable works include "Your Rainbow Panorama," a circular walkway on the museum's rooftop that provides breathtaking panoramic views of the city.
Facilities and Amenities: ARoS offers various facilities to enhance visitors' experience. These include a museum shop, café, and restaurant where you can enjoy refreshments or a meal. The museum also provides wheelchair access, stroller rental, and lockers for storing personal belongings.
Guided Tours: ARoS offers guided tours in both Danish and English, providing deeper insights into the artworks and exhibitions. The tours are led by knowledgeable staff or trained guides who can enhance your understanding of the art and the museum's history.
Nearby Attractions: Aarhus is a vibrant city with many other attractions in close proximity to ARoS. You may consider exploring the Aarhus Old Town, Den Gamle By, which is an open-air museum showcasing Danish urban history. The Latin Quarter, ARoS Park, and Aarhus Cathedral are also popular nearby destinations.
4.Moesgaard Museum:
Located just outside Aarhus, this award-winning museum focuses on Danish history and culture. It features fascinating archaeological exhibits, including the well-known "Grauballe Man" bog body, as well as interactive displays.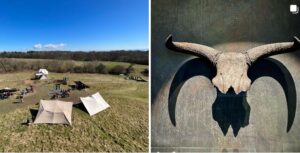 Situated in the scenic surroundings of the Moesgaard Manor, the museum is known for its distinctive architecture and its focus on archaeology and ethnography. Here's some information about Moesgaard Museum:
History: The museum was founded in 1861 and originally housed in the old Aarhus University building. In 2014, it moved to its current location, a striking modern building designed by the Danish architectural firm Henning Larsen Architects.
Location: Moesgaard Museum is situated approximately 10 kilometers south of Aarhus city center, overlooking the scenic Moesgaard Forest and the Bay of Aarhus. The address is Moesgaard Allé 15, 8270 Højbjerg, Denmark.
Architecture: The museum building is an architectural marvel, resembling a grass-covered hill with a sloping roof. It seamlessly blends with the surrounding landscape, and visitors can walk on the rooftop, enjoying panoramic views of the area. The design integrates both modern and historical elements, combining functionality and aesthetics.
Exhibitions: Moesgaard Museum is primarily known for its archaeology and ethnography exhibitions. It showcases artifacts, displays, and interactive installations that explore various aspects of human history, cultures, and societies. Exhibits cover topics such as prehistoric Denmark, Viking history, ancient civilizations, and global ethnography.
Highlights: One of the museum's standout attractions is the "Grauballe Man," an incredibly well-preserved Iron Age bog body discovered in 1952. The exhibition provides insight into the life and death of this ancient individual. Additionally, the museum hosts temporary exhibitions and cultural events throughout the year, including lectures, workshops, and performances.
Nature and Recreation: Moesgaard Museum is located in an area of natural beauty, surrounded by lush greenery, walking trails, and the Moesgaard Forest. Visitors can enjoy outdoor activities, including picnics, walks, and bike rides in the picturesque surroundings.
Facilities: The museum features a café where visitors can enjoy refreshments and meals. There is also a museum shop offering a selection of books, souvenirs, and gifts related to the exhibitions. The museum is accessible to wheelchair users, and there are parking facilities available for visitors arriving by car.
Moesgaard Museum is a must-visit attraction in Aarhus, offering an engaging blend of history, culture, and nature. Its unique architecture and diverse exhibitions make it an enriching experience for visitors interested in archaeology, ethnography, and the world's cultural heritage.
5.Marselisborg Palace:
The summer residence of the Danish royal family, Marselisborg Palace offers beautiful grounds and gardens to explore. While the palace itself is not open to the public, the changing of the guards ceremony is a popular attraction.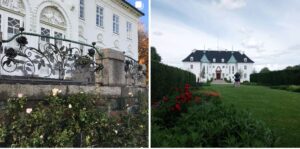 It serves as the summer residence of the Danish royal family and is situated in the Marselisborg Forest, close to the city center. Here's some information about Marselisborg Palace:
History: Marselisborg Palace was built between 1899 and 1902 as a gift from the people of Denmark to Crown Prince Christian (later King Christian X) and his wife, Crown Princess Alexandrine. It was designed by architect Hack Kampmann in the neoclassical style.
Location: The palace is situated in the Marselisborg Forest, a scenic area near Aarhus Bay, just south of the Aarhus city center. The address is Kongevejen 100, 8000 Aarhus C, Denmark.
Summer Residence: Marselisborg Palace serves as the summer residence of the Danish royal family. Each year, the Queen of Denmark, Margrethe II, and her husband, Prince Henrik (until his passing in 2018), would spend their summers at the palace. Currently, Crown Prince Frederik and Crown Princess Mary also use the palace for their summer stays.
Changing of the Guards: One of the highlights for visitors is the daily changing of the guards ceremony, which takes place at noon in front of Marselisborg Palace. The ceremony is accompanied by music, and it is an opportunity to see the royal guards in their distinctive uniforms.
Park and Gardens: Marselisborg Palace is surrounded by beautiful gardens and a park that is open to the public. The palace gardens feature manicured lawns, flower beds, and tree-lined pathways, providing a serene and picturesque setting.
Opening Hours: The palace itself is not open to the public as it is a private royal residence. However, visitors can explore the surrounding park and gardens, which are open year-round. It's a popular destination for walks, picnics, and enjoying nature.
Royal Events: Marselisborg Palace is also the site of certain royal events and ceremonies. For example, the Danish royal family traditionally spends Christmas at the palace, and on New Year's Day, they greet well-wishers from the palace balcony.
Marselisborg Palace is a symbol of Danish royalty and offers a beautiful natural setting for visitors to enjoy. While the palace itself is not accessible, the park and gardens provide a tranquil space for leisurely walks and relaxation. The changing of the guards ceremony adds a touch of royal pomp and is worth witnessing if you're in the area.
6.Dokk1:
Aarhus' main library and cultural center, Dokk1 is an architectural marvel and a vibrant hub of activity. Explore its extensive collection, enjoy a coffee with a view of the harbor, or participate in one of the many events and activities held here.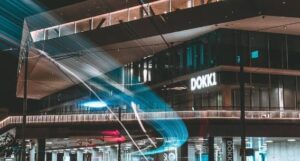 It is situated on the waterfront, specifically at the city's harbor district, known as Aarhus Ø. Dokk1 is a multi-purpose building that serves as a library, citizen service center, and community hub.
Opened in June 2015, Dokk1 quickly gained recognition for its innovative architectural design and its role as a vibrant meeting place for the city's residents and visitors. The building was designed by the architectural firm Schmidt Hammer Lassen, and it has received numerous awards for its modern and functional design.
As a library, Dokk1 houses an extensive collection of books, magazines, and digital resources, catering to various interests and age groups. It promotes a culture of knowledge-sharing, offering a range of services such as reading areas, study spaces, meeting rooms, and access to computers and other technology.
Beyond its library functions, Dokk1 serves as a citizen service center, providing a wide range of public services under one roof. Here, residents can access services related to municipal administration, such as obtaining identification documents, registering births and deaths, paying taxes, and accessing information about local government services.
Dokk1 also functions as a vibrant community center, hosting events, exhibitions, workshops, and cultural activities. It features flexible spaces that can be adapted for different purposes, including a large auditorium and smaller meeting rooms. The center regularly organizes lectures, author talks, art exhibitions, and community-driven initiatives to engage and connect people from various backgrounds.
The building's location on the waterfront offers stunning views of the harbor and the city skyline, and its outdoor spaces are designed to encourage public interaction and relaxation. Visitors can enjoy the waterfront promenade, public squares, and recreational areas surrounding the building.
Dokk1 has become an iconic landmark in Aarhus, symbolizing the city's commitment to innovation, culture, and community engagement. It has attracted both national and international attention and has been recognized as one of the world's best libraries and community centers.
7.Aarhus Botanical Gardens:
These picturesque gardens are an oasis of tranquility in the heart of the city. Take a leisurely stroll among the diverse plant collections, including roses, herbs, and exotic species.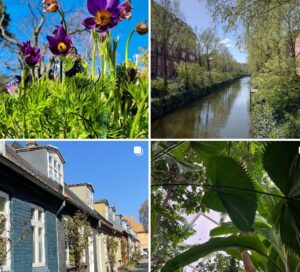 8.The Women's Museum (Kvindemuseet):
Dedicated to women's history and achievements, this museum offers engaging exhibitions that explore various aspects of women's lives, rights, and roles in society.
9.The Latin Quarter (Latinerkvarteret):
A charming neighborhood with narrow streets and colorful buildings, the Latin Quarter is perfect for a leisurely stroll. It's filled with boutique shops, cafes, and restaurants, creating a vibrant and cozy atmosphere.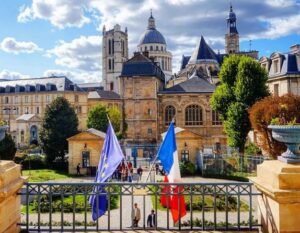 It is located in the heart of the city and is known for its charming, narrow streets, old buildings, and vibrant atmosphere. The Latin Quarter is one of the oldest parts of Aarhus and has a rich history dating back to the Middle Ages.
The Latin Quarter gets its name from the Latin language, which was the language of education and the Church during medieval times. The area was once home to the Aarhus Cathedral School, where Latin was taught. Today, the Latin Quarter is a popular destination for locals and tourists alike, offering a unique blend of history, culture, and modern amenities.
The neighborhood is characterized by its cobblestone streets, colorful facades, and small, independent shops and boutiques. Walking through the Latin Quarter, visitors can explore a variety of shops selling fashion, jewelry, art, antiques, and other specialty items. There are also several cozy cafes, restaurants, and bars, where one can relax and enjoy a meal or a cup of coffee.
The Latin Quarter is a hub of cultural activities and events. It is home to several galleries, theaters, and music venues, showcasing the city's vibrant arts scene. Throughout the year, the neighborhood hosts festivals, exhibitions, and performances, attracting locals and tourists looking to immerse themselves in Aarhus' cultural offerings.
One of the notable landmarks in the Latin Quarter is the Aarhus Cathedral (Aarhus Domkirke), which dates back to the 12th century. The cathedral's impressive architecture and beautiful interior make it a must-visit attraction for history and architecture enthusiasts.
Exploring the Latin Quarter is a delightful experience, with its narrow alleys and hidden courtyards. The neighborhood has a cozy and intimate atmosphere, making it a favorite spot for locals to meet, shop, and dine. It is also conveniently located near other major attractions in Aarhus, such as the Aarhus Art Museum, ARoS, and the Aarhus City Hall.
Overall, the Latin Quarter is a charming and lively neighborhood that combines history, culture, and a vibrant urban atmosphere. Its unique character, picturesque streets, and range of shops and cultural venues make it a must-visit destination for anyone exploring Aarhus.
10.Aarhus City Hall (Aarhus Rådhus):
This iconic building is an architectural gem, combining modern and historic elements. Admire its elegant facade and, if available, take a guided tour to learn about the city's administration and history.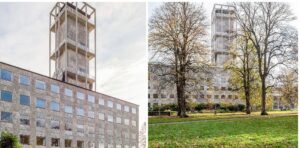 These are just a few of the many attractions and places to visit in Aarhus City. Whether you're interested in history, art, culture, or simply exploring the city's vibrant atmosphere, Aarhus has something for everyone.
Hello,My name is Aparna Patel,I'm a Travel Blogger and Photographer who travel the world full-time with my hubby.I like to share my travel experience.