Whenever you think of travel around Delhi, people start offering you a visit to Chandigarh, Agra, Jaipur. We all know that this place is very famous among the tourists, but there is always a gathering of tourists. In this post we will provide list of best hill station near Delhi to visit in summer.
List of weekend getaways near Delhi in summers
1.Parwanoo (260 km from Delhi)
Parwanoo located in Solan district Spread along the Shivalik Mountain range of the Himalayas, this mountainous region is rich with natural treasures. People come to this place to enjoy trekking and hiking trails due to the friendly atmosphere.You can come here to relax in the natural beauty of any month of the year. Parwanoo is situated on the Chandigarh-Shimla route in Solan district of Himachal Pradesh.This is an industrial town. Its boundary meets the Panchkula district of Haryana.
2.Lansdowne(270 km)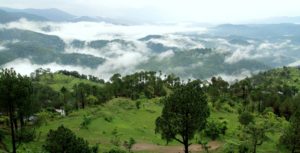 Whenever there is a talk about trip to a hill station, we think about the high and lush mountains, rivers, lakes, waterfalls and the other beautiful things of Himachal and Uttarakhand.But due to lack of holidays, a long resting plan is not possible for hill stations. Anyway, leave it. At least on weekends you can go to the hill station. Lansdowne is a similar hill station situated in the litigants of Uttarakhand, where you do not need long vacations to go. Lansdowne is also very beautiful.
Hill Station within 300 km from Delhi
3.Mussoorie (279 km)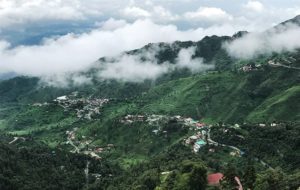 The combination of cold air, clear sky and blooming sunlight makes it very beautiful in summer, it is more than 6500 feet. It was founded by an English officer. Mussoorie is a hill town of the Uttarakhand state of India, which is also called the queen of the mountains. Located 35 kilometers from Dehradun,
Mussoorie is one of those places where people often come again. This is one of the major places to go around. This mountainous tourist destination is in the Shiwalik range of the Himalayan ranges, also called the queen of the mountains.you can find Several trains from Delhi to Dehradun. Mussoorie is not connected directly to any city in the country through air and rail routes. If you want to come to Mussoorie then you have to choose the option of air route or railroad to Dehradun.
Places to Visit: The Goddess Wax Museum of Dhanaulti, Soham Heritage & Art Center, George Everest's house, Adventure Park, Christ Church,
Bhatta Falls, Moss Falls, Gun Hill, Lal Dune, Camel Back Road, Mussoorie Lake, Kempty Falls, Jabarkhet Nature Reserve.
What to do: Boating, Trekking, Fun on Waterfalls, Rock Climbing, and Wildlife Viewing
4.Nainital (287 km)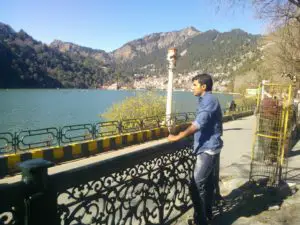 Within 300 km, one of the most famous hill stations near Delhi. It is located at an altitude of about 6830 feet in Uttarakhand state.People from all over the country travel here with their family, friends or partner for a memorable time. Temperatures in the summer rarely go beyond 25 degrees. Trains are available to Kathgodam, from where you have to take a bus or a taxi. Buses from Anand Vihar ISBT to Nainital are also available.
Places to Visit: Naini Lake, Naina Peak, Tiffin Top, Snow View, Eco Cave Garden, Big Stone, Cold Road, Big Bazaar, Raj Bhavan, Naina Devi Temple,
Poshan Devi Temple, Hanuman Garhi, Observatory, Gb Pant High Altitude Zoo.
What to do: Boating, walking, shopping, photography, rock climbing, wrapping, trekking
5.Dhanaulti
Located in Garhwal district of Uttarakhand, there is a very beautiful hill station called Dhanaulti. This hill station is on the way from Chamba to Mussoorie.
This place is very attractive in terms of tourism.
To reach Dhanaulti from Delhi, from the New Delhi station you can take the Shatabdi Express of 6.50 in the morning, which will reach Dehradun at 12.40 in the
morning. Take a lunch break in Dehradun and take the taxi which will arrive in Dhanaulti within two hours.If you wish, you can go directly from your car, via
Meerut – Roorkee-Haridwar.
6.Bhimtal (296 km)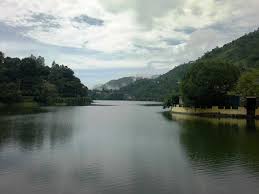 Within 300 km, there is another beautiful hill station near Delhi, Bhimtal. Like Nainital, Bhimtal is also around a natural lake.This lake is much bigger than Nainital. The city with an altitude of 4500 feet above sea level, keeps the people coming from around the world. Regular buses and taxi services are available from Kathgodam, there are several trains from Delhi.
Places to visit: Bhimtal Lake, Bhimtal Island, Bheemeshwar Mahadev Temple, Syed Baba's Mazar, Folk Culture Museum
What to do: Boating, walking, walking around the lake, shopping on Mall Road
Hill Station within 400 km from Delhi
7.Naukuchia Tal (306 km)
Surrounded by pine trees, located near a big lake, Nukuchiyal is the perfect place for those seeking peace. Located at an altitude of 4000 feet,
its natural water source has nine corners, hence it is called Naukuchia. Nearly 40 feet below the ground, Naukuchia tal is the deepest lake in the region.
Places to visit: Nukuchiyatal Lake, Hanuman Temple, Jangalia Village
What to do: Relax between pine trees, walking, boating, fishing
8.Sattal (313 km)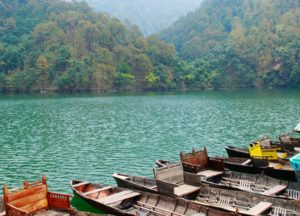 Want to be surrounded by lakes? Then visit  Sattal. its name is  on seven lakes. This place is surrounded by pine trees at 4500 feet above sea level, and it has its own distinct smell.
Apart from tourists from all over the world, birds like parrots, woodpeckers, pheasants, birds, fines, Himalayan griffin vulture, fish eagles, black eagles, mountain hawk eagles also come here.
Places to visit: Garuda Tal, Damyanti Tal, Full Tala, Sita Tal, Ram Tal, Lakshman Tal, sukha Tal, Subhash Sect, Butterfly Museum, Methodist Ashram
What to do: Observe nature, walking, photography, bird watching, boating
9.Kanatal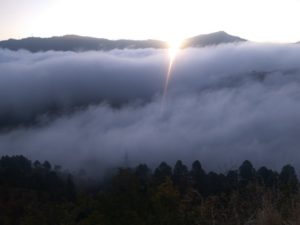 Kanatal is one of the beautiful places of Uttarakhand. Very few people know about it. This place is known by the beautiful flowering gardens of apple trees and wonderful mountains. Here you can spend a few moments of relaxation.
Have fun with friends or spend quality time with a partner, this place is the best. You will have a good experience coming to Kanata.There is something else to enjoy in the natural beauty of the canal. Gorgeous flower gardens and sunshine weather will win your heart.This place is very spectacular for Nature Lovers. If you like to adventure then you can go to the Kodia forest for trekking.Beautiful waterfalls and nearby panoramic views are the centers of attraction. Many wild animals are also seen here.
10.Ranikhet (337 km)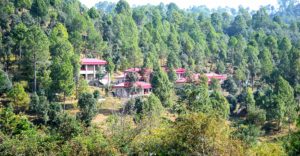 Do not forget to take the camera when you go to Ranikhet, because you will not want to forget to save the memories of snow covered mountains.
Unbelievably green and quiet atmosphere is a great place to give you freedom from the burden of daily work.Many buses and taxi run from Kathgodam to Ranikhet. Kathgodam connects to Delhi via taxi, buses and trains.
Places of visit: Rani Lake, Ranikhet Golf Course, Asiana Park, Mankameshwar Temple, Haedakhan Baba Temple, Binder Mahadev Temple, Bhalu Dam, Tarakhet, Uttalki Temple
Things To Do: Golfing, Boating, Fishing, Light Hiking, Temple Travel
11.Chail (335 km)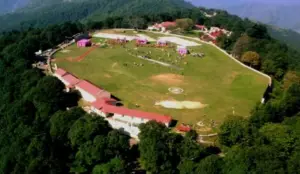 This place, situated at 2226 meters high and on the Sadh Tib hill from the sea coast, is very beautiful.
Siddhupal is a famous tourist spot between Himachal's kandaghat and Chail. This place is also famous as the picnic spot.
Chail Cricket Ground – This cricket ground, situated at an altitude of 2444 meters above sea level, is one of the highest grounds in the world, which was built by King Bhupinder Singh of Patiala in 1893. There are many pine trees around it and today this Chail is under the Military School, which uses it as a playground.
Popular places to see: School Playground, Sadhupul Lake, Chail Palace, Kali Tibba, Gurdwara Sahib, Siddha Baba Temple, Chail Sanctuary
Things to do: lake and nature, wildlife, temple, fun in the waterfalls
12.Almora (346 km)
About 60 km from Nainital, another attractive city in Uttarakhand is Almora. These are less known than other places, so here you will definitely get the peace.
The weather is pleasant because of an elevation of about 5380 feet. The snow-covered mountains increase the beauty here. You can take trains up to Kathgodam and then can cover the rest distence by bus or taxi.
Popular places to see: Kasar Devi temple, Jageshwar temple, Karbala graveyard stone of Swami Vivekananda, Nanda Devi Temple, Chaiti Temple, Kanchi Temple, Jakhan Devi Temple
Things To Do: Walking, Taste of Sweets made locally.
13.Shimla (360 km)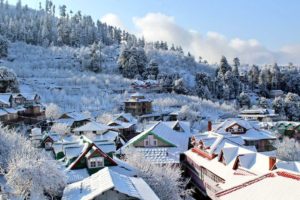 Shimla has an altitude of more than 7,000 feet above sea level, due to which there is very pleasant weather in summer. You can take the train up to Chandigarh first, where bus and taxi are easily available to reach Shimla. You can also reach Kalka by broad gauge train, and then cover the rest of the journey by narrow gauge railway. You can reach this hill station near Delhi through a car, and the journey of this beautiful path is really fantastic.
Popular places to see: Christ Church, Jakhu Hill, Jakhu Temple, Presidential residence, Kali Bari Temple, Mall Road, The Ridge, Town Hall, Gati Theater, Bantoni Castle, The Glen, Gorton Castle, Annadale, Army Heritage Museum, Johnny Wax Museum of, Shimla Heritage Museum, Himachal State Museum, Summer Hill
Things to do: Appreciating the mountain scenes, shopping on Mall Road, enjoying ice skating, Kalka-Shimla toy train ride.
14.Auli(364 km)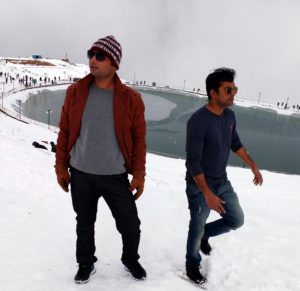 Auli is a part of Uttarakhand. It is a small ski resort spread over 5-7 kilometers. This resort is built at an altitude of 10000 feet. The snow-covered peaks here look very beautiful. Their height is approximately 23,000 feet. Here the fir trees are found in abundance. Their smell can be felt in the cold winds.
Auli is one of the coolest hill stations near Delhi. Auli, a height above 10000 feet above sea level, is one of the coolest hill stations near Delhi.During the summer season it is covered with grass carpets and the blossoming sun attracts your mind. Trains and buses are available from Delhi to Haridwar,
from where you cover the distance from the road. You can take a bus or cab to reach Auli or Joshimath city,
Popular places to see: Artificial lake
Things To Do: Trekking, Nature, Gondola Rides, Ice-Capped Mountains
15.Kufri (374 km)
A ski resort in winter, Kufri is covered with a carpet of green grass in summer.
Whenever you go to Shimla, do not forget to go to Kufri because Kufari is only 17 km away from Shimla. It is more than 8600 feet above sea level,
which means that the temperature remains low in summer. it is a highly regarded place for those who visit India, taxis and buses are easily accessible from nearby places such as Shimla.
Popular places to visit: Indira Bangla, Mahasu Peak, Himalayan Nature Park
Things to do: trekking, photography, resting under trees, horseback riding, go-karting, valley crossing, commando net, Burma bridge
16.Ramgarh (380 km from Delhi)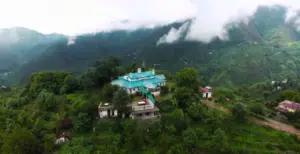 Ramgarh is a small hill station located in Nainital district of Uttarakhand state. It is located at an altitude of approximately 1,729 meters above sea level.Ramgarh is a unique area of ​​fruits only 24 kilometers from Nainital. In Kumaon region, most fruits are produced in the areas around Bhuji-Ramgarh. There are many types of fruits in this area.From here the beautiful view of the Himalayas is seen.
Hill Station near Delhi within 500 km
17.Narkanda (420km)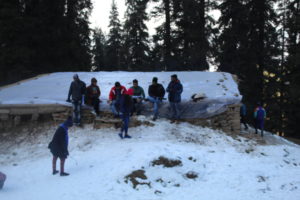 Narkanda, another beautiful hill place to enjoy the enjoyment of the mountains in the summer season, Narkanda is not too far from Shimla.
It is at an elevation of more than 9000 feet, hence the weather is very good here. It is one of the coldest hill stations near Delhi. Buses and taxis are easily available from Shimla to Narkanda.
Popular Places to See: Hutu Peak, Stokes Farm, Mahamaya Temple at Kacheri
Things to do: Leisure, Paragliding, Rafting, Mountain Biking on Grasslands
18.Dharamshala(475 km)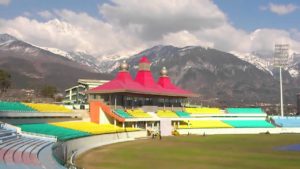 20000 feet high, Dharamshala is the pride of Himachal.Drive for Dharamsala is quite fun because the road passes through the beautiful Kangra valley, so it is better to get here from the car.Dharamshala was established in the middle of the 19th century as a military camp by the British. Buses and taxis from Pathankot are available here, many trains available from Delhi to Pathakot.
Popular Places to See: Chintapuri Mata Temple, Kareri Lake, State Museum, Kunal Pathari Mata Temple, War Memorial, HPCA Stadium
Things to Do: rest, nature
19.Mcleodganj (478 km)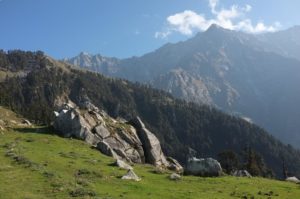 If you are heading towards Dharamsala, do not forget to go to McLoadganj. It is often known as "Little Lhasa" because the main part of the local population is made up of Tibetan refugees. These people left their homeland in 1959 with the 14th Dalai Lama, chief of the Gelug community of Himalayan Vajrayan Buddhism. You can reach Delhi from Pathankot by train, and then take a bus or a taxi.
Popular places to see: Tibetan Institute of Performing Arts, Bhagatung Falls, Bhagasunag Temple, Triand Peak, Namgyal Monastery, St John's Church in the Jungle, Dal Lake, Lehsh Cave
Things to do: shopping of Tibetan handicrafts, discovery of the Dalai Lama temple, cave camping
20.Palampur(487 km)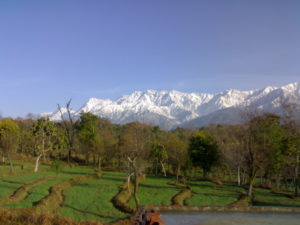 Palampur is a very beautiful hill station of Himachal Pradesh. Palampur has always been attracting tourists from the beauty of the tea gardens spreading their weather, snowy hills, green valleys, spiral roads and miles.
Palampur tea is surrounded by gardens and dense glowing trees. Palampur is known worldwide for its tea gardens, so it is also known as 'Tea-City'.
The Hill City Palampur, situated in the Kangra Valley, is known for its magnificent landscape and tranquil atmosphere. The pine and cedar forests and streams of clean water increase the attraction here. This place is ideal for spending holidays, because it is not like any commercial tourist destination. Situated at a height of 1220 meters above sea level, this spot is suitable for nature and art lovers.
21.Kasol (521km)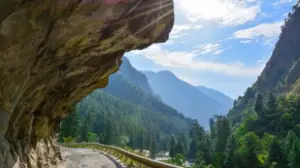 Nowadays, almost every youth is excited to go to Kasaul. Kasol, situated at an elevation of about 5180 feet above sea level.
kasol is one of the favorite places of single travelers, college students and youth. After reaching Chandigarh via road, rail or air from Delhi, you can take a bus or taxi directly.
Popular places to see: coniferous forest, Parvati river, Parvati valley, Malana, Tosh, Kheranga, Manikaran
Things to do: relaxing in the woods, bathing in natural hot sulfur springs, trekking.
22.Manali (556 km)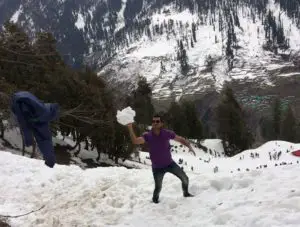 Manali, which is more than 6500 feet above sea level, is one of the favorite places of the NCR people to travel in the summer.
The surrounding hills and the Beas river flowing between them spread a beautiful shade. Manali is known throughout the country for families, groups of friends, single travelers and honeymoon couples. To reach Manali, you can reach Chandigarh by flight or train from Delhi, and then take a taxi or bus.you can also take directly bus from Delhi.
Popular places to see: Hidimba Devi Temple, Manu Temple, Vashishth Hot Waterfalls, Tibetan Mutt, Pandoh Dam, Manali Club House, Old Manali, Van Vihar National Park, Rohatang Pass
Things to do: shopping, comfort, appreciation of mountain scenes, rafting, bath in natural sulfur spring, travel to Jagatsukh village, fishing.
23.Solang Valley (565 km)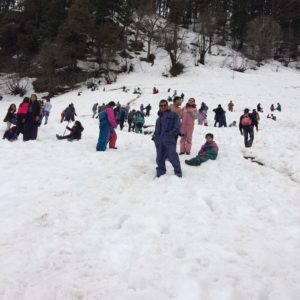 If you want to do the adventure then go for the half-hour drive from Manali and go to the Solong Valley.Its grasslands and open spaces have made it a favorite place for families to visit with honeymoon couples and children. Most people take a package, which includes Manali and Solang valley in the same trip. Many private travel agencies provide regular bus and taxi services between these two great places.
Popular Places to See: Gulaba, Nag Temple, Rohatang Pass
Things To Do: Relaxing, Trekking, Paragliding, Zorbing, ATV Riding, Parachuting, Camping, Horse Riding, Gondola Riding In Green Plains
24.Dalhousie (576km)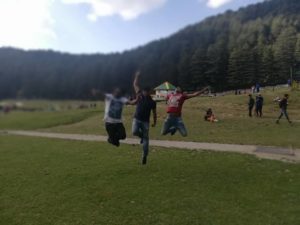 Dalhousie is one of the popular hill hikes in Himachal Pradesh, known for its charming monuments and beautiful views. The visit to this magnificent city will give you a quick refreshment.
This place is closely related to the British rule, which established in 1854 and was named after the Governor General, Earl of Dalhousie.Situated at around 6460 feet, it attracts people from all over the country, who want to enjoy the scenery and quiet weather.
Popular Places to Visit: Subhash Baoli, Panchpula, Bakrota Hills, Big Stone, Dainkund, Ganji Hill, St. Francis Church, Mall Road, Satadhara Falls
Things to do: Sightseeing, Relaxation among Mountain View, Medium Level Trekking
25.Khajjiar  (589 km)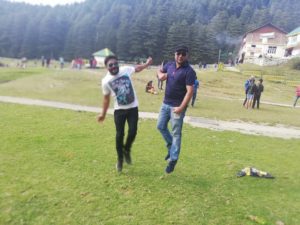 Khajjiar, popularly known as Mini Switzerland, is very popular among people all over the country, especially among families and newlyweds.
Located 508 kilometers from India's capital Delhi, Khajjari is considered to be one of the world's 160 mini Switzerland. Thousands of years old, this small
hill station is known for its 'Khajji Naga Temple'.

Popular Places to See: Khajjiar Lake, Golden Goddess Temple, Kalatop Khajjiar Sanctuary
Things to do: trekking, horseback riding, nature, resting on grass, paragliding, zorbing
Less well-known but finest hill stations near Delhi
26.Mukteshwar (333 km)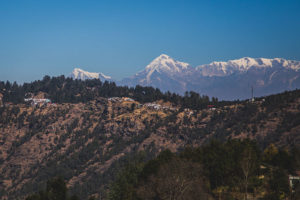 Mukteshwar is also included in the list of the coldest hill stations near Delhi during the summer season.you can say that the view here is not less than heaven. Apart from this, it has religious significance and also the name of the city is associated with Lord Shiva which is considered to be the deities here.
27.Binsar (355 km)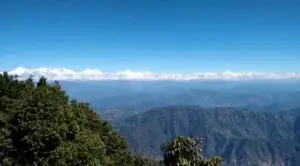 Located between Nainital and Kausani, Binsar is a special place for people interested in wildlife.
Here is the home of animals like Himalayan Gorals, Red Fox, Eagle and Himalayan Black Bears. Just do not forget to bring the camera.
28.Kausani (394 km)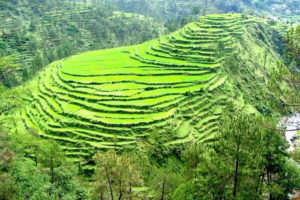 Kausani is one of the best places to visit. The city, which is also known for its fabulous tea estate, gives a spectacular view of several peaks,including the powerful Nand Devi, which is the highest peak of the India.
Beautiful hill station Kausani is situated at an elevation of 6075 feet in Bageshwar district of Uttarakhand. This place is called Switzerland of India due to the savvy views.
Somewhere it is also called Kumaon Paradise. By reaching Kausani, you get an opportunity to see the 350-feet spread Himalayan peaks from one place.
29.Munsiyari(641 km)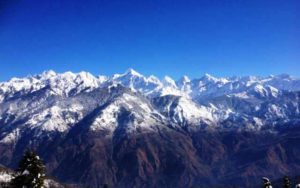 Located in the heart of the Himalaya in Uttarakhand, you may have heard the name of Munsiyari rarely. You can take a train to Kathgodam, and then there is a long but very beautiful bus trip to Munasariya.
One of the fastest growing tourist destinations in Uttarakhand can be reached from both Pithoragarh and Almora. Munsiari has Khalia Top, which is very popular in tourists.
When there are so many options to choose from, I am sure that you have decided the destination for your fun and beautiful journey. If you are still in the thoughts then come out of the world of thoughts and look at the real world. choose your destination and pack your bag with HollyMelody.