If you are planning to visit Nepal and you want to know about the list of famous cities in country to visit then you have come to the right place.we have listed the major cities in Nepal to visit.
Nepal is a South Asian landlocked nation. China's autonomous region Tibet in the north and India is located in the south, east, and west. 85 percent of Nepal's citizens are Hindu religious. Nepal is the largest Hindu religious nation on a percentage basis in the world. The official language of Nepal is Nepali and the people of Nepal are also called Nepali.
Eight of the world's highest 14 snow ranges are in Nepal, with the world's highest peak Sagarmatha Everest (on the border of Nepal and China).
Nepal is a lovely Himalayan country, also known as the 'roof of the world', attracts a lot of tourists from all over the world.
Every Tourist visits Nepal for many reasons, as some people visit Nepal for enjoying the attraction of high mountains, while many people come to Nepal for climbing or trekking in the Himalayas.
Nepal is a major religious place for the Hindus and Buddhism so that Many people visit to see the culture of Nepal and special tourist places.
Kathmandu Valley also has major cities named Lalitpur (Patan), Bhaktapur, Madhyapur, and Kirtipur, among other major cities, are Pokhara, Viratnagar, Dharan, Bharatpur, Veerganj, Mahendranagar, Butwal, Hetauda, Bhairahwa, Janakpur, Nepalganj, Virendranagar, Tribhuvanagar, etc.
Best Cities in Nepal

 

To Visit
1. Pokhara
Pokhara is a metropolitan city and one of the most popular tourist destinations in Nepal, spread in the foothills of the Himalayas, which is also known as the tourist capital of Nepal.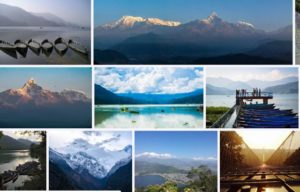 Every year, large numbers of tourists visit this particular tourist destination. Let us tell you that Pokhara is the second-largest city of Nepal after Kathmandu, which is situated at an altitude of more than 900 meters.
The city of Pokhara is divided by the Gandaki River and its many tributaries which contribute to its unique geography. Annapurna Range, which is the highest mountain range with four high peaks, Pokhara is situated above it.
Pokhara is the second most visited place in Nepal. It is also famous for trekking and rafting. Pokhara is a good place for tourists of all ages. Pokhara Nepal tourist destination is very special even after being a small part of the city.
If you are fond of doing some adventurous things, or you want to go to a high place, or to trekking or to enjoy nature close, then there is no better place than Pokhara. Whenever you go for a trip to Nepal, take a few days out for the Pokhara Lake.
Best Tourist Attraction in Pokhara-
Phewa Lake
Devi's Falls, Pokhara
Begnas Lake
Old Bazaar
Tibetan Refugee Camp
Temple Of Tal Barahi
Rupa Tal Lake
Begnas Lake
Sarangkot
Shanti Stupa
Phewa Lake
2. Kathmandu
This city is one of the places in Nepal that thrills tourists.It is the cultural capital of Nepal. Kathmandu is a city that is home to more than 1.5 million people.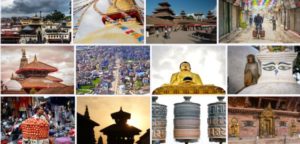 The city is situated at an altitude of 1400 meters, which gives a delightful atmosphere to the visitors who visit here throughout the year. Kathmandu is a peaceful place with its monasteries, temples, and spirituality. Its natural beauty makes travelers feel different from other tourist destinations.
Pashupatinath Temple is one of the most sacred Hindu temples in Nepal, located 3 km east of the city of Kathmandu on the banks of the beautiful and sacred Bagmati River.
This temple is dedicated to Lord Shiva, which is visited by thousands of devotees every day. The Pashupatinath temple is spread over a large area with ashrams that make tourists and pilgrims visiting experience a different peace.
In 1979, Pashupatinath Temple was included in the UNESCO World Heritage Site.There was a severe earthquake in Nepal in 2015, due to which some of the outer buildings of this temple were destroyed, but the Sanctum sanctorum (Garbhagriha)of this temple is still safe.
Swayambhunath Boudhanath Temple is located about three kilometers west of Kathmandu on a hilltop which is the second most important temple in the Kathmandu Valley.
The Swayambhunath Stupa, painted with the eyes of the Lord, is the main attraction of this temple complex. This temple is also known as Monkey Temple because of the habitat of monkeys in some parts of this temple. If you are going to visit Nepal, then you must visit this temple.
Other Tourist Attraction in Kathmandu-
Thamel
Kathmandu Valley
Kopan Monastery
Boudhanath Stupa
The Garden of Dreams
3. Bhaktapur
Located in the Kathmandu Valley, Bhaktapur is one of the most special places to visit in Nepal. This place is home to most temples and pilgrimage centers, which are the main attractions.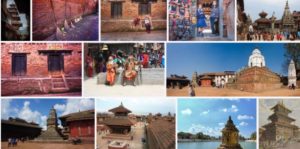 Bhaktapur is also called the city of devotees which is a part of the damage done during the 2015 earthquakes. The city is less crowded than Kathmandu where you can also enjoy walking on the winding roads. 55 Windows Palace, a 15th-century structure in the city, is a major attraction.
Changunarayan Temple The ancient temple is one of the major scenic spots in Bhaktapur in which the statue of Sheshnag with Lord Vishnu can be seen. This temple is called the oldest temple in Nepal. This temple is said to have been constructed in the 4th century and 1702 AD.
If you want to see the beauty of the Himalayan mountains, then Nagarkot is the best place for you. Nagarkot is one of the most visited places in Bhaktapur.
This small and charming village is situated in the lap of the Himalayas, located in Bhaktapur district of Nepal. From Nagarkot you can see 8 of the 13 Himalayan ranges of the Himalayas.
From this place you can clearly see Annapurna, Manaslu, Number, Ganesh Himal, Jugal, Everest, Langtang, and Rolavaling ranges.
Nagarkot is located just 28 kilometers from Kathmandu, which amazes the tourists by showing the beautiful views of the Himalayan Mountains. Situated at an altitude of 2000 m,
4. Bharatpur
Bharatpur city is an amazing place o enjoy the view of the Himalayas, the fourth largest city in Nepal. It is the main gateway to the first national park of Nepal. Its name comes at the top of Nepal's scenic spot. It was established in 1973, and previously known as Royal Chitwan.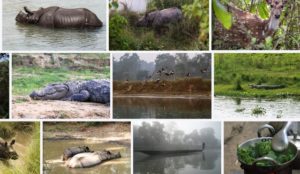 If you are a wildlife lover then you should also include Chitwan National Park on your Nepal trip, near Bharatpur city. Explain that this national park is one of the best wildlife sightings in Asia.
In this park you can see the Bengal tiger, one-horned rhinoceros, and many such endangered species. The biggest attraction here is seeing elephants, leopards, rhinoceros, sloth bears, and Indian bison along with many exotic animals.Tourists visiting can also enjoy jungle trek, elephant ride and canoe ride with a jeep safari.
Best Tourist Attraction in Bharatpur-
Seti Gandaki River
Bis Hazari Lake
Chitwan Jungle Safari
5. Lalitpur
Lalitpur Metropolitan City, also called Patan, historically Patan, is the third-largest city of Nepal after Kathmandu and Pokhara in the Kathmandu Valley near the Bagmati River, about 3 miles (5 km) southeast of Kathmandu. It is a new metropolitan city of Nepal.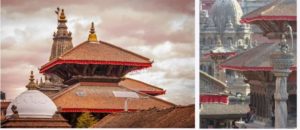 The city, is the headquarters of the Banara sect of Newar people, has an agricultural economy, and known for its craftsmen, especially metallurgists and wood-carvers.
Patan Durbar Square: The 17th-century temple of Lord Krishna located in the center of the city of the Lalitpur Municipal Body of Kathmandu has been constructed in the Indian Shikhara style.
The first floor of the temple depicts incidents related to the Hindu epic Mahabharata on stones, while the second floor depicts scenes related to the Ramayana.
There is also a story about this temple that one night the Malla king saw Krishna and Radha in a dream and instructed to build a temple in front of his palace, a replica was built by the king in the premises inside the palace.
A terrible 7.8 magnitude earthquake struck Nepal on 25 April 2015.
There was a huge loss of life and property in this disaster, in which about 8700 people died. In this, the famous temple of Lord Krishna was also severely damaged.
Best Tourist Attraction in Lalitpur-
Dashavatara Temple
Mahaveer Swami Wildlife Sanctuary
Teraje
Patan Durbar Square
6. Dharan
Dharan is a sub-metropolitan city in the Sunsari District of eastern Nepal. it was established as a 4th municipal city in the Kingdom in1958. Football is very popular among local people. Due to this city is also known as the city of football.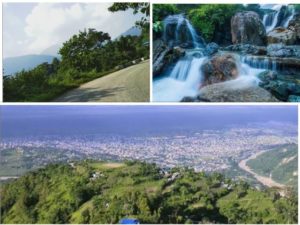 It is generally believed that most of the youth of the city are fond of fashion due to this city is known as "Fashion City".
Dharan has many places of religious and cultural importance that can attract tourists.From the legendary Budsubba to Namje Gaun, which has been listed as one of the best spots in 2011 by the US news portal CNN.If you are planning to visit Dharan then do not miss rafting from Tamor River to Koshi.
Best Tourist Attraction in Dharan-
BUDHASUBBA
DANTAKALI
PINDESHWORE BABA DHAM
BHEDETAR
NAMJE VILLAGE
Dadabazaar
Bishnu Paduka
7. Itahari
Itahari is a sub-metropolitan city and main transportation junction of Eastern Nepal, in the Sunsari District , also counted as one of the biggest and fastest-growing cities in Nepal.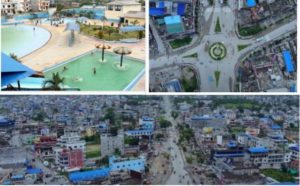 It is Located 25 kilometers north of Viratnagar, 16 kilometers of Dharan, and 92 kilometers of Kakarbhitta, which acts as the junction point of the East-West Mahendra Highway and the North-South Koshi Highway.
If you are looking for a calm place then Budhikola Ghat is perfect for you. It is a quiet place, in the center of Itahari.
The water bank is covered with stairs and benches to sit and enjoy in the evening. Along with the walkway, the place is beautifully decorated with flowerpots and bushes.This also has a huge idol of Lord Shiva, along with some other idols with his cool and built posture.
Best Tourist Attraction in Dharan-
Mechi-kali pond
Taal Talaiya – Where Art Meets Nature
Ocean Park & Resort
8. Lumbini
Lumbini, a beautiful place in the lap of the Himalayan Mountains, is the birthplace of Gautama Buddha. This place is located in Rupandehi district close to the border of India, which is very calm and a major pilgrimage site of Buddhism.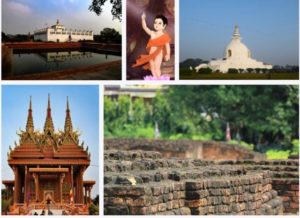 This place is also known for the memorial pillar of Emperor Ashoka. Lumbini is a UNESCO World Heritage Site whose stupas and monasteries make it extremely special. People traveling to Nepal also come to study Lumbini scriptures, learn about religion, and to refresh their hearts and minds.
Lumbini also has a temple named after Maya Devi, mother of Gautama Buddha, which is called Mayadevi Temple, this temple also has a statue of Maya Devi.
9. Janakpur
Janakpur is a famous religious place in Nepal, a sub-metropolitan city in Dhanusa District. This city is considered the capital of Mithila in ancient times. Janaka was the famous king of the city, the father of Sita Mata. The city is famous as the in-law of Lord Rama.due to this city is a center for religious and cultural tourism.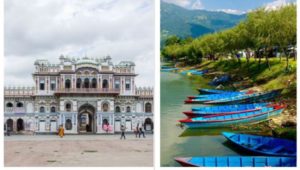 Janaki Mandir is a Hindu temple is located in the center of Janakpur in Nepal. The city was named Janakpur after King Janak.
Janaki temple was completed in the year 1911. This temple, spread over 4860 square feet, was built by Queen Kumari Vrishabhanu of Tikamgarh.A resolution of nine lakh rupees was made for the construction of Janaki temple. As a result, it is also called 'Naulakha Temple'.
Best Tourist Attraction in Janakpur-
Ram Mandir, Janakpur
Rolwaling Valley
Dolakha Bhimsen Mandir
Ram Sita Vivah Mandap
The city is located 400 km southeast of the capital of Nepal, Kathmandu. The mountain starts after about 14 kilometers north of Janakpur. Janakpur is the only center of Nepal's rail service. There is also a national airport in Nepal.
There is a proper arrangement of hotels and Dharamshalas for the stay of the travelers. The customs are similar to the Mithlanchal of the state of Bihar. Apart from Indian tourists, tourists from other countries also visit in large numbers.
10. Birgunj
Birganj is a metropolitan city, in the southern border town of Nepal, bordering Raxaul town of East Champaran in Bihar. This is a major route to enter Nepal by road. If you are coming from Patna or Kolkata, then this is the easiest route.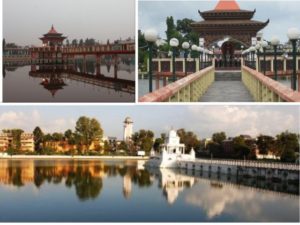 Birganj Nepal is the main entrance of India trade, it is located in the Parsa district. Due to this it is known as the "Gateway to Nepal". You can visit Lord Buddha stupa situated on a Vishwa hill.
Parsa Wildlife Reserve is one of the largest national parks in Nepal, with hundreds of endangered species. Tiger, elephant, musk deer, crocodile, red hornbill are the main attractions.