If you are planning to visit Bhutan and you want to know about the list of famous cities in country to visit then you have come to the right place.we have listed the major cities in Bhutan to visit.
Bhutan is a country located in the mountainous regions of the eastern Himalayas and one of the cleanest countries in the South Asian region.
Let me tell you that Bhutan is also known as "Land of the Thunder Dragon". It is a country with no colonial history and the Wangchuk family has maintained unity in this country.
Bhutan is bordered by Sikkim, Assam, West Bengal, and Arunachal Pradesh, states of India. Protecting the environment is a constitutional obligation of Bhutan and for your information let me tell you that 60% of this country is still a forest.
Bhutan is one of the first Carbon Negative countries in the world to ban the sale of tobacco.The country of Bhutan is full of many tourist attractions which is a paradise for nature lovers. Many people like to travel here because of their natural beauty. If you are planning to travel to Bhutan then read this article. you get more information about Bhutan and its major cities.
Best Cities in

Bhutan

To Visit
1. Paro
Paro is a small town located in the Paro Valley of Bhutan, home to 155 temples and monasteries. It is located on the banks of the Chu River at an elevation of about 2280 meters, which is spread over an area of ​​1259 sqm.Paro attracts a large number of tourists from all over the world.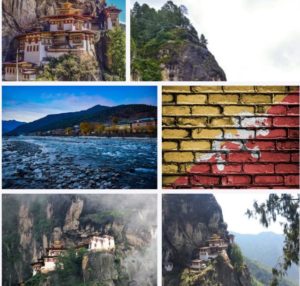 Let me tell you that Paro is also the only international airport in Bhutan and is considered to be the most challenging airport to land on.
Paro is full of many attractions where one must go to visit. One of Bhutan's iconic monasteries is Tiger's Nest or Taktsang, which is situated on a rock in the city of Paro.
Apart from this, there are many places in Paro that are most visited by tourists, including many names from monasteries to museums. Places to visit in Paro include Rinpung Dzong, Bhutan National Museum, and Paro Weekend Market.
Best Tourist Attraction in Paro-
Chele La Pass
National Museum Of Bhutan
Tiger's Nest Monastery
Rinpung Dzong
Kila Goemba
Jangsarbu Lhakhang
2. Thimphu
Thimphu is known as the center of Bhutan which is located in the mid-western part of the country. Let us know that Thimphu is also the capital of Bhutan, which was declared capital after Punakha in the year 1961.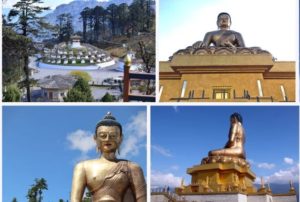 It is a place in Bhutan that is also known for its nightlife. Thimphu is one such place in the country that still retains Bhutanese traditions as it has various architectural structures such as Buddha Dordenma, which can be seen during the entry into Thimphu.
The textile museum, library, art school, and weekend market are the major attractions here. Thimphu is located about an hour's drive from Paro International Airport which is a mixture of both tradition and modernity. Let me tell you an interesting fact, Thimphu is the only capital with no traffic lights.
Best Tourist Attraction in Thimphu-
Trashi Chho Dzong
Changangkha Lhakhang
Tango Goemba
National Memorial Chorten
Motithang Takin Preserve
Dechen Phodrang
National Institute For Zorig Chusum
3. Punakha
Punakha is one of the 20 districts (Dzongkhags) of Bhutan located at an altitude of 1200 meters above sea level and offers an amazing view of the Himalayas. It was the former capital of Bhutan until 1955.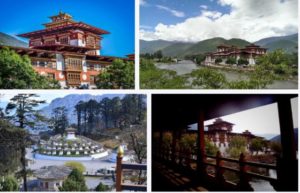 This place is an excellent place for mountain biking and trekking. Apart from this, you can also enjoy Bhutan's most popular adventure sport – river rafting in Po Chhu River. If you are going to travel to Bhutan then you must visit Punakha.
Best Tourist Attraction in Punakha-
Punakha Dzong
Mo Chhu(River)
Punakha Suspension Bridge
Punakha Village
Jigme Dorji National Park
Dochula Pass
Khansum Yulley Namgyal Chorten
Sangchhen Dorji Lhuendrup Nunnery
4. Wangdue Phodrang
Wangdue Phodrang is one of the largest districts in Bhutan, full of monasteries and temples, wildlife, and rustic villages.
This city is home to many plant and animal species, with Wangdue Centennial Park in the north and Jigme Dorji National Park in the southeast region.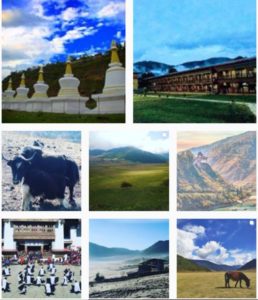 Here tourists can see orchids, rhododendrons, blue poppy, and rare animals like red panda, snow leopard, blue sheep, and black bear.
Wangdue Phodrang is a very good place for nature lovers. If you are planning to visit Bhutan then you must visit the tourist places of Wangdue Phodrang.
Wangdue Phodrang has a bowl-shaped valley in the western slopes of the Black Mountains that offers breathtaking views of lush green fields.
Let me tell you that this valley is home to the endangered Black-necked Crane which comes in this area during winter. The Phobjikha Valley, also known as Gangtey, is one of the few glacial valleys in the country.
This valley, bordering Jigme Singye Wangchuck National Park, is located at an altitude of 3000 meters above sea level, due to which it is quite cold. Phobjikha Valley is a very beautiful place of Bhutan Where tourists can also enjoy trekking. Phobjikha Valley is a paradise for bird watchers and trekkers, here you can also click great photos.
Best Tourist Attraction in Phodrang-
Jigme Singye Wangchuck National Park
Phobjikha Valley
Temple Of Sha Radap
Rinchegang Village
Adha And Rukha Villages
Jakar Tourism
Wangdue Phodrang Dzong
5.Trongsa
Trongsa, the central part of the country, previously Tongsa , is a mountainous and beautiful town.It is an ideal place for those looking for peace, here you will experience unlimited peace, offers spectacular views of the deep valleys and the Black Mountains.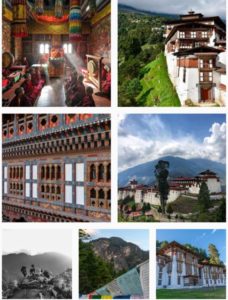 Apart from being a quiet destination, the beautiful city of Bhutan also holds great historical significance as it is the seat of the Wangchuk dynasty before ruling Bhutan. Trongsa is home to the largest Dzong fort, as it is the geographical center of Bhutan, so it holds strategic importance connecting different parts of Bhutan.
Best Tourist Attraction in Trongsa-
Trongsa Dzong
Yathra Weaving Centre
Kuenga Rabten Palace
Thru Epang Palace
6. Bumthang
Bumthang is home to four beautiful mountain valleys. It has Many ancient monasteries and temples which are worth visiting.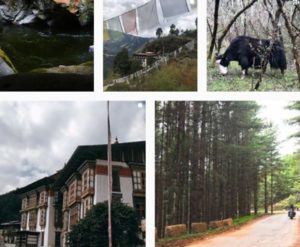 It is one of the best places to visit in Bhutan, known for its religion, spirituality, and history. Kurji and Tamshing Lhakhang are the major sightseeing places and tourists can also do trekking on the hill. In February every year in Bumthang, Bhutanese organize nomadic celebrations.
Best Tourist Attraction in Bumthang-
Khurje Lhakhang Temple
Jakar Dzong
Jambey Lhakhang
Tamshing Lhakhang
Burning Lake
Ura Valley
Ogyen Choling Palace Museum
Konchogsum Lhakhang
7. Trashigang
Trashigang is a famous tourist destination and beautiful town of Bhutan which is also known as the Jewel of the East.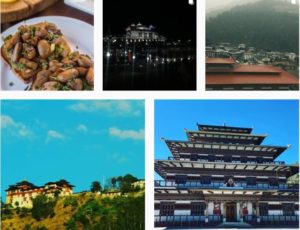 Let us tell you that Trashigang is a beautiful hill station in Bhutan, which extends from 600 meters to 4000 meters in height. Trashigang This is the largest district of Bhutan which is very beautiful and peaceful. It is also a city famous for trade-in Bhutan, which is an important trade center on the trade route between Assam and Tibet.
There are many tourist places in Trashigang that you can visit during the Bhutan trip. Trashigang Dzong is a fort which is one of the most famous tourist destinations. Along with this, the district also has its own domestic airport Yonfula Airport.
Dangme Chu, the largest river of Bhutan also flows through this city, which offers many fascinating scenes. If you are planning to visit Bhutan's tourist places then you can also visit Trashigang and its popular destinations.
Best Tourist Attraction in Trashigang-
Trashigang Dzong
Sakteng Wildlife Sanctuary
Dangme Chhu
8. Haa Valley Tourism
Haa Valley is known as the smallest Dzongkhag (district) of Bhutan. It is one of the most beautiful places in the south-west of Bhutan which is an extremely good place for nature lovers and trekkers.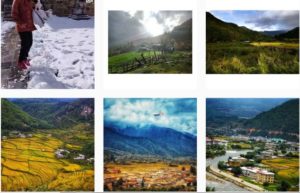 Apart from this, it is the only place in the world where the cream-colored blue poppy (Meconopsis Superba) can be seen. The place is a sparsely populated area and is home to nomadic shepherds.
Haa Valley is located at a distance of 30kms from Paro which is accessible via the Chele La Pass. Bhutan's best trekking trails and mountain biking trails are also organized around this area. If you are planning to visit Haa Valley then the best time to visit is from October to November.
9. Phuentsholing
Phuntsholing is the second largest city of Bhutan which shares its border with the Indian state of West Bengal.
It serves as an entry point for travelers from Kolkata and Siliguri and is an important economic center of Bhutan.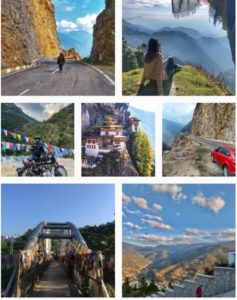 Phuntsholing is more developed than most cities in Bhutan and is full of many natural attractions.
Tourists can visit Zangto Pelri Lhakhang, Karbandi Monastery, Bhutan Gate, and Kharbandi Gompa during their Phuntsholing trip.
Zangto Pailari Lakhang is a small temple dedicated to Guru Rinpoche. The Bhutan Gate is the main gateway for entry from India, a classic example of traditional Bhutanese architecture.
Best Tourist Attraction in Phuentsholing-
Bhutan Gate
Zangto Pelri Lhakhang
Amo Chhu Crocodile Breeding Centre
Karbandi Monasteries
Torsa River
10. Jakar
Zakar is the largest and most beautiful valley in Bumthang, situated in the foothills of the Chokhor valley. Let me tell you that Zakar is also known as "Little Switzerland". Zakar is the major administrative city of the Bumthang district.
This place is surrounded by tree-mountain ranges with monasteries and Dzongs due to which it is an ideal destination for both history lovers and nature-lovers. Zakar is filled with many historical and holy sites.
It is considered the point of origin of Buddhism in Bhutan. If you want to travel to a natural place in Bhutan then you should visit Zakar. Travelers can also enjoy other activities like trekking and mountain biking to visit tourist places.
Best Tourist Attraction in Jakar-
Jakar Dzong
Chakhar Lhakhang
Mebar Tso
Kharchu Goemba
Drangchel Village
Tang Valley
Konchogsum Lhakhang
If you want to know about the best time to visit Bhutan, then tell us that the best time to visit is from March to May (spring) and September to November. Due to the height of Bhutan's places, there is also a difference in the climate. There is a spring season in March-May during and beautiful views can be seen everywhere.