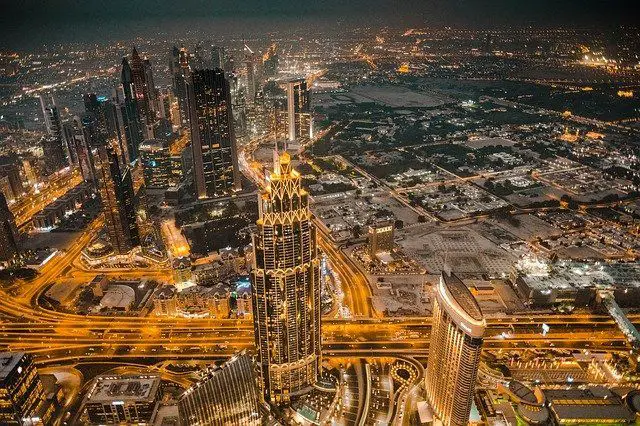 Living in Boulevard Heights, Downtown Dubai
8th December 2021
Boulevard Heights is a residential property complex made of multiple buildings. Two separate towers are included – Boulevard Heights Tower 1 and Boulevard Heights Tower 2. One tower is 53-storey high and the other is 46-storey high. The twin towers boast elegance, luxury and sophistication to impress the residents with the latest facilities. 
This project is situated in Downtown Dubai besides Sheikh Mohammed Bin Rashid Boulevard across the Opera District. Hence, it is clear that residents can enjoy uninterrupted connection with the urban city. 
The venture was launched in September 2014 and the expected handover date was June 2018. Boulevard Heights was finished in the fourth quarter of 2020. 
Numerous facilities are offered for residents such as a retail center, a swimming pool, cafe, free chiller, backup power system, central air conditioner, a community center, conference room, kid's swimming pool, mezzanine, CCTV cameras, covered parking, furnished lobby, full security, and gym. 
The Boulevard Heights also host a variety of dynamic events which bind the neighborhood together. Lots of shopping, cultural and eating options are available. It is close to the metro station, mini mart, and various grocery stores as well. 
Details of the Properties
Situated in Downtown Dubai, this luxurious project boasts 492 complete property units. 1 to 4 bedroom units are available such as duplex penthouses, penthouses and apartments. The payment plans are flexible so that all types of investors and buyers can enjoy. 
A 10% down payment, 15% on handover and 75% post-handover are set. A flexible payment plan is guaranteed which is 25/75, 3 years post-handover. All the residential units have a floor size from 856 square feet to 6,392 square feet. The units come with an attractive interior, huge balconies, a big entrance, and much more. 
A sun terrace offers unparalleled views of Dubai Mall, Dubai Fountain, Burj Khalifa, and other skyscrapers of Dubai. Moreover, 5-star restaurants, opulent hotels, beautiful lanes, and other significant areas are included in this demanding neighborhood. 
The properties are made with creative designs and smart technology. In order to enjoy stunning panoramic views of the Dubai skyline, the floor-to-ceiling glass windows are big and transparent.
The whole construction is futuristic and maximizes chic aesthetic sense. Flawless comfort and immense relaxation of Boulevard Heights is guaranteed with a retail plaza, 24 hours concierge services, air bridges, wireless connection, cycling tracks, and other rich facilities. The residential units are finished with contemporary settings, opulent furnishing, smart tech facilities and beautiful bathrooms. 
Floor Plans for Boulevard Heights
Single bedroom units have a floor size of 906 square feet

Double bedroom units have a floor size of 1,697 square feet

3 bedroom units have a floor space of 2,648 square feet

4 bedroom units have a floor space of 6,792 square feet
Companies Connected with Boulevard Heights
Developer: Emaar Properties
Cost consultant: Omnium International
Architectural consultant: Perkins & Will
Contractor: Target Engineering Construction Company
Piling contractor: International Foundation Group
MEP Consultant: Chapman BDSP
Commute times
It takes 6 minutes to reach Dubai Mall

It takes 22 minutes to reach Palm Jumeirah

It takes 21 minutes to reach Burj Al Arab

It takes 26 minutes to reach The Walk JBR

It takes 17 minutes to reach Dubai International Airport

It takes 46 minutes to reach Al Maktoum International Airport

It takes 26 minutes to reach Ibn Battuta Mall

It takes 17 minutes to reach Mall of Emirates

It takes 17 minutes to reach La Mer by Meraas
Nearby Places
At 0.3 km distance, a strip mall known as Bay Avenue Mall & Park is available

At 0.4 km distance, a building called Dubai Opera is situated

At 0.7 km distance, a retail and leisure district known as Fountains at Dubai Mall is located

At 0.7 km distance, a mixed-purpose building called Souk Al Bahar is available

At 1.1 km distance, a theme park called Sega Republic is available

At 1.1 km distance, an ice rink called Dubai Ice Rink is situated

At 1.1 km distance, a theme park known as Kidzania is situated

At 1.1 km distance, a leisure destination known as Dubai Aquarium is located

At 1.1 km distance, a shopping mall called Dubai Mall is available

At 1.8 km distance, a bio-dome known as The Green Planet is situated

At 2.4 km distance, a strip mall known as Boxpark is situated

At 2.6 km distance, a recreation destination called Dubai Bowling Center is situated

At 2.6 km distance, a park called Safa Park is available

At 3.1 km distance, a residential building known as Eden House is located

At 3.3 km distance, a public beach called Mercato Beach is available

At 3.3 km distance, a retail and recreation district called Jumeirah Fishing Harbour is situated

At 4.1 km distance, a public beach called La Mer Beach is available

At 4.3 km distance, a recreation area known as La Mer by Meraas is available

At 4.6 km distance, Jumeirah Mosque is situated for Muslim residents 
Closest Cinemas
At 1 km distance, Reel Cinemas in The Dubai Mall is available

At 1.5 km distance, Reel Cinemas in Rove Downtown is available

At 1.8 km distance, Roxy City Walk Cinema is situated

At 2.2 km distance, Vox OUTDOOR in Galleria Mall is available

At 2.3 km distance, Roxy Box Park Cinema is situated

At 3.1 km distance, Vox Cinemas in Mercato Mall is available

Lastly, at 4.4 km distance, Roxy La Mer Cinema is located