Are you looking for lesser-known facts about Jal Mahal? Here is a collection of interesting and fun
facts about Jal Mahal which You've Never Heard Before.
Rajasthan's heritage has a distinct identity in the world. If you make a trip to visit Rajasthan, then it will take you a month to visit here. There are so many historical places to visit in Rajasthan.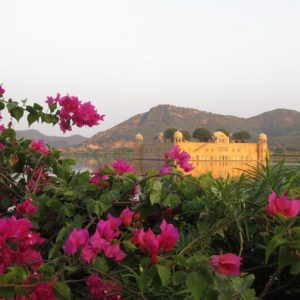 Interesting Facts About Jal Mahal ,Jaipur
Jal Mahal is one such place incorporating the history of Rajasthan. Jal mahal located in Jaipur. It is one of the most prized tourist spots of Jaipur.

A special reason to build this fort

This palace was built by Maharaj of Amer in 1799. There was a specific reason behind the construction of the Jalmahal, in the 15th century, when there was a famine in this area, the ruler of Amer decided to build a dam so that the water coming out of the mountains of Amer and Amagarh could be collected. To drain the water, 3 inner doors were built underwater and the Mansagar lake was built.

A five-storey building

The beauty of this lake was the center of attraction of the kings of that time and the king often used to visit it in a boat, King Sawai Jai Singh decided to build a palace in the middle of the lake. So that he can take a royal bath in the middle of the lake with his queen and pandits after Ashwamedha Yagya.Jal Mahal is a five-storey building with 4 floors built underwater and one is seen above water.

Lake water

It is believed that the kings of that time used this palace for their entertainment.The kings often used to come here to spend time in a peaceful environment and many times also hunted ducks and colorful birds. Over time, the water of the lake of Jalmahal was contaminated due to increasing pollution, due to which this palace was deserted.This dam is about 300 meters (980 ft) long and 28.5–34.5 meters (94–113 ft) deep.

The government reopened the Jalmahal in the year 2000, the Rajasthan government started improvement in the environmental condition of the Jalmahal and this memorial of Jaipur has now opened for the tourists. Now you can see this beautiful building.
Jal Mahal is a magnificent and serene palace located in Jaipur, the capital of Rajasthan state, away from the hustle of the city. Jal Mahal is also called a water palace because it is situated in the middle of the Man Sagar Lake.This palace was once a shooting lodge for Maharajas, which today attracts many tourists from all over the world.Jal Mahal is one of the most beautiful architectural monuments in Jaipur which incorporates the architecture of Gal and Rajput style.

 Architecture Of Jal Mahal Or Water Palace

Jal Mahal is a five-storied palace, inspired by the Rajput architectural style. On the five floors of the Jal Mahal, four floors are submerged in water and you can only see its fifth floor.This palace is constructed of red sandstone and four octagonal-shaped canopies are situated at its corner.

The palace was renovated in the 18th century by Maharaja Jai Singh iii with a total of 21 beautifully carved columns. There is a garden on the roof of this beautiful palace, which is called Chameli Bagh.
There is a platform in the center of this garden which was used for dance artists. Let us know that tourists are not allowed in this palace but you can enjoy the beauty of this palace from a distance.
Jal Mahal is the paradise for photographers – Jal Mahal Is Best Place For Photographers In Hindi
If you are a little bit interested in photography then Jal Mahal gives a great opportunity. The scenery around this palace is so attractive that it will make you do photography.
Jal Mahal History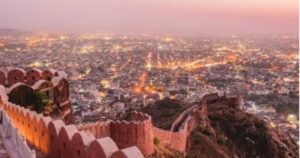 It is said that the Jal Mahal or Water Palace was built in the year 1799 by Maharaja Sawai Pratap Singh as a lodge for duck hunting.
But apart from this, it is also said that the Jal Mahal was built by Maharaja Madho Singh I in the year 1750.
This place was never built for use as a palace but was later extended by Maharaja Jai Singh II, seeing the beauty of this palace.Jai Singh II renovated the palace and added some attractive structures to it. Maharaja Sawai Pratap Singh also constructed the Man Sagar Lake by constructing a dam.
Shopping At Jal Mahal Jaipur
Many exquisite handicrafts and jewelry shops of Jaipur city are located near the palace, from where you can buy some attractive things. If you go to Jaipur, then you can also ride a camel on bumpy roads.
Bird Watcher's Paradis
Jal Mahal is a place situated between the Man Sagar Lake which is like a paradise for bird watchers.
The place is home to many migratory and local birds including pintail, pochard, kestrel, flamingo, Great Crested Greb.
Jal Mahal Timings and Entry Fees
The general public's entry into the Jal Mahal has been closed after the government declared it a protected area. Boat rides around the palace have also been stopped. Although this place is still a very special place to spend a peaceful time.
Local Food At Jal Mahal Jaipur
Jal Mahal is one of the most attractive places to see near Jaipur. Along with this, you can taste a lot of delicious food here. Many types of local food are available here.
How To Reach Jal Mahal
Jal Mahal is located about 5 kilometers from the city center of Jaipur. Where you can easily reach with the help of autos and taxis. The city of Jaipur is well connected to many major cities in India by railways, airways, and roadways.
How to reach: Many interstate buses available from Delhi to Jaipur. Apart from this, you will get a train to Jaipur from every state.
If you know any new things about Jal Mahal, then definitely tell through the comments so that other people can read,thanks.