Interesting Facts,History & Architecture of St. Augustine Church,Goa
5th December 2019
Are you looking for lesser-known facts about St. Augustine Church? Here is a collection of interesting and unknown facts about St. Augustine Church which You've Never Heard Before.
The churches and ashrams of Velha (old) Goa of this state located on the west coast of India date from the era of Portuguese rule. Churches were built extensively in Old Goa between the 16th and 17th centuries, including – Basilica of Bom Jesus, St. Cathedral, Church and Ashram of St. Francis Assisi, Church of Lady of Rosary, Church of St. Augustine and St. Catherine's Chapel. These churches and ashrams were declared as World Heritage Sites in 1986.
In this article, we will tell you the interesting facts related to St. Augustine Church.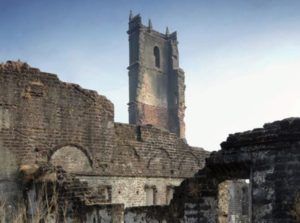 Interesting Facts about St. Augustine Church
The St. Augustine Church, about 46 meters high, built in the old city of Goa, is unique in itself. This church was built in 1602.
After 1842, a large part of this church had collapsed due to constant neglect.
In 1931 another part of it fell and now this church has been converted into ruins. However, its remnants still tell the story of its magnificence.Of course St. Augustine's Church was the largest church of its time, but today it is in a dilapidated state.Religious restrictions imposed by the Portuguese in 1600 were responsible for this.
St. Augustine's Church today is nothing more than a 45-meter tower which is situated on a hill called Holy Hill in Old Goa.
St. Augustine's Church has always been a favorite place for pilgrims due to its rich history and architecture.
The Augustine Church was built by twelve (12) Augustine ascetics in 1572 after reaching Goa on 3 September 1572. This church was completed in 1962. At present both the ashram and the church are in a damaged condition.
By the year 1835, this church was very strong. Then it became neglected after religious orders were passed by the administration of Portugal.
It was severely damaged in the year 1842 by the collapse of its arch. The only remaining part of this ancient monument is the clock tower which still stands today without any bell.
The clock tower was removed and between 1841 and 1871 it was installed at the Aguada Light House Fort. It was then given to the Church of the Lady of the Immaculate Conception in Panjim. It is still working in the Church.
Built between 1597 and 1602 by the Order of St. Augustine, this church is dedicated to the Lady of Grace. This church was abandoned in the 1830s due to the repressive policies of the Portuguese government.
Parts of this church continued to collapse, so it has been transformed into ruins. However, its remnants still tell the story of its magnificence.
The main dome of the church collapsed in 1842, after which the entire structure gradually collapsed.
In 1931 half the tower collapsed along with the front portion, the remaining part of which can still be seen today.
In 1986, UNESCO declared these ruins as a World Heritage Site.

Remains of Queen of Kakheti

Interesting thing is that the history of the church is related to the story of the remains of Ketevan the Martyr-queen of Kakheti, a small, mountainous province in eastern Georgia in the 1990s.Queen Ketevan was born in 1560 and was married to King David I of Kakheti.After the death of her husband David I, she established her youngest son as king and became a regent.Queen Ketevan was sent to Iran as an emissary, she volunteered as a hostage to prevent Kakheti from being attacked by the Iranian armiesHe was held hostage in Iran for many years, tortured too much to convert to Islam, and was eventually killed in Shiraz, Iran when Queen Ketevan refused to abandon Christianity.It is said that some of the remains of the queen were buried in St. Augustine's Church.

Who is St. Augustine?

Augustine (354 AD – 430 AD) was a Christian philosopher. He was born on November 13, 354, in the town of Thagaste, in the province of Numidia, Roman Africa. The major books written by him in Latin were – Dē cīvitāte Deī contrā pāgānōs( English it is known as City of God) and Confessions.Augustine's mother was a Christian believer and his father was a Roman believer.

Church architecture

Originally built of laterite with four minarets and a huge dome, the building resembles the great royal cathedral of the Renaissance era.The altar of this church has beautiful multicolored Italian tiles and relics of red and blue paintings.
History
St. Augustine's Church was built by twelve Augustines against oppressive restrictions and opposition. Along with the church, he also built a building for Gurukul. This tower 46 meters high had a magnificent bell that was later removed and transferred to the Church of Our Lady of the Immaculate Conception where it is still functioning today!
The rear of the church has become ruins. Despite this, St. Augustine's Church attracts thousands of tourists every year. Much of the decline of the church took place during 1900 which led to differences among various religious groups.
How to rach
St. Augustine Church is located in South Goa and can be reached by bus, rickshaw or cab from various cities like Panaji, Vasco da Gama, and Madgaon. Tourists settled in North Goa, Candolim, Baga can rent a vehicle or use their car to avoid expensive rental.
If you know any new things about St. Augustine Church, then definitely tell through the comments so that other people can read,thanks.
Hello,My name is Aparna Patel,I'm a Travel Blogger and Photographer who travel the world full-time with my hubby.I like to share my travel experience.