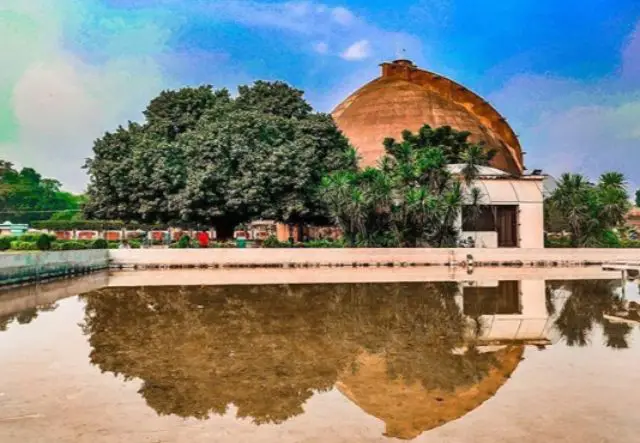 Interesting Facts,History & Architecture of Gol Ghar,Patna
8th December 2019
Are you looking for lesser-known facts about Gol Ghar? Here is a collection of interesting and unknown facts about Gol Ghar which You've Never Heard Before
The "Gol Ghar" used for storing grains in history, today famous as a tourist place and picnic spot in Patna, while in December 2017 the building was given a new look.Along with this, the light and sound show is also held here to attract more tourists.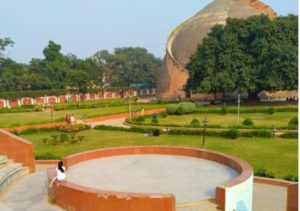 It is one of the most attractive historical buildings of Patna city, Golghar is one of the picturesque places of Patna city due to its peaceful environment and natural beauty.
Interesting Facts about Gol Ghar,Patna
What Patna is famous for?

A wonderful confluence of history and natural beauty, "Gol Ghar" is located near the Gandhi Maidan on the western side of Patna, Bihar. The structure of this historic building built during the British rule is amazing and attractive.It is one of the main attractions of Patna, while many people know Patna only because of this famous building "Gol Ghar".

How was the historic building named "Gol Ghar"?

'Gol Ghar' whose name means a circular shaped house. Let me tell you that this historic building is very famous due to its size. The special thing about this building is that it has been constructed in such a way that there is no pillar in it.It is made up of thick walls rounded from all sides. Let us tell you that due to its circular structure, this historic building is known as "Gol Ghar".

Golghar, an amazing specimen of architecture, is located to the west of Gandhi Maidan in Patna, the capital of Bihar. if we look in history, during the drought of 1770, about one crore (10 million) people were victims of starvation.
Golghar's construction work began on 20 January 1784. It took two whole years to complete. Its construction was meant to keep food grains, but food grains were never kept in it. After independence, the government used it to keep food grains, but in 1999 grains were removed from the godown.

Why the Golghar was Built?

Actually, between 1769 and 1773, the Gangetic plains of Bengal and Bihar had to face terrible drought and famine.About 1 crore(10 million) of people died due to this famine. Social scientists believe that the policies of the East India Company were the major reason behind this famine.People were taxed on a large scale due to which their economic condition was deteriorating day by day. At the same time, during the monsoon of 1769, due to lack of enough rain, the period of drought came. This famine affected the revenue of the East India Company and they made some policies for it.The East India Company sent the then chairman of the Revenue Committee, John Shore, to the region to tackle the famine and take necessary steps. To overcome this problem, Shore decided to lift the transit duty on grains and lift the local ban on grains going to Patna. He proposed the construction of Golghar in the state to keep food grains. In the year 1784, the then Governor-General of India, Warren Hastings, approved to build Golghar Structure.However, while the construction of Golghar was going on, an East India Company official, Robert Kidd, also opposed it.The logic of many officials was also that it would not help much in solving problems like famine.

Who built the "Gol Ghar", when and why?

The then Governor-General Warren Hastings had planned the construction of the Golghar, the British engineer Captain John Garstin started the construction of this circular structure for storage of grain (for the British Army) on 20 January 1784. Its construction was completed on 20 July 1784 under British rule. It can hold 140,000 tonnes of grains.

What is the height of Golghar?

Its size is 125 meters and the height is 29 meters. It has no pillar and its walls are 3.6 meters thick in the base. Stones have been used in place of brick for about three meters on the summit of Golghar.

How many steps are there in Golghar Patna?

A hole 2feet 7 inches in diameter at the top of the Golghar was left to pour grain, which was later filled. With the help of 145 stairs, you can go to the upper end from where a large part of the city can be seen also the beautiful view of the Ganges can be seen. Golghar was declared a state-protected monument in 1979.

There is no pillar in its construction. Due to the domed shape, it is compared to the mausoleum of Mohammed Adil Shah built-in 1627-55. A sound inside the Golghar is echoed 27–32 times. It is unique in itself.
Around 228 years old heritage 'Golghar' has cracked. This thing is surprising. But efforts have been started to save the heritage. The IIT experts, engineers, and specialists from the Archaeological Survey of India have started the work of saving Golghar after a thorough survey and documentation.
Golghar timing and tickets
Golghar timings are from 7:00 AM – 7:00 PM. It is open on all days of the week. It is also open on national holidays. There is No Entry fee for Golghar.
If you know any new things about Golghar, then definitely tell through the comments so that other people can read,thanks.