Are you looking for lesser-known facts about Basilica of Se Cathedral Church? Here is a collection of interesting and string facts about St. Cathedral Church which You've Never Heard Before.
St. Cathedral Church in Goa is the largest church in India. It is one of the most historic churches in the state. Many churches built in Goa have also been included in the list of World Heritage Sites by UNESCO. Goa is the smallest in India by area and the fourth smallest by population. The smallest state in the country is famous all over the world for its beautiful beaches and architecture.
Interesting Facts about Se. Cathedral Church
Se Cathedral Church is one of the beautiful churches in Goa, an example of majestic white beauty and is dedicated to St. Catherine.
The cathedrals are also known as Se Catedral De Santa Catarina.
The church also remains the focal point of the Patriarch of the East Indies. The name of the Cathedral Church is also included among the largest churches in the continent of Asia.
The construction of the Se Cathedral Church took about 80 years. The city was founded as a Portuguese victory over the Muslim rulers. The Cathedral has also been included in the UNESCO World Heritage Sites list.
There are five bells in this church house, Golden bells are the most famous and big among them. It is said that the sound of this bell is heard throughout the state.
It has 14 altars, each of which is beautifully carved and the main altar is plated with gold that traces the life of Red Ros and Saint Catherine of Alexandria.
For your information, let me tell you that St. Cathedral Church is not only in Goa but also the largest church in India.it is also the largest church in Asia.
This historical monument is dedicated to Catherine of Alexandria, Alfonso Albuquerque, who defeated the Muslim army and owned the city of Goa in 1510, on Catherine's Feast Day.
This church is also called the Cathedral of St. Catherine and is larger than any church built in Portuguese reign.
Can you guess how many years it would have taken to build it? It is said that it took nearly 90 years to build this church. It was started to be built in 1562.
This church made of red bricks and white walls is very beautiful to see. It is not wrong to be called the most beautiful church in India.
This attractive building is 250 feet in length, 181 feet in width and 115 feet in height.
This grand monument has been constructed in Portuguese-Gothic style with Tuscan exterior decoration and Corinthian interior decoration.
The interior of this church is decorated with five bells of artistic saints.
Se Cathedral has a famous bell, which is considered to be the largest in Goa and one of the best in the world, often called the "Golden bell".
Architecture Of Se Cathedral Church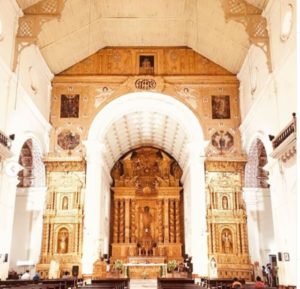 Se Cathedral Church has a wonderful example of Portuguese architecture and style.The length of this church is 250 feet and width is 181 feet. The Cathedral Church is built on laterite plinth.
The architecture of the Cathedral Church from Mudejar includes Spanish style, Flemish architecture, and Italian urban design.
The most interesting thing in its structure is that the interior of the cathedral is made in the form of a cross while its exterior is made in a rectangular shape.
Upon entering the Se Cathedral Church, you are greeted by Corinthian columns. And it supports the plateaus and Latin inscriptions on which beautiful carvings are done.
Our Lady of Three Needs, fifteen communication tables, Our Lady of Hope, Our Lady of Anguish and Baptism are dedicated to the font.
Se Cathedral Church has four caves that are filled with chaplains. Two of which have wooden screens with beautiful pictures.
On the right side of the nave are the Chapels, dedicated to Our Lady of Virtuals, the Blessed Sacrament, St. Sebastian, and Our Lady of Life.
Who was St. Catherine
Alexandria Saint Catherine, the former pastor of Se Cathedral, has an outstanding contribution as a philosopher defender of the faith andShe is known as the Church's distinguished saint because of her contributions.
She was a patron of Christian philosophers besides being a patron of Old Goa, aka Velha Goa or Velha Goa. Stories abound about St. Catherine's that she was born into an aristocratic family in Alexandria and was an educated educated girl.
He had raised her voice against the persecution of Christians against the Roman Emperor Maxentius. St Catherine's arguments were so poignant and logical that Maxentius felt unable to argue with them, and a committee of 50 intellectuals was formed to refute her views.
However, the Assembly had also given up in front of St Catherine and expressed their faith in Christianity. Angrily the emperor had burned all the intellectuals (philosophers) alive and kept St. Catherine in jail.
During her sentence, St. Catherine was successful in converting the religion of monarch's wife and it is estimated that she taught 200 people to follow the path of Christianity.
Se Cathedral Entry Fee
If you are going to visit the famous Cathedral Church of Goa, then let us tell you that you do not have to pay any entry fees. This tourist place is absolutely free.
Time To Visit Se Cathedral Church
You can visit anytime throughout the year to visit the Cathedral Church in Goa, included in the UNESCO World Heritage.
Sundays 7:15 am – 10 pm.
Rest 6 days 7:30 am – 6:00 pm.
History of St. Cathedral Church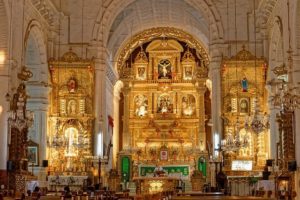 St. Cathedral is one of the historical churches of Goa. St. Cathedral Church is the most spacious and attractive in Old Goa.This church, built-in 1619, attempts to enliven the episodes of the life of St. Francis through various paintings.
One of the oldest and revered religious buildings in Goa, this magnificent 16th-century monument was built by the Roman Catholics during Portuguese rule. It is the largest church in Asia.
This cathedral is dedicated to St. Catherine of Alexandria, on whose feast day, in 1510, Alfonso Albuquerque defeated the Muslim army and owned the city of Goa.Hence, it is also called the Cathedral of St. Catherine and is larger than any church built in Portuguese.Its massive open door was built in 1562 by King Dom Sebastiao (1557–78) and substantially completed in 1619.
Read More
If you know any new things about St. Cathedral Church , then definitely tell through the comments so that other people can read,thanks.