Dakor Temple in Gujarat, one of the major pilgrimage sites in India, is known for the beautiful form of Lord Shri Krishna. There is a great temple of Ranchodji, due to it's religious and due to the faith in the devotees, lakhs of devotees come to visit. Along with that, this famous Dakor Dham also praises the individual craftsmanship of the shrine. In this pilgrimage site of India, devotees throng every full moon. During the festival of Sharadapurnima, there is so much crowd, due to festival, special vehicles go to Dakor temple. Let us tell you that this holy pilgrimage of Hindus is located just 30 kilometers from Anand. In Gujarat, apart from Dakor Ji and Ranchhor Ji, there are many temples of Vaishnavite possessions including Swami Narayan and Sri Vallabh, the idol inside this temple is said to be that it was stolen, from Dwarka. There are many interesting stories behind this famous Dakor Dham, which in this post you will get to know about the Dakor temple.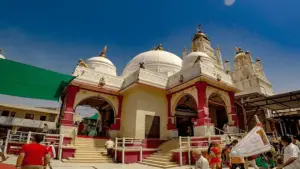 Amazing Famous Facts About Dakor Temple For Tourists
The statue of the main Deity Ranchhodrayji (Shri Krishna) is made, of black colored stone which is 1 meter long, 75 cm wide.
This temple with gold urn and the white flag is also the tallest temple in this district.
Some of the major life episodes of Krishna are also, depicted in the murals, made in the main temple.
This temple was built in 1872 by Bala Chandra Rao and his descendants by the inspiration of Shroff Gopal Jagannath of the Peshwa court in Poona.
Gaekwad of Vadodara gifted this temple an artistic throne.
There is a 'Tokorkhana' (or music room) on the first beat above the main door where there is shehnai playing for three hours every day.
This temple is constructed, from white marble.
The idol of Lord Krishna located in this temple was stolen from Dwarka and brought here.
Shri Vijay Singh Bodana, the exclusive devotee of Dakor and his wife Gangabai used to go to Dwarka with Tulsi in right hand twice a year. The same Tulsi Dwarka I used to offer to Mr. Ranchodji.
This idol of Ranchodji is similar to the statue of Dwarkadhish. The statue has a conch in the lower hand and a chakra in the upper hand. This black stone idol is in standing posture, really beautiful.
Watch HD video of Dakor Temple here: 
Dakor Temple History-
The Dakor temple is located, in Dakor in the state of Gujarat. Dakor Dham is the famous temple of Ranchhodji. That place is about 30 kilometers from Anand. There are many Vaishnava sect temples in Gujarat like Shri Vallabh and Swami Narayan etc. But the specialty of Ranchodji temple of Dakor is that all sects worship him equally. There lived a person in Dakor named Baje Singh. He loved Lord Ranchodji very much. He was absorbed in devotion to Lord Ranchhodji. He used to visit Dwarka twice in 1 year to have darshan of Lord Ranchodji. He used to grow a basil plant with his hands and go to Dwarka with his wife twice a year and offer Tulsi leaves to the dark-skinned Lord Shri Krishna.
Baje Singh kept doing this for many years, but at the age of 72, when his ability, to walk was over and he could not offer Tulsi leaves to Dwarka Ji, Then they started worrying about how they would offer Tulsa leaves to Lord Ranchodji. After this Lord Krishna came in Ranchodji's dream and said to Baje Singh, now you don't worry about anything, go to Dwarka and install his idol from Dwarka to Dakor. After which the devotee Baje Singh, obeying the orders of his God, when all the villagers fell asleep, they reached the temple of Dwarka Ji in the middle of the night with a bullock cart and stole the idol of God and brought it to Dakor.
On the order of Shri Ranchod Ji, Bodana arrived in Dwarka with a bullock cart and stole the idol of the god from there. Bodana first hid the idol in Gomti lake. Thus on 1212 Kartik Purnima, Ranchodji's idol was brought from Dwarka and after reaching Dakor, Bodana installed the idol. The priest of Dwarka came to Dakor not seeing the idol. But after coming here in greed, he agreed to return to heaven as an idol. The statue was weighed. Bodana's wife had an idol equivalent to a nose ring and a basil leaf.
Read also: Interesting facts about Konark Sun Temple | Historical Facts
In the dream, the Lord ordered the priests – now go back. After six months in Dwarka, my idol will come out of Shri Vardhini Baoli. At that time the idol, emanating from the same Baoli in Dwarka is reputed. The fascinating history of the famous temple of Ranchhorji in Gujarat is associated with the theft from Dwarka. It is, believed that when Lord Ranchodji was seated at Dakor, the day was auspicious on Kartik Purnima, so the full moon day in this temple has a different significance.
Dakor Temple Architecture-
Like the Dwarkadhish temple in Gujarat, the temple of Lord Ranchhodji in Dakor is of importance. The temple has a beautiful and magnificent statue of Lord Shri Krishna in the dark color, while this beautiful and magnificent temple built on the banks of river Gomti has been, constructed with white marble. Lord Ranchodji's statue is like the statue of Dwarkadhish, this beautiful and created of black color Lord Ranchodji has a beautiful chakra in his upper hand and a conch in his lower hand, which looks attractive. Apart from that, the upper dome of the temple has been, covered with gold, the enchanting atmosphere, attracts everyone on its side. Gomti Talab is built near this enormous temple of Dakor Ji, on whose banks there is a temple of Danknath Mahadev. Not only this, the temple of Baje Singh Ji, a great devotee of Lord Ranchodji has been, built in the premises of this temple, where the Lord sits with his devotee.
Why is Krishna called ranchod? Story
Ranchod Krishna –
Ranchhod (Ran = Battlefield, Chhod = Leave)
Sri Krishna's name is also Ranchod Das. After winning 17 times in battle with King Jarasandha, King Jarasandha put thousands of Brahmins in front of his army for the 18th time. Lord Krishna escaped from the war for not committing the sin of killing Brahmins. Hence, he was named Ranchod Das.
One name of Krishna is Ranchod, it is, astonishing to hear that when we are all well aware of the glory of Krishna, then why did Shri Krishna think it better to leave the field and not face his enemy?
That incident happened when Jarasandha, the ruler of Magadha, challenged Krishna to battle. But he saw that Krishna, with his brother Balarama, was running away from the battlefield. Viewing that scene, Jarasandha started laughing. Krishna had run very far with his brother Balarama due to which both of them started feeling tired. To relax, both of them climbed the mountain which was, always raining. Jarasandha searched for them both so much but, neither of them touched their hands. Then Jarasandha ordered his soldiers to set that mountain on fire. When Lord Krishna saw that the mountain had started to burn, he, along with his brother Balaram, jumped from that 44 Kos high mountain and escaped from the eyes of the soldiers of Jarasandha and went to the city of Dwarka surrounded by the sea. Jarasandha felt that Krishna and Balarama had died in that fire. He considered himself to be extremely powerful and considered this event his victory. He returned to Magadha, believing this to be his pride.
Now you must be wondering why Krishna God chose the option of leaving the field and running away? He also has a diplomatic trick behind it.
Actually, Lord Krishna knew that at that time the power of his enemy Jarasandha was more than him. Ranchodar, he wanted to give this message that the enemy should be faced only when you are confident in your force. If you feel that your strength is falling short of them, then it is better to run away from there than risk your life because if life is left, then many opportunities will come.
Spear mark on the statue –

It is, said that when the doors of the temple, were opened in the morning, the idol disappeared from the temple. Knowing this, the idol, began to be, searched. When Baje Singh came to know that the idol had started searching, Baje Singh hid the statue, of God in a pond. It is said that the idol started to be discovered by hitting it with a spear in the pond. During which the tip of the spear pierced the statue, whose mark is still present on that statue. In this way, the priest of Dwarka Ji temple got the idol, but then at the behest of Baje Singh, he agreed to install the idol at Dakor by taking a gold currency equal to this idol of God. And today the faith of all the devotees is attached to this beautiful temple of Ranchod Ji.
Read also: Interesting facts about Dhari Devi Temple | Historical Facts
Gomti pond is built near the temple-
There is the Gomti pond near the Dakor Ji temple on the banks of which the temple of Danknath Mahadev is built. There is also a small temple of Baje Singh in the premises of the temple. God is enthralled with his devotee in this temple and this thing also makes this temple special.
Temple of Shri Ranchhodji –

This is the main temple of Dakor. The temple is huge. There is an open square on all sides from the main gate. There is a temple on the high yard in the middle. On the main back in the temple sits the Chaturbhuj statue of Shri Ranchhodji. To the south of the temple is a dormitory. This section has statues of Gopal Lalji and Lakshmi.
Makhanio Aro-
This place is on the banks of Gomti lake. When Ranchodji came to Dakor, he had consumed butter mishri(sugar-candy) from the hands of devotee Bodana's wife. Since then, on the day of Rath Yatra, Gopal Lalji stops here and takes the naivety of butter mishri(sugar candy).
Read also: Interesting facts about Kedarnath Temple | Historical Facts
Lakshmi Temple-
This temple is also on the banks of Gomti lake. After the arrival, of Shree Ranchhodji in the new temple, the idol of Lakshmi was revered here. On special festivals, Gopal Lalji visits here in procession.
Opening Hours:

The temple is open from around 6:45 am to 12 noon with five darshans in between and its gates open from 4:15 to 7:30 pm. Mangal-Aarti is organized here every morning at 6:45 am. This Mangal Aarti is performed by Mangalbhog, Balabhog, Srinagarbhog, Gwalabhog, and Rajbhog, while in the afternoon it is performed by Usthgabhgna, dormitory and Shaktibhog.
When to go to Dakor Temple-
Every year, especially on the occasion of Poornima, lakhs of devotees visit Dakor. The main festivities in Dakor are held on the occasion of Kartik (October-November), Chaitra (March-April), Phalgun (February-March) and Ashwin (September-October) full moon. At this time more than one lakh devotees visit the temple. If you also want to get drenched in Krishna devotion, then you must turn to Dakor. Once you visit here, you will want to come here again and again.
Find Dakor Temple On Google Map
How to Reach Dakor Dham –
By Air – The nearest airport is at Ahmedabad, which is about 90 km from Dakor.
Railroad – Dakor Anand-Godhra is located, on the big line railway route. At the same time, Anand railway station is about 33 kilometers from Dakor.
By Road – Many personal taxis, buses ply from Ahmedabad to go to Dakor, while devotees can go here from their vehicles if they want.