Amarkantak is one of the major pilgrimage centers for Hindus. Amarkantak is a religious place located in the hills of Maikal in Anuppur district of Madhya Pradesh. This beautiful site is situated, at an altitude of 1065 meters. This holy place bordering Chhattisgarh has a meeting point of the hills of Vindhya, Satpura, and Maidar, whose view is astonishing. After coming to this, holy land, the mind gets thrilled after seeing such a beautiful scene here and wants to come to Amarkantak again and again. Amarkantak is also famous as Tirtharaj.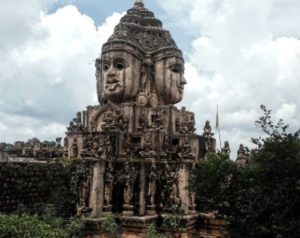 Amazing Famous Facts About Amarkantak Temple For Tourists
Amarkantaka is famous for many ayurvedic plants, which according to legends are considered, to be full of life-giving properties.
In Matsya Purana, Amarkantak has been, said that this, holy mountain is obeyed, by the Siddhas and Gandharvas. Where Lord Shankar resides forever with Goddess Uma.
The history of Amarkantak is six thousand thousand years old. When Suryavanshi Emperor Mandhata settled the city of Mandhata.
The architecture of the temples is of Chedi and Vidarbha period.
The Narmada River flows from east to west. In contrast, most of India's rivers flow east. It is also called the "lifeline of Madhya Pradesh and Gujarat" due to its vast contribution to the state of Gujarat and Madhya Pradesh.
The Narmada River flows through the fertile plains of alluvial soil known as Narmadaghati. This valley extends for about 320 km (198.8 mi).
Many great sages including Lord Shankar, Kapil, Vyasa, and Bhrigu had also performed austerities over the years on this holy pilgrimage.
According to the Puranas and Shastras, one gets virtue by bathing in Yamuna river 7 times, bathing in Saraswati river 3 times and bathing in Ganga river 1 time.
Flow in the opposite direction according to Jyotishacharya Pt. Akhilesh Tripathi Narmada is the only river in the world whose flow is opposite from other rivers i.e. east to west. It flows towards the altitude instead of the slope, which surprises people. It is the glory of this glory of Narmada that from its emergence to the confluence, there are about ten crore pilgrimage sites.
It is believed that the place where the Narmada also gave his blessings has become a shrine. According to astrologer Ramsankochi Gautama, apart from the Narmada, only the river Tapti flows westwards. There is also a scientific belief that Tapti was also a tributary of Narmada millions of years ago. Many scientists have agreed on this after research.
Ramdas Avadhoot, who has revolved around the Narmada thrice, believes that even today many invisible powers and deities keep revolving around the Narmada. It is, also believed that Aswathama, son of Guru Dronacharya, is still orbiting the Narmada.
Watch Amarkantak Temple Video Here:
Narmada River-
In the holy land of Amarkantak, sacred rivers like Son, Narmada, and Johila have their origin. Narmada river which is considered more than Ganga river in Indian civilization. The Narmada, also known as Maa Reva. The Narmada, the daughter of Lord Shiva, originates from Amarkantaka as a river. It is, said that after slaying a demon named Tripura and ending their cities, Lord Shiva settled this city with its ashes. Here is the temple of Lord Shiva and his daughter the Narmada. Devotees come to this temple to receive the blessings of Lord Shiva and Shakti Swaroopa Devi Narmada. But to visit this, temple one has to work hard. It is, said that one gets the reward of visiting Lord Shiva's temple only when the devotees pass through the elephant.
Durvasa Rishi is considered to be the most wrathful of sages. The curse was on his lips. His tapasthali is believed to be at the origin of the Narmada River in Amarkantak. There is a cave called Durvasa cave. The idol of Durvasa Rishi remains in this cave. The cave also has the Shivalinga of Mahadev, the Goddess of Durvasa. Drops of water naturally drop on this Shivling. It is, said at Goddess Narmada consecrates this Shivalinga. Near the cave of Durvasa Rishi, the water of river Narmada falls like a waterfall.
Read Also: Interesting facts about Konark Sun Temple | Historical Facts
The Narmada water stream is so bright as if the milk stream is flowing, that is why this stream is known as Dudh Dhara. There is a waterfall 8 km from the point of origin of river Narmada. This waterfall is known as Kapil Dhara. The water falling from a height of 15 meters scatters wonders in the sunlight and enchants the viewer. This beautiful view providing mental peace is near Kapil Dhara. Let us tell you that a holy river like the Narmada originated from a pool of Amarkantak called Koti Tirtha, while the Sonbhadra River originated from the top of the mountain.
The Narmada River flows, from here towards the west and the Son River flows towards the east. Narmada River also has, a religious importance in Hinduism, it is considered one of the most sacred rivers in the country. Many great sages including Lord Shankar, Kapil, Vyasa, and Bhrigu had also performed austerities over the years on this holy pilgrimage. The beautiful and breathtaking environment of Amarkantak attracts people who come here. Amarkantak being of religious importance not only throws up crowds of people here, but also people come from far and wide to see its beauty.
Major philosophical sites of Amarkantak –

In this holy pilgrimage site Amarkantak, dhuni pani, dudh dhara, Jaleshwar Mahadev, Narmada Udhagam (udgam), Narmada Temple and Kund, Sonmuda, Bhrigu Kamandal, Mai ki Bagiya, Dugdhara, Kapildhara, Sarvodaya Jain Temple etc. The place is a major scenic spot and also has religious significance.
Narmada River (Narmada Kund)-
There is the main temple at the origin of the Narmada in Amarkantak where Narmada Ji originated from a Furrow in front of that temple. Millions of devotees throng to temple for darshan.
There is also a temple of Lord Shiva along with Mata Narmada Temple. While the devotees worship the Shakti Swaroopa Devi Narmada and Lord Shankar, it is, believed that the devotees' desire to visit Lord Shiva's temple is fulfilled when the devotees come out from under the elephant built, in this temple.
Read also: Interesting facts about Kedarnath Temple | Historical Facts
Sonmuda –

Sonmuda is the origin of the Son River. Beautiful views of the valley and forest-covered hills can be seen from here. Sonmuda is on the edge of Maikal hills, 1.5 kilometers from Narmadakund. The Son River falls from here as a waterfall from a 100 feet, high hill. Due to the golden sand of the Son River, this river is called Son.
Bhrigu Kamandal-
Ancient Kamalandal always filled with water is also worth seeing in this holy pilgrimage site.
Dudh Dhara-
In Amarkantak, the waterfall named Dudhadhara is quite popular. The water of the falling waterfall from the height appears to be like milk, hence it is known as Dudh Dhara. It is in Shahdol district.
Kapil Dhara-
Kapil Dhara waterfall falling from a height of about 100 feet is very beautiful and popular. It is said in the scriptures that Kapil Muni lived here. Beautiful views of dense forests, mountains, and nature can be seen from here. It is believed that Kapil Muni composed the Sankhya Darshan at this place. Kapileshwar temple near Kapil Dhara is also built. There are many caves around Kapil Dhara where saints can be seen in a meditative posture.
Ma Ki Baghiya-

The mother's garden is dedicated to the mother Narmada. It is said that the Narmada, the daughter of Shiva, chose flowers from this green garden. Naturally, mango, banana and many other fruit trees are grown here. Also, Gulabkavali and beautiful rose plants enhance the beauty of the place. It is one kilometer from Bagia Narmadakund.
Kabir Chabutra –
The Kabir Chabutra is of great importance to the indigenous residents and the Kabirpanthis. Saint Kabir is said to have meditated on this platform for many years. It is, said that at this place devotees Kabir Ji and the first Guru of Sikhs Sri Guru Nanak Dev Ji used to meet. He discussed human welfare along with matters of religion and religion. There is also a Kabir waterfall near Kabir platform. Bilaspur and Mungeli in Chhattisgarh meet the boundaries of Anuppur and Dindori districts of Madhya Pradesh.
Read also:Interesting facts about Dhari Devi Temple | Historical Facts
Sarvodaya Jain Temple-
This temple is one of the unique temples in India. Cement and iron have not been used to build this temple. The idol installed in the temple weighs around 24 tonnes.
Shri Jwaleshwar Mahadev Temple –

Shri Jwaleshwar Mahadev Temple is located, in Shahdol Road 8 km from Amarkantak. This beautiful temple is, dedicated to Lord Shiva. From here the third river of Amarkantak originates from the Johila River. According to Vindhya Vaibhav, Lord Shiva himself established the Shiva lingam here with his own hands and was scattered, as the uncountable Shivalinga in the wheels of Maikal. In the Puranas, this place has been called Maha Rudra Meru. It is, believed that Lord Shiva resided in this delightful place with his wife Parvati. Close to the temple is the Sunset Point.
Temples of Kalchuri period –
To the south of Narmadakund are ancient temples of the Kalachuri period. These temples were built, by Kalachuri Maharaja Karnadeva during 1041-1073 AD. Machhendrathan and Pataleshwar temples are excellent examples of temple building art of this period.
Dhuni Pani-
Amarkantak has a natural hot spring. It is, said that this waterfall is endowed with medicinal properties and to cure the untoward diseases of the body. People from far and wide come to take a bath in the holy water of the waterfall so that they can be cured, of all their sufferings and fatal diseases.
Read also: Interesting facts about Dakor Temple | History & Information of Dakor Dham
Find Dakor Amarkantak Temple On Google Map
How to Reach Amarkantak Temple-
How to reach Amarkantak Temple by Rail-
Pendra Road is the nearest railway station at a distance of about 42 km on the Katni-Bilaspur rail route.
How to reach Amarkantak Temple by Road-
This pilgrimage center is connected by roads of Amarkantak MP and Chhattisgarh, by bus buses from Bilaspur, Katni, Mandla, Seoni, Allahabad, Rewa, Shahdol, Raipur and Jabalpur.
How to reach Amarkantak Temple by Air-
Jabalpur is the nearest airport at a distance of 228 km in MP, although Chhattisgarh and Raipur Airport are at a distance of 230 km.