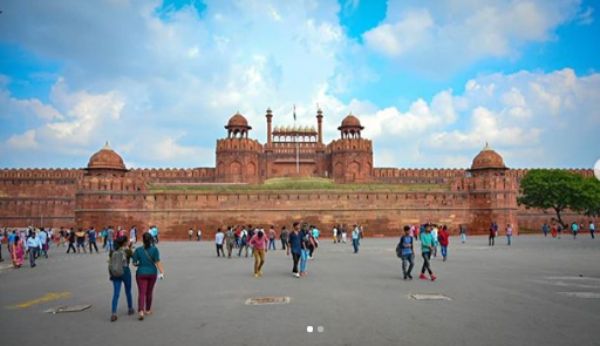 Interesting facts about Red Fort in Delhi | Historical Facts Red Fort
18th June 2019
The Red Fort of Delhi is a historic fort in Delhi city in India. Red Fort is a very special place for tourists in India. Visitors from other countries also like to visit this fort of India. If you talk about this fort, then tell you that till 1856, the Mughal emperors ruled about 200 years on this fort.
It is located in the center of Delhi. It was the formal and political center of the Mughal state. If you are planning to visit the Red Fort then this place can be very special for you, but before visiting you should know the information about this place which we are going to tell you with the help of this article.
This fort is one of the best and grand forts in the world, which was built by the Mughal ruler Shah Jahan, who was a keen lover of literature and art. There is also a very beautiful museum inside this magnificent fort built in 1648 AD.
let us know about the history of the Red Fort, its royal structure and the unheard and interesting fun facts related to it –
Amazing Unkwon Facts About Red Fort For Tourists and Kids
1.Red Fort is white
it is called Red Fort(Laal Kila), but in reality, it is not made of red color. According to the Indian Survey of Archaeological, some parts of the fort are made of Nimbo (Lime) stones. But when the white stones started getting worse, the British gave them a red color.
2.The Red Fort was once called Qila-i-Mubarak
As we all know, the red fort was originally called Qila-i-Mubarak. This fort was built When Shah decided to
transfer his capital Agra to Delhi.
3.It took 10 years to build
Ustad Hamid and Ustad Ahmad started construction in 1638 and its construction work was completed in 1648, meaning that it took 10 years to complete it.
4.Kohinoor Diamond is a part of its furniture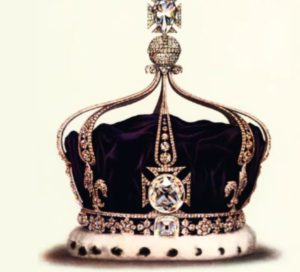 Kohinoor diamond was a part of Shah Jahan's crown. It is said that Kohinoor diamond is the world's most precious
diamond.
5.Red Fort has two entry gate
Delhi Gate and Lahore Gate. Because of Shah's attraction to Lahore, he was given the name of Lahore Gate.
Lal Kila's main entrance is called the Lahore Gate.
6.The Red Fort is made in octagonal shape
Considering the Birds Eye View, Red Fort was also made in octagonal shape.From the first Independence Day, every year on August 15, Prime Minister hoisted the national flag at Red Fort. –Every year, on Independence Day the Prime Minister of India also gives a lecture and hoisted the national flag on the Red Fort.
7.Red Fort is a World Heritage Site
In 2007, UNESCO announced it the World Heritage Site, thinking about the significance and history of the Red Fort. Red Fort is a famous tourist destination in India. Its beautiful architecture attracts tourists.
8.What Does Red Fort or Lal Qila Mean
The Red Fort was built by the fifth Mughal emperor Shah Jahan in 1639 as the palace of his capital, Shahjahanabad. The name Red Fort is due to its huge walls of red sandstone. This fort is very close to the old Salimgarh fort built by Shah Suri in 1546 AD.
9.The red fort as a tourist place
This historic red fort of India has been considered among the best buildings in the world due to its grandeur, beauty, and attractiveness.Let us tell you that this historical fort has been included in the list of World Heritage by UNESCO in the year 2007. It is also one of the major tourist destinations in India.
10.The real name of this magnificent fort of Delhi
The real name of this historical monument Red Fort in Delhi is Qila-e-Mubarak. It was also called "Mubarak Fort" by the royal emperors of the Mughal emperors.
11.Why Red Fort Or Lal Qila Is Famous
After the Mughal capital changed from Agra to Shahjahanabad, the construction of the Red Fort was built as the new seat of the Mughal Empire.This fort is made of red sandstone whose walled bastion took almost a decade to complete. It is said that it was well planned and systematic compared to the previous generations of the Mughal empire. The last Mughal Emperor Bahadur Shah Zafar, who ruled the Red Fort After this the British had occupied India.
11.At that time Delhi was called Shahjahanabad (due to the construction of the attractive Red Fort).
12.During the reign of Shah Jahan, the Red Fort was considered a symbol of the creativity of his reign. After Shah Jahan, his successor, Aurangzeb, had also constructed a mosque built of artificial pearls, and Aurangzeb made a lot of changes to make the entry door even more charming.
13.In 1712, when Jahandar Shah had captured Red Fort, till about 30 years the Red Fort was without a ruler.
14.In 1719, Muhammad Shah decorated the Red Fort with his artworks.
15.In 1739 Persian ruler Nadir Shah defeated the Mughal and Nadir Shah returned to Persia 3 months later, but before leaving, he demolished the Mughal city.
16.In 1803, British East India Company defeated the Maratha army and ended the rule of Maratha from Red Fort and the East India Company take its control over the Red Fort.
17.Bahadur Shah II(which as last Mughal ruler), took possession of the fort during the revolution of 1857.But despite having such huge Mughal power, during the 1857 Mughal could not save the Red Fort against the British.After the defeat, Bahadur Shah II left the Red Fort on September 17.
18.When and who built Delhi's Red Fort and its history
The Red Fort was designed by architect Ustad Ahmad Lahauri, and they also built the Taj Mahal. The construction of the Red Fort was started on 13th May 1638 and it took 10 years to complete it,
it was completed in 1648.Shah Jahan wanted to make this fort very attractive and beautiful in all the forts built by him, so he shifted his capital Agra to Delhi in 1638 AD, and then delicately paid attention to the construction of this fort and made it grand and Gave an attractive appearance.The capital of India was called Shahjahanabad due to this grand fort being built, as well as it was considered an example of the creativity of Shah Jahan's reign. After Mughal emperor, Shah Jahan, his son Aurangzeb also built Moti Masjid in this fort.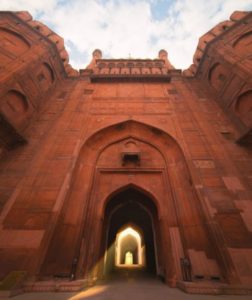 In the 17th century, when the Red Fort was occupied by Jahandar Shah, the Red Fort remained without a ruler for nearly 30 years. After this, Nadir Shah ruled the Red Fort and then the Sikhs also ruled this grand fort for a few days.
After this, the British occupied the Red Fort in the 18th century.After Independence, the Red Fort was used for military training and then it became a major tourist destination, while due to its attractiveness and grandeur it was included in the list of World Heritage in 2007.
20.Red Fort Architecture
The Red Fort is famous worldwide due to its grandeur and attractiveness. It is known worldwide for its fine workmanship and superb texture.The Red Fort was built in 1639 by eminent Mughal emperor Shah Jahan. During his reign, he had made some excellent architectures,which are the best example of Mughal architecture all over the world. In all these Taj Mahal is also a part of Mughal architecture.
This Fort is built in an octagonal shape, has been constructed with red sandstone and white marble stones.When this fort was built, it was decorated with many precious gems like Kohinoor diamond, but when the British ruled India, they were taken out. Along with this, the royal Mayur Raj throne was also built inside this huge fort, which was later occupied by the British.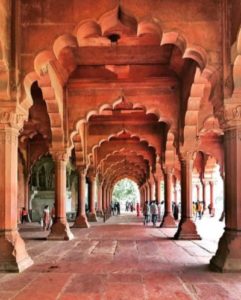 Spread over a circumference of about one and a half kilometers, this magnificent historical monument of India has a stone wall around 30 meters high, with very beautiful carvings using Mughal architecture.Comprised of Mughal, Hindu and Persian architectural styles, the complex of this huge fort of the world has many beautiful and magnificent buildings, which increases its beauty twice.
Spread in a radius of 1.5 km, inside this red fort, there are many beautiful historical buildings like Moti Masjid, Naubat Khana, Meena Bazaar, Diwane Khas, Rang Mahal, Deewanam, Sawan.
Three gates are also built inside this fort, Delhi Dhar and Lahore Dhar are prominent inside this fort, which also has its own historical significance.
Let me tell you that the Lahore Gate inside this grand fort has been opened for the tourists and common people, while only VVIP and some very special people can enter from Delhi Gate.
According to many historians, 4 different doors were built inside this grand fort earlier, but later 2 doors were closed due to security. Almost all the artifacts of the Mughal period are present inside this magnificent fort, which is considered the national pride of India.
It cost about 1 crore rupees(1,40,780 USD) to build this most magnificent and beautiful historical building, it was the most luxurious and expensive fort at that time, whose ancient name was "Qila-e-Mubarak".
What's Inside Red Fort
1.Lahore Gate -Lahore Gate
The Lahore Gate is the main gate of the Red Fort, which is named after the city of Lahore.
During Aurangzeb's reign, the beauty of this gate was spoiled, which Shah Jahan had described as "a veil on the face of a beautiful woman". On the occasion of Indian Independence Day since 1947, the national flag is hoisted on this fort and the Prime Minister gives his speech.
2.Delhi Gate- Delhi Gate
Delhi Gate is a public entrance gate in the south, which looks similar to the Lahore gate in the texture. Two large stone elephants on each side of this gate are facing each other face-to-face.
3.Mumtaz Mahal – Mumtaz Mahal
Mumtaz Mahal is one of the 6 structures inside the Red Fort complex.
All the structures inside the Red Fort are connected to Yamuna river. This palace was constructed with white marble and has a flower shape. This is an impressive structure for the Mughal rulers to explore architecture and design.
It used to be a place for women and now it is an archaeological museum. Inside this museum, there are many artifacts from the Mughal period such as swords, carpets, curtains, paintings, and other items.
4.Khas Mahal 
The Khas Mahal was formerly the private residence of the Mughal emperor. There are three chambers inside this palace. With a seating room, sleeping room and another room. This palace is decorated with white marble and floral designs with great beauty.
5.Rang Mahal 
The Rang Mahal is the women's quarters in the palace( in the Red Fort).
Ever since it was painted brightly, its name was "Palace of Colors". This palace was decorated with a mosaic of the mirror. There was a stream of water flowing under the ground in this palace, which kept the temperature of this palace cool during the summer.
6.Hira Mahal
The diamond palace is a part of the southern edge of the Red Fort, which was built by Bahadur Shah II. It is said that
Bahadur Shah had hidden a very precious diamond inside this palace, which was more valuable than Kohinoor diamond.
On the northern coast, the Moti Mahal was destroyed during the revolution of 1857.
7.Moti Masjid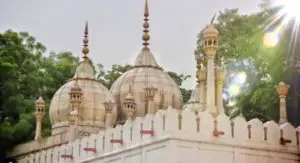 The Moti-Masjid was built in the year 1659 by Aurangzeb son of Mughal ruler Shah Jahan as his personal mosque.Let us tell you that Moti Masjid means – Pearl Mosque. This royal and ultra grand mosque has many small domes and arches. This mosque was built with white marble stones.There is a courtyard in this mosque Where you can see the simplicity of architecture and design.
8.Diwan-e-Khas 

Diwan-e-Khas was built by Mughal emperor Shah Jahan between 1631 and 1640. It used to be the royal apartment of the emperors. This place has been made in white marble with elaborate decoration. At this place, emperors used to see people and people saw them.
9.Hammam
This building was used by emperors. This building has a dressing room and hot water flowing through the tapes.When the Mughals ruled here, rose water was used in these baths. These bathrooms are designed in white marble.
10.Red Fort Delhi Light And Sound Show

This gives you information about the history of Delhi and is organized in the Red Fort.
In this one hour audio tour, you get the knowledge about the history of Mughal emperors and many leaders fighting for Indian independence.
If you know any new things about Red Fort  then tell through the comments so that other people can also read, thank you
HollyMelody provides you Travel news, tips, and photography from destinations all over the world. The best new hotels,vacation spots, reviews, and tips to plan a perfect getaway from HollyMelody.