Here is a list of Interesting and Unknown facts about London as well as In this article, you can also read some historical facts and general information about the London such as facts about culture, history, government rule, total population of the London City.
The city of London is the capital of England and this city is an important point on the map of the world because it has been the capital of the British Empire.Even after the Second World War, the importance of London city has diminished But today it still holds the status of a global city in terms of economic,political, education, entertainment, fashion, and media. Today there are new beautiful buildings in London. Apart from China, London is the only city where the most new buildings are being built.
This is the example of the city's creativity. New art galleries are open. The world's best art fair, 'frieze', seems here. It is located on the Thames River in the southeast of Great Britain's Island. So let's know more interesting facts and unique information about the history, culture, and tourism of the famous London city.
Unique Interesting facts about London
1.London is the first place in terms of the number of billionaires. There are a total of 72 billionaires. This is followed
by New York (56) and San Francisco (49) cities.
2.In the year 1952, from December 5 to December 9, so much pollution was increased in London. Because of this 12 thousand people were killed. This event is called Great Smog or Black Smog.
3.There was a law in London during the 16th century that you can not beat your wife after 9 o'clock. because of the noise caused by it causes other people to have trouble. Because of the noise caused by it causes trouble for other people.
4.In the year 2016, London was ranked as the 6th most expensive city to live in.
5.The House of Parliament is officially known as Palace of Westminster and it is the largest castle in the country.
6.London area covers an area of 1,579 square kilometers (610 square miles).
7.In 2014, London attracted more than 16 million international tourists, making it the world's most visited city.
8.It is illegal to die at the Palace of Westminster.
9.It is believed that in prehistoric times, London was a collection of scattered rural settlements.
10.It was Roman who was responsible for the city of London. He invaded Britain in 43 AD and established the city of Londinium.
11.The traffic in central London runs at the same speed as the horse-drawn carriage moved a century ago.
12.Jimi Hendrix lived in 23 Brooke Street, Now it is converted into a museum.
13.In 1891, London made a structure intended to cross the Eiffel Tower height. It was unstable, never completed and in the year 1907, it was destroyed.
14.Only a house where Charles Dickens lived, is still standing, 48 Doughty Street, which is now a museum. He lived there 1837 to 1839, and where he wrote Oliver Twist and The Pickwick Papers.
15.Like many European cities, due to World War II, London had a great effect – especially after the Blitz and other German bombings, 30,000 Londoners died and a large part of the city was destroyed.
16.Hitler wanted to destroy the Nelson's column and rebuild it in Berlin.
17.One of Britain's most prestigious buildings, Buckingham Palace is the administrative headquarters of Prince of the United Kingdom. Buckingham Palace issituated in the center of London and is surrounded by two royal gardens.
18.Voltaire, Edgar Allan Poe, Ho Chi Minh, Mahatma Gandhi, Vincent van Gogh, Sigmund Freud all lived in London for a time.
19.If Big Ben was built today, then it would cost the US $ 222,000 to build it.
20.During the 18th century, you could go to London's zoos by giving a dog instead of paying tickets, so that they could be served in front of the lions for food.
21.During the World War-2, the zoo was bombed and the London Zoo had killed all its poisonous animals for safety purpose.
22.London's Big Ben Clock Tower has a tilt like the tower of Pisa.
23.Do you know that In the 1700s, 20% of all women in London were prostitutes.
24.Are you tom and jerry cartoon fan? you may surprise after knowing that About five million jerry(mice) live in the London Underground.
25.The world's first traffic signal was small. Founded in London in 1868, it exploded in less than a month.
26.If you are an Indian then you will shock after knowing that London has more Indian restaurants than Hollywood city Mumbai or Capital city Delhi.About 10,000 foxes live in London.
27.According to the UN definition, there are so many trees in London that it can be classified as a forest.
28.The young Londoners spent about 60% of their income on rent.
29.Built in the 1830s, the London Bridge was destroyed in the year 1967 and moved to Arizona.
30.The London Eye
London is also known for its modern architecture along with historic buildings and is working to showcase London as modern – The London Eye.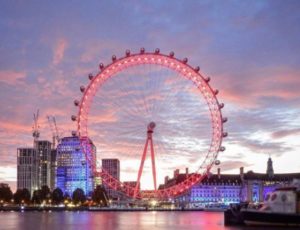 The London Eye is also known as the Millennium Wheel. This 443-fit structure is 135 meters long and its spaciousness can be gauged from the fact that the diameter of this circular structure is 120 meters.The London Eye is located on the southern bank of the River Thames. Watching it at night is a different experience. It is decorated with LED lights which illuminate the wonderful aura at night.
From a distance, it looks like the wheel of a bicycle. London Eye has 32 capsules, in which you can admire the whole of London.It completes one round in about half an hour and has a speed of 0.9 kilometers per hour.
31.British Museum
If you like history, then the British Museum is like a book for you. Here you will get a glimpse of the whole world. More than 8 million items have been stored in this museum from all over the world. This museum, which has the status of the world's largest museum, will surprise you.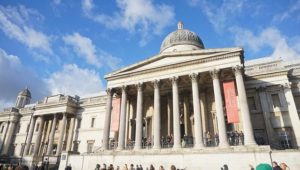 Tourists come from all over the world to visit this museum. If you are excited to see the cultures of the world together
under one roof, then the British Museum will be your first choice, because of more than 200000 thousand years of human history is stored here.Here you can see world-famous artifacts of Rosetta Stone, Parthenon sculptures and Egyptian mummies too. The incident of establishing this museum is also interesting.While the museums of the whole world were established by the governments of their efforts, the British Museum started with a personal collection named Hans Sloane.He started collecting artifacts from 1753. Later, this collection was opened to the general public on 15 January 1759.This museum has many things brought from other countries during the British colonialism.
32.National Gallery London
London is a truly historic city. Every building here has some special historical fact attached to it.Like the British Museum, the National Gallery London is also doing the work of keeping history alive.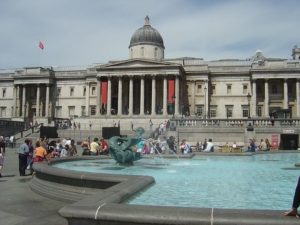 It is a building built in the Middle Ages, where a full range of European paintings is seen.Their number is more than two thousand. The works of famous painters like Leonardo da Vinci, Rembrandt, Gainsbourg, Turner, and Van Gogh are seen here.The good thing is that you do not have to spend money to see these amazing paintings because free entry is given in these galleries. Also, you will get a free tour guide.
33.Natural History Museum London
This museum is located in one of the most beautiful buildings in this city. Here you will get to see not only human history but also the history of this world.There is a complete dinosaur gallery for people interested in the world of dinosaurs and especially for children, which shows fossils and models of every dinosaur that roamed this earth in the Jurassic era.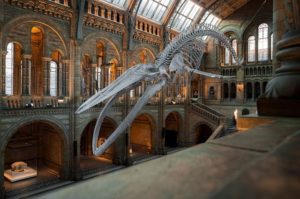 Apart from this, something will be seen on every aspect related to human development and geographical and natural development of the earth. For the people who are interested in science along with history, this museum will be a journey to an untouched and exciting world.
34.Science museum London
So far in London, we have only talked about the history and historical museums, but there is also a museum dedicated to science – Science Museum. It is one of the most visited scenic spots in London. In this place, you will get to see more than 15 thousand things related to science.
35.Madame Tussauds Museum London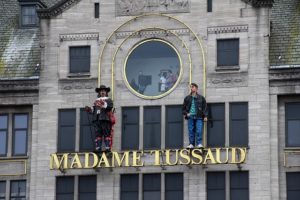 This museum of wax statues was established in 1835. If you want to take a selfie with celebrities from all over the world, then there is no better place than MadameTussauds.
36.Tate Modern London
Modern art artifacts can be seen in this art gallery. Here you can see artifacts from the beginning of the nineteenth century till now. It is one of the largest museums in the world based on modern art, where art lovers come from all over the world.Except for periodic art exhibitions here, admission to most parts of this museum is free.
37.Tower of London
Once again we return to history. An idyllic fort built on the banks of the River Thames. It is today known as the Tower of London.It was built as a royal defense site. Earlier, prisoners belonging to the monarchy were also kept here.This building has been witness to many historical events. It was built by William in 1078.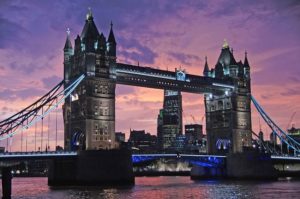 In this fort, Henry Eighth's Queen Anne Bolin was beheaded in 1536.The building had a royal palace, jail, fort, armory, and mint. However, the royal family no longer lives in this building and you can see it as a museum. It has been developed as a museum to introduce tourists to the British glory. This building has also been included in the list of World Heritage.
38.Saint Paul Cathedral London
Like other cities of Europe, a church is also very famous here – St. Paul's Cathedral. The hallmark of this cathedral in Victorian style is its aisle.Even if you whisper here, it can be heard up to a distance of 112 feet.This is a good place to communicate with God. Its construction was started by Sir Christopher in 1675 and it was completed in 1711.

Winston Churchill's last ceremony was performed in this cathedral and the church has also become a witness to the marriage of Prince Charles and Lady Diana.Witnessed to the Second World War, this cathedral was once one of the tallest buildings in London.
39.Buckingham Palace London
Who is there who knows about London and does not know Buckingham Palace, the answer is – no one.The official residence of the Queen of Britain, which was once the center of the rule of the whole world. It was built 300 years ago by the Duke of Buckingham as a royal residence.It is one of the most magnificent royal palaces in the world due to its grandeur and attractive European style. In 1837, Britain's greatest queen Victoria made this palace her residence.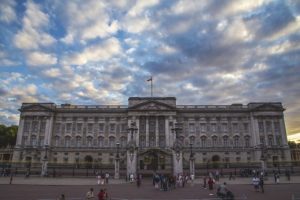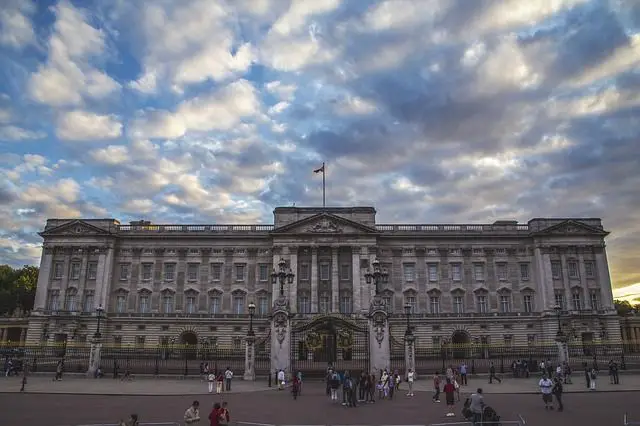 You will be surprised to know that this palace is the property of the British government and not the royal family.
The grandeur of Buckingham Palace can be gauged from the fact that the building has 775 rooms, 52 of which are royal and the palace is 108 meters tall and 120 meters wide. Spread over 77 thousand square meters, this royal building has 1514 doors and 760 windows. The balconies of this palace are very famous, where the people of the royal family stand and greet the general public.
40.High gate Cemetery, London(one of the most horror place in the world)
London's Highgate Cemetery appears like a horror film at night. It is one of the scariest places in London.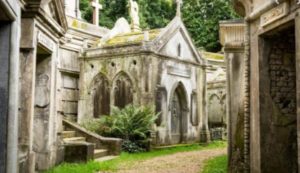 This cemetery is very big. Many people have claimed to see vampires in this cemetery. Apart from the largest cemetery around the world, it is also famous worldwide for Karl Marx's tomb. This cemetery was started in 1839.
Amazing Historical Facts of London
41.The history of London is almost 2000 years old.The city was found in 121 BC by the name of "Laundinium",Which was under the "Roman Empire" at the time.
42.A 2000 year decision is considered to be very important in changing the appearance of London.33 administrative areas of London were merged into one place.Before that London was divided into 33 parts.
43.More than 300 languages are spoken in London, which is one of the most diverse cities in the world.
The city of London is also known for its diversity. Today, 37 percent of the people living in London have not been born here, that is, they came from outside and settled here.
44.According to the census of 2011, the white English population in London has decreased to 45%, which used to be 58% ten years ago.
45.That is, 55% of people in London are of foreign or foreign origin who have come from Asian, European countries, Caribbean countries, and other countries.The largest number is of Asian people in which Indians are the most.Outside of London, white British is still the majority in the whole of Britain.However, their proportion of the population has decreased in ten years.It was 87 percent in 2001, now it is 80 percent.
46.The main reasons for the change in Britain's population ratio over the past 10 years are the number of immigrants coming to Britain.According to the statistics, every 8th person in England and Wales is a foreign-born person.
47.Along with being famous and beautiful, London is said to be the sixth most expensive city in the world.
48.The River Thames, passing through London, has a length of 346 kilometers and is considered one of the cleanest rivers in the world.
49.In 1907, the world's first racing track was built in the city of Brookland, London.
50.A study in the City of London showed that business men with the longest ring fingers earn up to six times more than their peers.
51.Cyprus won its first Olympic medal at the 2012 London Olympics
52.In London, many people were fraudulently taken to the Tower of London on 1 April 1698 to watch 'Washing the Lions'. There was no such event and people were made April Fools.
53.Even after several decades of the Industrial Revolution, most of the western countries were rural.Most of the people living in the early industrial cities of Britain emigrated from rural areas.
54.By 1750, one in every nine people in England and Wales lived in London. It was a large city with a population of 675,000. Between 1810 and 1880 the population of London increased from one million to four million.
55.Despite having no major factory in London, the city used to be the main destination for migrants.There were considerable employment opportunities at the dockyard in London. Apart from this, many people used to work in
textile, footwear, wood, furniture, metal, engineering, printing and precision instruments.
56.During the First World War (1914 – 1918) cars and electrical products started to be manufactured in London, which led to the opening of large factories in the city. After some time, one-third of the total employment opportunities in these cities were present in these large factories.
57.When the city of London grew in size, crime also increased. It is estimated that in the 1870s, around 20,000 criminals lived in London. Many of those who failed to get employment started committing petty offenses. Many times it used to happen that instead of working in a factory at a lower salary, it was better to earn money by committing crime.
58.According to a survey conducted in 1887 by Charles Booth (Liverpool's shipowner), there were one million poor people in London.It was twenty percent of the population of London at the time. The average life span of the rich and middle class was 55 years while the average life span among the poor was only 29 years.Charles Booth had come to the conclusion that the poor would need at least four million rooms in London to live.
you can like our Facebook page and follow us on Twitter for the daily update.If you have any suggestion please comment we will follow.