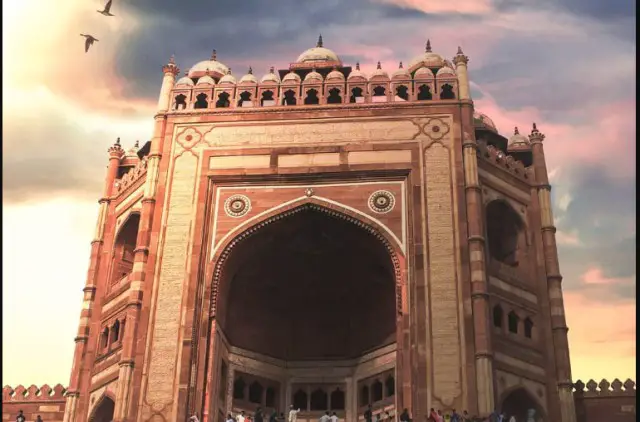 Interesting facts about Buland Darwaza Fatehpur Sikri,Agra | Historical Facts
19th June 2019
Buland Darwaza sums up the story of Akbar's vast and glorious kingdom. Similar to other places built in Fatehpur Sikri,Buland Darwaza has also been constructed with sandstone and marble. The most prominent attraction of the Buland Darwaza is the inscriptions of the Koran on front pillars. If you want to get complete information about the Buland Darwaza, then read our article carefully.
The Buland Darwaza is an important part of the fort of Fatehpur Sikri. Fatehpur Sikri has been the capital of the Mughal Empire for about 12-15 years from 1570 to 1585. The Mughal ruler Emperor Akbar shifted his capital from Agra and established it at Fatehpur Sikri.However, later due to lack of water, he shifted his capital to Agra again. But during this time, as his victory, the Buland Darwaza was built in the 16th century. The Buland Darwaza is also known as the "Gate of Magnificence".
Buland Darwaja was built in 1601 AD as the victory of Mughal ruler Emperor Akbar by his victory over Gujarat. Buland Darwaja is also known as "Victory of Gate". Buland Darwaza is the main entrance to the palace in Fatehpur Sikri and is situated about 43 kilometers from Agra city. The  Buland Darwaza is known as the world's highest gateway. In this door, a living example of Mughal architecture can be seen.
Interesting Facts Related To Buland Darwaza
Buland Darwaza Height :Buland Darwaja's height is 54 meters, which is one of the tallest gateways in the world. The 15-story grand entrance is narrating the history of greatness and success of Emperor Akbar.
In 1601, Mughal emperor Emperor Akbar built a tall door in Fatehpur Sikri.
Where Is Buland Darwaza Located In India:Buland Darwaza is a historic monument located in Fatehpur Sikri of Agra district in the Uttar Pradesh state of India.
Construction of Buland Darwaza in 1601 AD, Akbar built in the happiness of his victory over Gujarat. It is also the main entrance to Fatehpur Sikri's palace, Fatehpur Sikri is a village, 43 km away from Agra, India.
Structure of Buland Darwaza is a mixture of Hindu and Persian style.
Buland Darwaza is in Fatehpur Sikri, which is 43 km away from Agra. It is also the main entrance to Fatehpur Sikri Mahal.
Buland Darwaza of the tallest door that was considered the world's tallest and most spacious door was built by Mughal emperor Akbar in 1576 in the happiness of his victory over the Gujarat empire.
One of the most interesting and attractive art forms of the Mughal period is the Buland Darwaza.
It took 12 years to build this Mughal heritage. This historical heritage attracts both lovers of history and architecture.
This door made of red and buffer sandstone is decorated with white and black marbles.
There is also a mosque within the Buland Darwaza.
This door made of red stones was used to stand guard at some time at the south-east gate of Fatehpur Sikri.
The Jama Masjid under the same gate is also covered, which is situated on the right side of the Buland Darwaza.
Inscriptions on the Buland Darwaza: "The world is a Bridge, pass over it, but build no houses upon it. He who hopes for a day may hope for eternity; but the World endures but an hour. Spend it in prayer for the rest is unseen."( source)
Architecture Of Buland Darwaza 

Buland Darwah was constructed with a red stone as per the order of emperor Akbar. Which was decorated with white and black marble and is even higher than the courtyard of the mosque Galleri Kiosk in the center of Buland Darwaza.The total height of the structure of the bulldog door is about 54 meters from the ground level.The structure of the gate is assumed in 42 steps.
Tourist Places To Visit Nearby Buland Darwaza
Panchal Mahal Fatehpur Sikri
Panchal Mahal is a historical palace located near Jodhabai Mahal in Fatehpur Shikari. The structure of this palace is built in Persian style.This palace is a five-story building. Each floor of this building has huge pillars.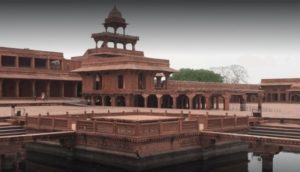 This massive building has 84 pillars on the first floor, 56 pillars on the second floor, 20 pillars on the third floor and 12 pillars on the fourth floor.The upper part of each pillar in Panchal Mahal is designed by carving floral urns, arches or rosette patterns.
Jodha Bai Ka Rauza Fatehpur Sikri
Jodha Bai's Rauja is a historical place located in Fatehpur Sikri near the Buland Darwaza.Rauja was built by Mughal ruler Akbar for his favorite Rajput queen Jodha.

Birbal Bhavan Fatehpur Sikri
The construction of Birbal Bhawan in Fatehpur Sikri was done in 1571 as a part of the harem of the Mughal Emperor Akbar.It was built specifically for two of her favorite queens. But later it was rated as the building of his courtier Birbal. The building has red sandstone arches and pillars.
Nehru Park Bharatpur
Nehru Park, centrally located in the city of Bharatpur, about 25 km from Buland Darwaza is a well-organized park.
This park is used for recreational activities and picnics.
Keoladeo National Park
Keoladeo National Park is about 27 kilometers from Buland Darwaza. This National Park was earlier also known as Bharatpur Bird Sanctuary.During the winter season, migratory birds from Afghanistan, China, Siberia, and Turkey make their home in this park. This place is quite good for tourists.
If you know any new things about Buland Darwaza  then tell through the comments so that other people can also read, thank you
HollyMelody provides you Travel news, tips, and photography from destinations all over the world. The best new hotels,vacation spots, reviews, and tips to plan a perfect getaway from HollyMelody.