Have you ever heard of fishing rod combos? No, it's not a fighting technique; nor is it a type of superpower. Rather, it is a type of fishing equipment wherein the rod and reel are combined into a single, handy tool. This variation of a fishing rod and reel is best used for when you are trying to use a specific range of techniques in catching and luring fish.
There are different types of combos currently available. Some of the most well-known include casting combos, spinning combos, and spin casting combos. Each of these combos is designed either for the type of fish you want to catch, the body of water where you will be fishing, or the level of experience or skill of the angler.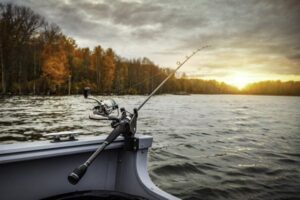 Freshwater or seawater
If you are discriminating between freshwater and seawater, bail casting combos is one option that you can consider. It is suitable for seawater fishing and surf fishing. However, you need to have more advanced fishing skills to be able to maneuver this type of equipment.
Fish species
Casting combos and spinning combos are both built for catching specific fish species. If your target species are catfish and bass, your best bet is to look for a casting combo. You can also use spinning combos for catching bass and catfish, along with other kinds of fish such as salmon and trout.
Level of experience
For fishing enthusiasts who have relatively little experience in the said activity, a spin casting combo should be their best choice. It is also great at catching pike, trout, and bass. Centerpin, along with Fly fishing rod combos are more suitable for veteran anglers or those with more experience in catching a broader range of freshwater and seawater species.
Features
Currently, there are several brands of fishing rods and combos sold in the market. The difference lies in the additional features, design, and materials used to create the tool. Some combos are crafted to feel lighter when held and cause less strain on the angler's wrists. For instance, a more high-end combo is something that is made of graphite, bamboo, and carbon compounds. 
Interchangeable handles enable more versatility. Reels with a stable structure and enough diameter for the proper amount of grasp highlight the different skill level of each handling the tool. Some rod combos are available in different lengths and weights, thus accommodating more fishing preferences. Another key feature of an excellent fishing rod combo is the quality of its drag and the smoothness of the line once it is reeled back in.
Last but not the least, an exceptional fishing rod combo must be highly resistant to destructive environmental elements found in different bodies of water. After all, you want to ensure you are investing your money into equipment that will last and allow you to enjoy more chances to fish with your friends. 
Whether you like to do fishing for leisure or sport, you need to consider whether purchasing fishing rod combos would suit your style, skill, and preferences or not. Veteran anglers can have extensive fishing experience, yet still choose to stick with the most basic type of fishing equipment available. 
It may be because they are more used to the weight and features of simpler and older fishing rod models. In contrast, some newbies tend to overspend on fishing tools without first doing enough research about the appropriateness of the tools.
Combos in fishing are highly advantageous and convenient to carry around, as long as you find one that's perfect for you.